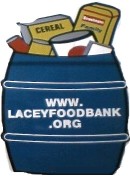 ---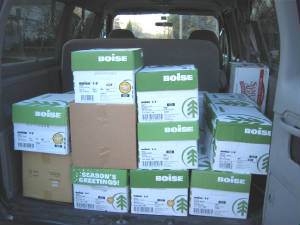 " IT TOOK A COMMUNITY"
The Christmas distribution is the culmination of a year's hard work for Lacey Food Bank volunteers and the FOFB (Friends of the Food Bank) And what a lovely celebration it was. AARP Chapter 1327 collected & manned a table of "take me" teddy bears. The Forked River Presbyterian Church Youth Group and their advisors, Lois Kiernan and Sue Hopson, distributed a staggering amount of gift wrapped clothing and toys for 178 food bank kids along with take me toys collected from the community and gloves and hats courtesy of Lacey Library.

Over on the food side, the clients were treated to turkeys or hams & holiday dinner fixings. Cakes were donated by the German Butcher. There were" Kandy Kones" courtesy of GS Trooop 264.

An added treat were festively wrapped cookies baked by the Inter-generational Middle School Students, Jean Sullivan's Cub Pack 522 and a pair of young baking brothers, Michael & Gregory Peluso.

To top it all off, everyone got to pick a number for a present, courtesy of the many community holiday sponsors with prizes ranging from dinner & lunches for two, Shop Rite gift certificates, perhaps a free session at a hair salon or free shopping at the food emporiums in town - bagels, pizzas, candy, butcher & deli goods, bakery items - and gifts.

The business community responded magnificently. Those unable to provide food, services or gifts bought and donated Shop Rite food certificates by the dozens.(Check out the Holiday sponsors page or a list of those benefactors) In all, 140 clients received gifts via this holiday lottery.

Adding to the festivities was music provided by Forked River Methodist Church organist, Peter Aldighieri, -and then good old Santa himself - who worked the crowd with his hearty "ho, ho, ho's" and managed to fit a few volunteers on his knees.
" MERRY CHRISTMAS AND A HAPPY NEW YEAR "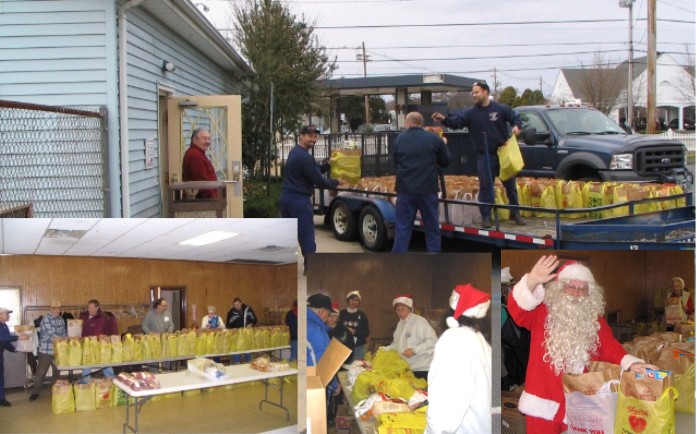 Our friends at the DPW started the chain gang moving, transporting all this food from the food bank building to Community Hall - do you believe 270 bags of prepacked groceries, 140 hams & turkeys plus another ton or two of canned and boxed items and refrigerated perishables? Waiting inside a line of volunteers. Check out the turkey table then say hello to Al Bille (oops, Santa that is) as you peruse the tables.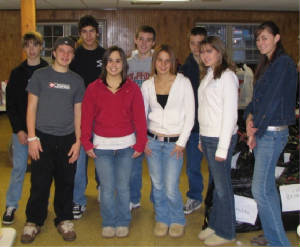 Forked River Presbyterian Church Youth Group
Is everybody ready?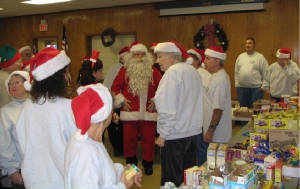 Let's get to work !
KRIS KRINGLE KANDY KONES -

COURTESY OF GS TROOP 264 WHO, ALONG WITH THEIR LEADERS, POPPED INTO THE FOOD BANK WITH BOXES OF THESE FESTIVE GIFTS - ENOUGH FOR EVERY BAG ON DISTRIBUTION DAY. A LOT OF WORK GIVEN WITH LOTS OF LOVE. THANK YOU GIRLS- FROM ALL OF US AT THE FOOD BANK AND THE PEOPLE WE SERVE.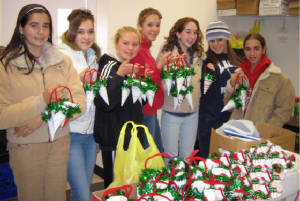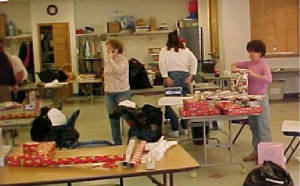 click on images to enlarge them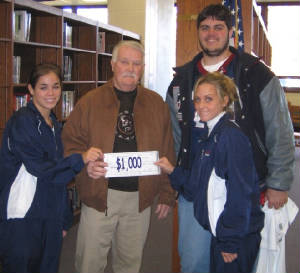 Guess who is " Mr.Touchdown" ?
Say hello to a great bunch of youngsters... Stacie Kaminski, Amber Barbarotto, Alexis Cook, Jamie Crisafulli, Maria Keen, Stephanie Taylor, Stephanie Calcara, Megan Campanile, Dana hawtin, Allyssa Hinsinger, Linsey Macpherson, Cailtin Sullivan, Julie Totaro, Kristn Savage, Adnrew Carrino, Mark Ciallella, Bill Dippolito, Scott Dotterweich, Matt Feeney, Randy H oneycutt, Justin Helstowski, Vince Manso, Mike Oakes, Joe Pandorf, John Roth Anthony Sestito & Geoff Townsend.
INTERGENERATIONAL CLUB PAYS US A CALL
Mill Pond students from the Intergenerational Clulb once again held their annual drive to collect paper goods for the food bank clients. Advisor Randi Spexarth and the students braved the rain and wind to deliver the goods. Also attending were the wise "elders" from the Intergenerational Club who join in with the youngsters on performing worthy civic projects around Lacey Township.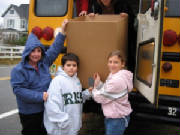 ANNUAL BOY SCOUT FOOD DRIVE

Our volunteers manned the Food Bank on Saturday for this big event. Troops from Lacey had fanned out across the township a week ago, leaving empty bags on doorknobs of Lacey homeowners.

Saturday they were back in force to collect, then deliver the goods to us... and as you can see from the photos, they really helped to replenish our dwindling stores.. Chairman Guy Burnett took a picture of our shelves which normally are filled, then another shot of the wall of groceries the scouts delivered. Good deed well done fellows. Thanks for the help.
Cub Pack 35 Den 8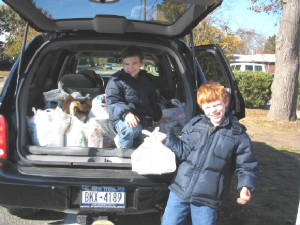 GOBBLE GOBBLE GOBBLE

Friday, November 18 saw the Rotary Club and it's youth group, the Interact Club from Lacey HS, descend on the food bank bearing a massive amount of turkey dinners, from the big birds to piles of pies with everything in between. This year's distribution served over 130 food bank families with the holiday meal as well as the regular food distribution so organized chaos was the name of the game. Organized due to the efforts of this fine group of service orientated students and their adult mentors and advisors. Thanks from all of us at the food bank for this annual gift. We couldn't do it without you!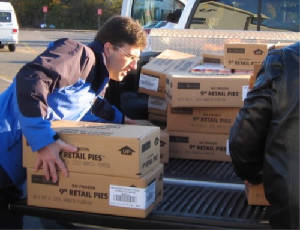 THIS YEAR, THE FOOD BANK IS RECEIVING GIFTS FROM THE COMMUNITY ON BEHALF OF ALL THE CLIENTS FAMILIES. HOPEFULLY, AT OUR XMAS DISTRIBUTION, EACH FAMILY WILL RECEIVE A GIFT - WE ARE ASKING FOR FOOD CERTIFICATES - MAYBE A $25. CERTIFICATE TOWARD LUNCH OR DINNER, PIZZAS, SUB, BAKED ITEMS - IN SHORT ALL THAT OUR COMMUNITY HAS TO OFFER IN FOOD ORIENTATED ITEMS.

THE NON FOOD BUSINESSES AND OFFICES ARE DONATING MONEY TO BUY SHOP RITE GIFT CERTIFICATES.
---
THE LACEY FOOD BANK "HOLIDAY SPONSORS" PAGE
---
AND THEN THERE ARE THE ELVES...

After hearing that the gift program for the food bank kids had been cancelled this year, the ELVES stepped in. Pastor Terry Chapman, Forked River Presbyterian Church and the Church Youth Group stepped in.. They have committed to gift each food bank kid with a sweatshirt. This is a massive task with sizes, ages & names needed for over 150 children. After that is done, they have to shop for and wrap it all.

The ELF chairman for the last two years, Sally McGahey, aka Mrs. McClaus, has watched her program fade for lack of her ability to carry out the program, due to health problems. This will raise her spirits for sure.

Maybe this is what is meant by "keeping the faith" ?
GOT SOUP?

Thanks to GS Troop 264, the food bank increased it's stores this week when Leader Eileen Odom and Kelly Odom stopped in with a big donation of soup collected by the scouts in the troop for the benefit of food bank clients. An added bonus were the festive posters which now adorn our walls. Thanks for the help girls! (Along with the soup, the girls have joined in with food bank volunteers in soliciting local merchants for gifts from the community)

Also collecting soup for us is Wharfside Chiropractic, Route 9, Forked River. (We think it was Dr. Tom McGillick who passed the soup word on to the scouts.) Check back and we'll report on their soup collection too! Meanwhile, if you're in his neighborhood, drop by with a few cans of soup.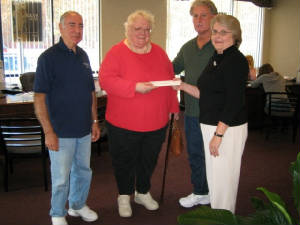 AN APPLE CRISPY DAY IN LACEY!
The annual apple festival to benefit the Historical Society got off the a breezy start, with the Lacey HS Band adding festivity to the occasion. The little ones enjoyed the pumplkin patch and fire truck rides as well as - CHOCOLATE covered apples on a stick, oh my.

The Lacey Food Bank was pleased to be able to present our program via information leaflets and of course, the volunteers were among the many snapping up the homebaked pies. This is just another of many family fun events that make Lacey such a great place to live.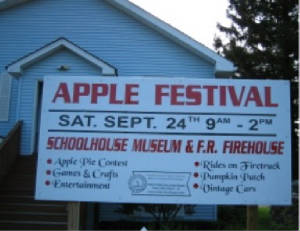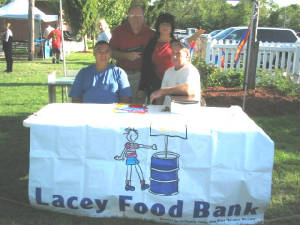 Al & Janet, Ron & Sal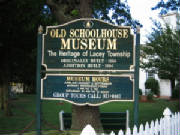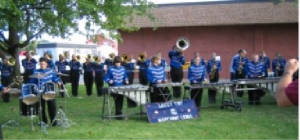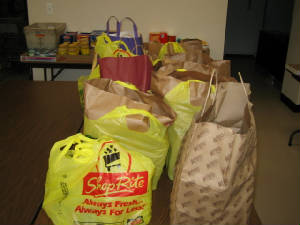 ---
WOW!
Thanks Lacey Day Committee, we sure needed this!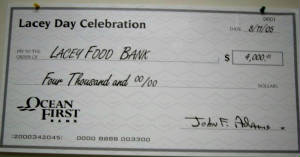 LACEY DAY 2005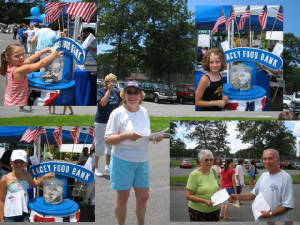 Click on any photo to enlarge it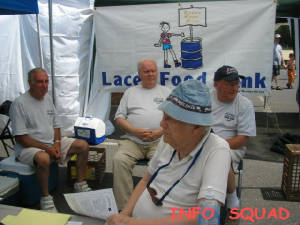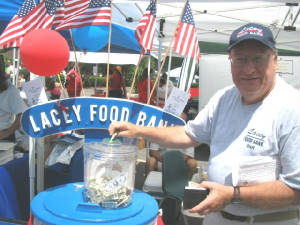 These are "Bille Bucks" : )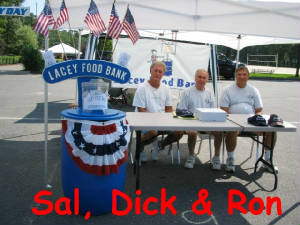 ---
IT IS WITH SAD HEARTS THAT WE ANNOUNCE THE PASSING OF OUR DEAR FRIEND AND VOLUNTEER RALPH LANUTO. THIS MAN OF THE ETERNAL SMILE AND HELPFUL HANDS SERVED AS OUR LIASON WITH CLUBS AND ORGANIZATIONS BECAUSE OF HIS WIDE CIVIC RESPONSIBILITIES WITH SO MANY WORTHY CAUSES. RALPH WAS ONE OF ONLY THREE VOLUNTEERS WHEN I JOINED THE FOOD BANK TEN YEARS AGO AS A VOLUNTEER. HE, EMIL & ZIGGIE DID IT ALL - AN INCREDIBLE FEAT OF DEDICATION. WE"LL MISS HIS SUNNY SMILE AND JOKES AND EXTEND SINCERE SYMPATHY TO HIS WIFE OF MANY YEARS, EDNA LANUTO.
---
ANNUAL POSTAL SERVICE FOOD DRIVE
Saturday May 14, a food happening, as food bank volunteers descended upon Unity Hall in Crestwood to meet up with the Lakehurst post office workers who had spent the morning collecting food from residents during the US Postal Services 13TH annual food drive - the largest day food drive in the nation.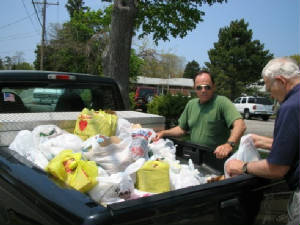 click on any photo to enlarge it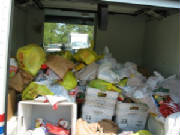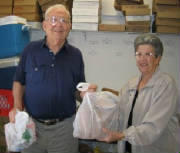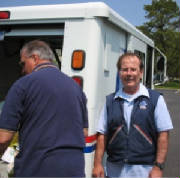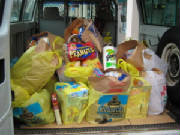 1,000 POUNDS OF FOOD
CURVES DOES IT AGAIN !
Once again our friends at CURVES in the Lacey Mall, have come through for the food bank. Here's Judy Hyslop, co-owner along with Allan Milboer, surrounded with t he amazing pile of food donated by the members of CURVES. These ladies are generous with their gifts, with the total weight of the donations exceeding 1,000 pounds (THAT 'S A HALF OF A TON, FOLKS) Thanks to all who contributed to the cause - When the "boys" (Guy, Dick & Sal) went to pick up the food in the Food Bank van, they were approached by a passerby who donated $20 on the spot, declaring that she had suffered hard times in the past and wanted to help out. And that's what it's all about, isn't it?
Greenbriar Women's Club
Thanks to all !
P.S. And wasn't that Sally Mac spotted on a treadmill in CURVES?
GREENBRIAR OCEANAIRE WOMAN'S CLUB

Sal & Dick visited Oceanaire at Greenbriar in Waretown recently to pick up a truck load of food that the Woman's Club had so graciously collected. The storesmaster was happy to see the foodstuffs since the demands of the winter have been particularly heavy.

Quoted in an article in this week's Beacon, chairman Guy pointed out that more people showed up for the Easter distribution than at Xmas. But, fortunately with the help of $$ donations, we were able to gift all with a ham, a dozen eggs and chocolate novelties.

Speaking of the storesmaster, he is beaming over the great article that the Observer did on him as a primo Lacey Food Bank volunteer. Stop by the food bank between 9-11 any weekday to see the article which we have proudly posted on the wall.
MARCH = FUNDRAISING KICKOFF
This month sees the start of our annual fund raising campaign. We do this now because The Finstein Foundation, led by Rhode Island philanthropist Alan Shawn Finstein, gives away a milliion $$ each year to food pantries, not in matching funds but by pro-rating all the donations we receive during the months of MARCH & APRIL and apportioning it out accordingly. Last year, Lacey Food Bank was lucky to be a recipient of the foundation's largess. Figures are based on $$ and food received during the months of March & April, with each food item being accorded a one dollar value. So if you are planning to hold a food drive or $$ collection for us, now is the time to do it. In addition, letters have been sent out to all businesses, organizations & professionals in Lacey as well as to our supportive base of the general public.

We take all donations with open hands and happy hearts!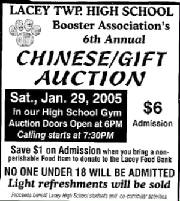 FOOD BANK WELCOMES NEW TRUSTEES

CHAIRMAN GUY BURNETT ANNOUNCED THE APPOINTMENT OF TWO NEW TRUSTEES -REVEREND LINDA APPLEGATE FROM THE FORKED RIVER METHODIST CHURCH AND PASTOR TERRY L. CHAPMAN, FORKED RIVER PRESBYTERIAN CHURCH.

BOTH PASTORS AND THEIR CONGREGATIONS HAVE BEEN FAITHFUL SUPPORTERS OF THE FOOD BANK. WE ARE HONORED BY THEIR WILLINGNESS TO SERVE ON OUR BOARD.

THEY JOIN TRUSTEES: LOIS GUTHRIE, Guthrie's Financial Services; ARTHUR STEIN, ESQ., DOUGLAS RUHLIN, Resource Management Assoc; RONALD THOLIN, Lacey Marine; AND fellow pastor, ROY MINNIX OF The Village Lutheran Church.
Food Bank Volunteers Celebrate

Gathering at CAFFREY's (of course) food bank volunteers met to celebrate the end of another successful year of serving the community. The list of volunteers has grown along with the need. This Xmas saw 122 families served, an all time high. Chairman Guy Burnett praised his volunteer force, stressing how important all their roles are. Special thanks went out to the storesmaster Dick Sansone for his almost full time service, Sally McGahey for her efforts in giving the food bank kids gifts for two years running, and Rose Furbeck, who chaired the luncheon for the third year. (Rose also distributed little packages of cookies and candies to all).

"This is a great bunch of people", Burnett said." And they even pay for their own lunch!"