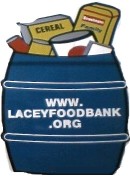 Food Bank Archives 2001 - 2004
*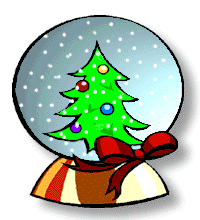 HOLIDAY GIFTING FROM ALL SIDES...
An unexpected esteemed sponsor came our way this week. Enclosed with a check for $250. was the following note:
"Dear Sirs,
I lived in Lacey Township for 33 wonderful years, and part of my heart will always call it 'home'. Merry Christmas and thank you for your work in helping others less fortunate.
Sincerely, Joyce Cervati, Durham, NC
Esteemed sponsors, by donating $240. annually, whether in one check or via a monthly donation of $20. support one family's monthly $10 Shop Rite food certificate plus supplementary food not included in the regular bags. (or $20 monthly) A few sponsors are supporting up to 10 families a year - CAFFREY'S and SHOP RITE to name two - but the backbone of the program is from people like you and me.
.
Tuna Club Member, Mary Wanca
And the " boys"
BEARING GIFTS...
Chairman Guy and the Dick, the Storesmaster, were visited this past week by Mary Wanca, from the Forked River Tuna Club. Mary presented them with $267 which was collected at the Tuna Club's annual Christmas Party. Club members also donated money for Sally McGahey's Food Bank kids gift fund. Thanks to all the members for being so sensitive to our needs.
**(Click on pictures to view larger, print or save)


HARK THE HERALD ANGELS SING....
And sing they did when Jennifer Barney led her Brownie Troop 210 on a neighborhood caroling tour. Along with spreading holiday cheer, the scouts accepted food and $78 in contributions for the food bank kids Christmas fund, combining fun with a serious purpose. Thanks to all of you for this creative way of helping the Lacey Food Bank.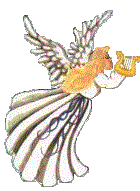 *
WOW, those holiday angels are popping up all over the place ! Esteemed Sponsor Patricia Poyner and her friend Dennis Norton, popped into the food bank this week with 10 brand new coats for the food bank kids. Seems Patricia saw that Kohls was having a big sale and just couldn't resist.
Thanks a million Patricia and Dennis.
*
Speaking of ANGELS...
Just take a look at what the women who attend CURVES came up with for the food bank kids. Owner Judy Hyslop is shown here with the Curves "toyshop" - these kids are really going to have good Christmas. Thanks gals for all you do.
(If you click on the picture to enlarge it, look at the lower left corner. These bears , along with a truck full of toys were being driven from CURVES to the Community Hall for display on the kids table. Volunteer Bruce McGahey swears that he put seatbelts on the bears and the "kids" too) when he delivered the load to the food bank.)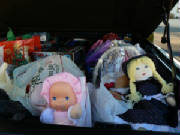 So was this too much of a good thing? Not when you are providing 175 youngsters with toys and clothing. So it was with delight that we were visited by the Woman's Club of Lacey, evening division, as Sally Mc Claus volunteer elves were setting up the gift tables. Along with the toys and gifts, the ladies donated gift certificates for the client lottery.....
Adding a hearty amount to the supply were the Pheasant Run Ladies Club and the AARP. Mrs. McClaus was a very happy camper indeed, seeing this booty mount up for her food bank kids.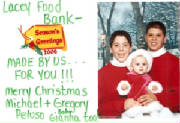 True F.O.F. B. are brothers Michael and Gregory Peluso who for the second consecutive year, have baked plates of cookies for the clients Christmas party. We'll look forward to seeing baby Gianna's thumbprint on cookies in a few years as she follows her brother's lead.
(Click on pictures to view larger, print or save)
.
LACEY HIGH SCHOOL SCORES AGAIN !
By the time we loaded up for the Christmas distribution, our shelves were in bad shape, not too much left to start the New Year. Then along came the Lacey High School Student Government bearing gifts - a whole truckload in fact. We asked the president of the groupk Steve Swain (l) to bring along some strong help for the (now weak) Chairman and Storesmaster and so he was joined by Justin, varsity football champion. We think they are all champions and we give thanks to everyone at Lacey High who have supported the food bank through out the year (s)
HELPER ELVES ARE ALWAYS WELCOME AT THE FOOD BANK ! THE DAY BEFORE DISTRIBUTION, NIKKI LUCIANO AND TAREN KOON CAME TO HELP AND PLEDGED TO RETURN ON SATURDAY TO WORK ON THAT MAGNIFICENT MOUND OF FOOD FROM THE STUDENT GOVERNMENT COUNCIL.
(P.S. - THEY DID INDEED DO JUST THAT.
Appearing in person....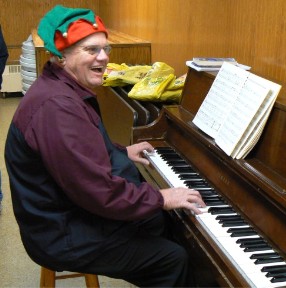 Pete Peters on the keyboard
CHRISTMAS CHEER FOR FOOD BANK CLIENTS
The end of another year with food bank volunteers and the community providing a measure of cheer for the clients. The cookies were flying in and flying right out, the toys and kids clothes were snapped up , the Christmas music rolled on.
And best of all the clients received ham, turkey or cornish hen dinners with sides along with the hit of the day - gifts from the community - Restaurant gift cards, ShopRite Gift cards, Pizzas and movies. To see a list of the benefactors, go to the Holiday Angel page. This has been a tremendous community effort and we hope we didn't miss anyone. Featured below are some candid shots of the morning's festivities. Now on to 2007 !
(Click on pictures to view larger, print or save)
.
Registrar Mary Fleming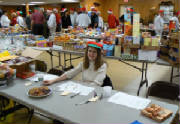 Waiting for the doors to open !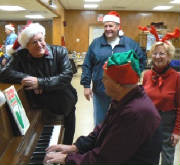 We got rhythm!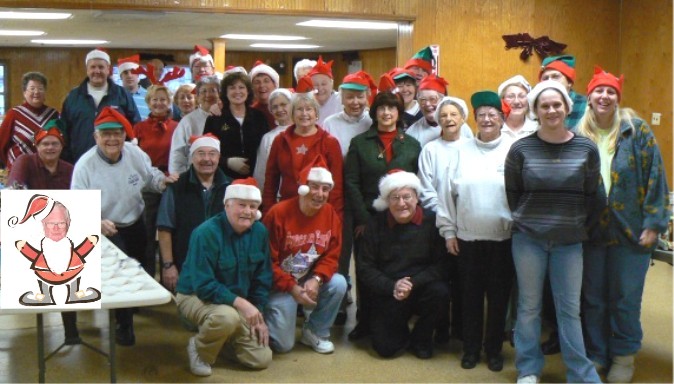 Merry Christmas from the Lacey Food Bank volunteers !
HO HO HO !
.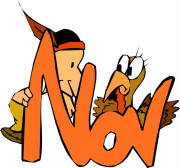 THE INTER-GENERATIONAL CLUB
The membership of this club is comprised of the young and the old, working together. As part of their service work, the students from Cedar Creek Elemenary School, led by their teacher, Randi Spexarth, have paid us an annual visit for several years now. The focus on their gifting is unusual and most welcome, since it features only non- food items - paper goods, toothpaste, wraps, detergents, soap, etc. - all welcome items on the monthly "take me" table. The students formed their own chain gang as they unloaded the bus with a serious amount of stores, then stayed for the morning to sort and pack it all. Now THAT is the kind of company we like to have at the food bank !
(Click on pictures to view larger, print or save)
SAY "CHEESE"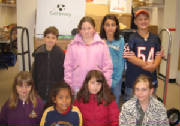 A JOB WELL DONE !
The soap goes where?
The toothpaste goes with the tooth brushes...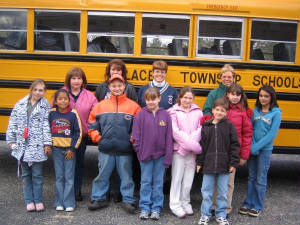 THANKSGIVING - THE WEEK THAT IS......
Second only to Christmas distribution week as the most labor intensive for the volunteers. The Rotary Club gifts us with the turkeys and dinner boxes, but all week food comes in to be sorted and sorted, 260 bags have to be packed, and room has to be found for the freeze-ables.
Take a peek at what's happening around here. First the crew assembled for Monday's "packin' & sackin' ", then somehow found space for the sacks that were packed. (260 of them)
Wednesday found us receiving delivery from Monmouth\Ocean Food Bank, which then required a trip to the Forked River Freezer to store turkeys. Always happy to help the food bank,T.J. was waiting with a fork lift. Then, seeing us grappling with all those boxes, our neighbors, the students at Deer Lake School, pitched in to help.
Thursday afternoon we meet up with Casey Parker's DPW guys and flatbed trucks, bringing the 3 tons or so of food over to Community Hall, with everyone forming a "chain gang", as volunteers set up the tables. Adding to the chaos are early bird clients who can't get there on Friday.
Friday morning, volunteers picked up bakery goods from Manhattan Bagels and ShopRite at 7 am., then returned to Community Hall to bag them and get ready for the doors to open at 8 am. Outside, eager clients lined up as early as 7:15.
Saturday we manned the food bank, as the Boy Scouts started bringing in their food booty from their annual door knob collection. More clients came who missed Friday, and we continue to meet clients on Monday & Tuesday, making sure that all who want and need it, get it.
The following Monday we start all over again, getting ready for Christmas.
WHEW, DOESN'T THAT MAKE YOU TIRED?
(Click on pictures to view larger, print or save)
BILL HIBBS & DON STILES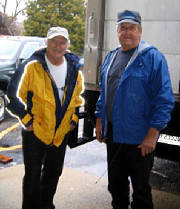 READY TO UNLOAD
All packed and sacked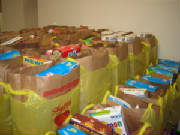 *
THE FINALE - DISTRIBUTION DAY
Thanks to our good friends in Rotary, and the Junior Rotarian service group "Interact" from Lacey High School, the clients all receive a turkey dinner, complete with pumpkin pie. This of course, is added to the regular food distribution, so it can get fairly hectic. Take a look at some of the action.
A SHOPPER'S DELIGHT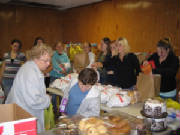 (Click on pictures to view larger, print or save)

FRIENDS IN HIGH PLACES
As our year comes to an end with two big finales - Thanskgiving and then Christmas - our needs seem to overcome our assets. This week, an angel from the Presbyterian Church , (actually Pastor Terry Chapman) stopped by and surprised Chairman Guy with a check for $3,000, a gift from the congregation. The congregation also holds an ongoing food drive which enriches our larder immensely. All of these good deeds are the embodiment of what we mean by sharing and caring, and we thank all of them for their generosity of spirit and deeds.
SCOUT FOOD DRIVE A HUGE SUCCESS
Saturday, Nov. 18th, found us at the food bank once again, as we stood by to receive food collected by scouts during their annual food drive. Residents are left a bag to fill the Saturday before, and the troops and packs are out early in the morning a week later to collect their bounty. And bountiful it was. At a time when our shelves were critically bare, the scouts managed to fill them again with a GRAND total of 624 bags of food collected. Many thanks to the parents of Jon Galati, Pack 522 who stayed to help store the massive amount of food then came back the next morning to finish it off ! A good deed indeed as far as the chairman and stores master (and their aging backs) are concerned.
To all of the scouts, their parent helpers and the Boy Scouts of America, we give thanks for this very important annual service project that feeds the hungry.
KIPT & ROGER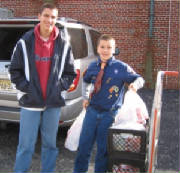 PACK 522
Meet Scout "Aja" from Daisy Troop #507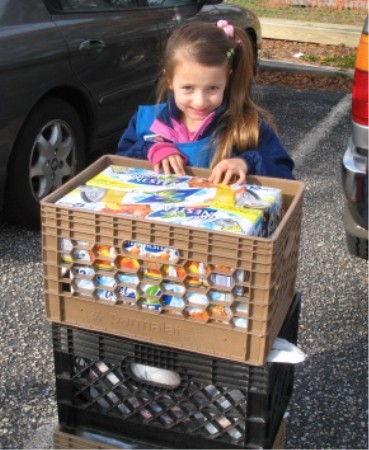 *
(Click on pictures to view larger, print or save)
MEET MR. TOUCHDOWN 2006
Yes, a busy week but not so busy that Chairman Guy and Store Master Dick couldn't find time to drop by Lacey High School where they received, on behalf of the food bank, a $1,000 check from the Lacey Cheerleaders.
Shown here (l.-r) are: Dick Sansone, Football Coach, Lou Vircillo, (who is the husband of cheerleader advisor and organizer of the fundraiser, Lori Vircillo) Chairman Guy Burnett and members of the cheerleading squad. The insert, lower left, features Mr. Touchdown 2006, CHRIS MEYLER.
Lori Vircillo explained how it works. The cheerleaders are each are assigned a senior football player to promote for the title. Utilizing decorated cans and T-shirts to collect cash votes for their guy, they leave no dollar uncovered as they canvas the student body and faculty during the week long event. At the end, the one who receives the most $ votes, is annointed Mr. Touchdown. This year, the cheerleaders collected an astounding $660 and the football player's foundation made up the difference to make it an even $1,000.
It is so rewarding to see how our young people have acquired this giving ethic. Just another example of a "Community Caring, by Sharing."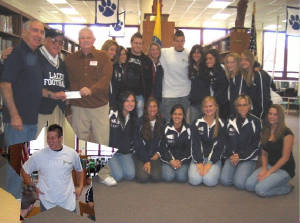 *
LACEY LIBRARY KICKS OFF HOLIDAY FOOD DRIVE
This is the time of year when our need for food is the greatest. Client rolls increase as seasonal employment ends and heating costs and illnesses soar. Therefore we are happy to announce that the Lacey Library is stepping up to the plate and will be receiving food donations in their big blue barrel at the library. So when you go in to take out or return a book, be a sport and drop in a few cans of soup or tuna, a couple boxes of spaghetti or cereal. You'll feel mighty good about yourself.
*

TURKEY DRIVE STARTS AT SHOPRITE
Going to Grandma's house and don't need your free turkey? We are collecting turkeys and hams for Xmas distribution and need your help. When you spend $300 on groceries you'll receive a free ham or turkey for the food bank.
Then, to make it easy for yourself, just put the completed receipt in an envelope, (leave your name and address so we can thank you) and simply hand it in to the courtesy booth. All food gifts for the holidays will be acknowledged on our Holiday Angels web page.
*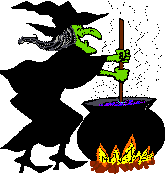 HAPPY HALLOWEEN TO
ALL OF YOU FROM ALL OF US AT THE FOOD BANK.
*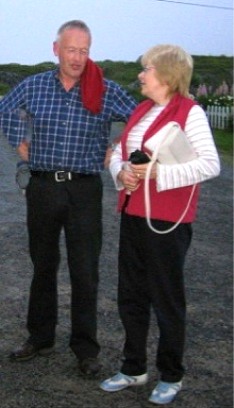 *
When Linda & Charlie McPherson from Stonehaven, Scotland, visited the Burnetts in Forked River recently, Charlie was enlisted into food bank service at October's distribution, hauling bags out in the pouring rain for the elderly clients.
Not content with that deed, they heard of the Christmas project where we try to get enough $25. food certificates to give each client one during Xmas distribution..... "lagniappe" or a little something extra. So upon their departure they presented enough $$$ to buy four of these gifts, therefore putting them in the #1 spot on our Holiday Angel page.
Thanks guys, it's the haws, so it is.
And when YOU have a food bank volunteer knocking on your door in the next two months, it is your chance to make someone's holiday a little bit brighter so welcome us with open arms. (and deep pockets)
*

(CLICK ON US TO ENLARGE)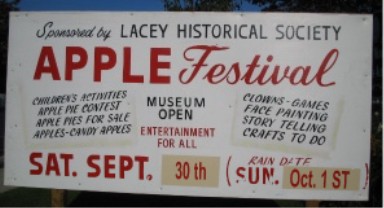 Apple Pie Weather
Food Bank Volunteers turned out in force to enjoy the Historical Society's annual Apple Festival. Sheltered by our new tent, the guys and gals "educated" the public by handing out brochures. There were lollipops for the kids, courtesy of JoAnn and Jim and the last minute addition of a donation jar brought us some needed dollars.
With such a large crowd atending, the pies go fast, so the CEO had to get there early and move fast to be able to bring one home to his 96 year old pie eating dad.
If you haven't attended this fest, make a point of doing so next year. The HS band contributed to the festivities as the color guards added their flair. The pie eating contest is a hoot, and the lucky judges get to eat plenty of pie as they they pick the winners of the pie baking contest. Lots of pumpkins, apples, and face painting complete the show.
Dedicated crew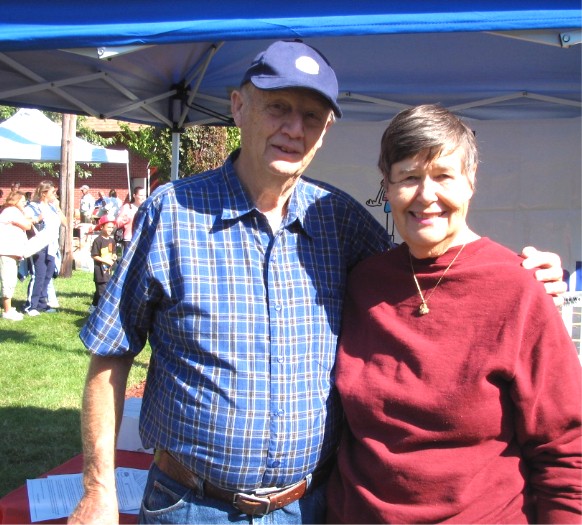 George & Penny Smith
*
September is back to school month, and the food bank kid's moms were delighted to be able to choose from a large selection of school supplies, courtesy of Curves and the Food Bank volunteers.
Look for our table at the Historical Society's Annual Apple Festival on September 30. We'll be under our new tent, courtesy of a ShopRite Employee in Bayville, who donated it to us after winning it in a raffle.
Let's all send get well wishes to the food bank's storesmaster, Dick Sansone, who is home recuperating from an operation. Meanwhile, we have discovered that the old axiom "you can be replaced" is true. The only thing is that in his case, it took six volunteers to do the job he does all week. Needless to say, his return is anticipated with joy.
And while you are sending get well wishes to Dick, send another one along to the Food Bank Kid Chairlady, Sally McGahey, who just underwent surgery on her leg. With a lengthy treatment ahead for her, it is doubtful that the kid's gift program will be held this year. Pray for her swift recovery back to wellness.
*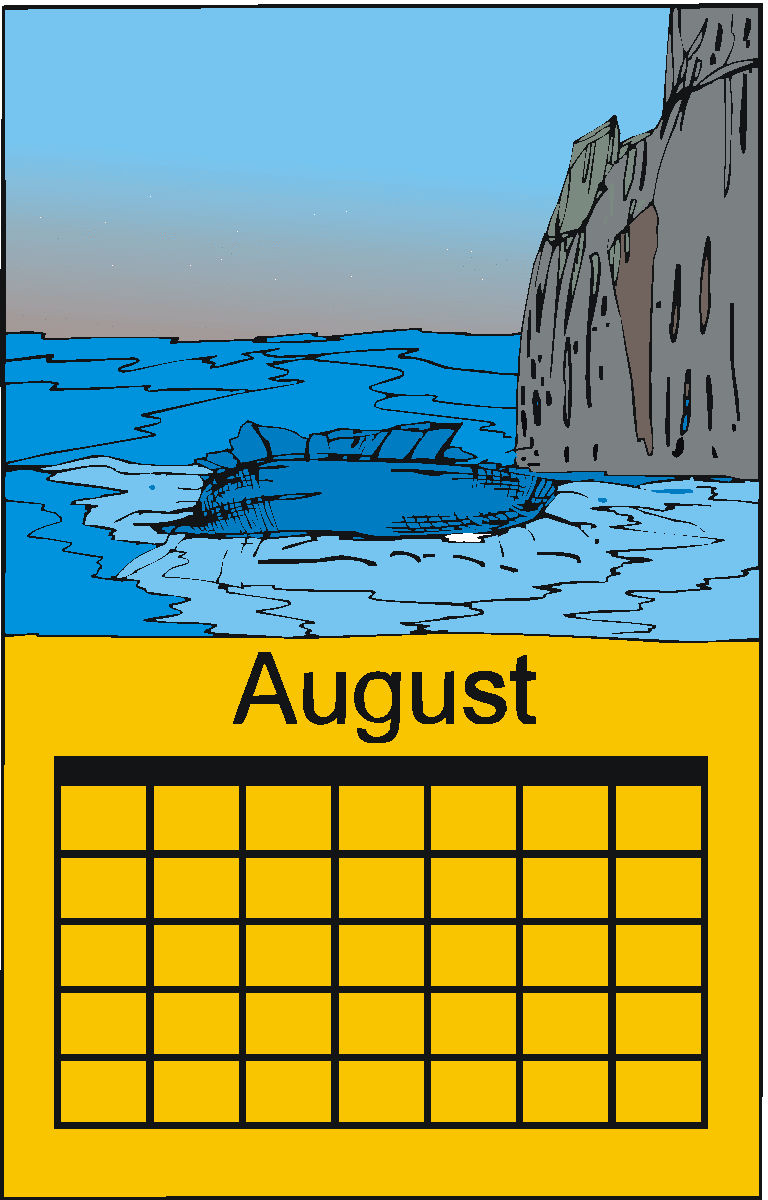 LOOK FOR OUR BOOTH AT LACEY DAY
ON SATURDAY AUGUST 19TH IN
GILLIE PARK. WE'LL BE THERE SO STOP ON BY
AND SAY HELLO.
And we were there, spreading the word and chatting up our Lacey neighbors. The volunteers showed up in force to distribute fliers and lollipops for the kids. (Courtesy of Jim Joeirman & JoAnn Norton who sat up half the night wrapping the lollies with tags displaying our contact info)
Good job from a great crew. Thanks to all.
.
ROSE & HOWARD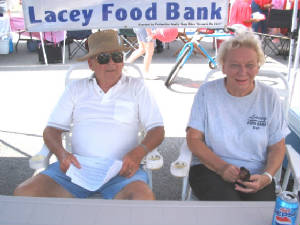 FRED & MARION
HAPPY 50TH ANNIVERSARY TO DAN & MARIE ARBACH FROM
ALL OF US AT THE LACEY FOOD BANK
This very special couple from Skimmer Court, in lieu of presents for their big day, requested that their guests bring a donation of food for us. As you can see from the picture below, the offerings were very generous -filling our sorting tables to the max.Thanks to all their friends and neighbors for taking their request to heart.
KID FRIENDLY CURVES
When a little (Sally) bird whispered into the ears of the gals at Curves , they swung into action. Joining in on our drive to provide school supplies to the food bank kids they just about did it themselves. Distribution day found moms and kids happily picking up pencils, pens, crayons and notebooks from the huge pile. Thanks to all of you for lending a hand, you're good friends to have in our Lacey neighborhood !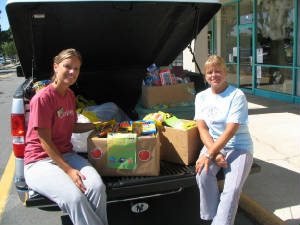 Colleen & Judy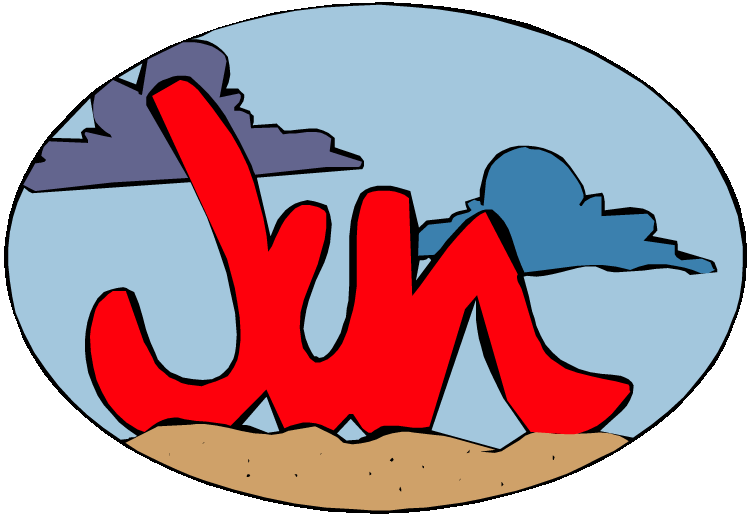 Tucked away between books, Bounty & LUVS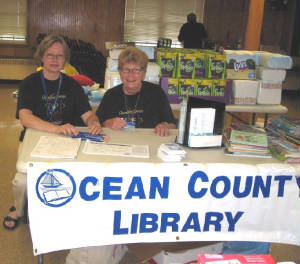 Audrey & Carole, Librarians Supremo
(Click on pictures to view larger, print or save)
FIRST BOOK GIVE-A-WAY A SUCCESS!
Sally McGahey, food bank kid chairperson, and Lacey Librarians teamed up to make the first summer reading program (inspired by a grant from Scholastic books) a success. The book tables were piled with offerings from Scholastic, as well as a large amoun t of books from "The Bridge of Books" program run by Abby Daley from Monmouth County. Individual book donations were also received from volunteers and friends of the food bank.
/As the children eagerly filled their bags with books, Lacey librarians, Carole Michelle and Audrey Zigmond were there to help with the flow and provide new readers with a library card.
The program will continue throughout the summer with a plentiful supply of books in hand. Thanks to all who made this a success.
LIttle Bookworms !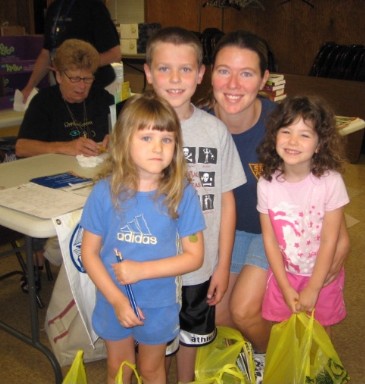 *
SCHOLASTIC BOOK GRANT INSPIRES SUMMER READING PROGRAM
Thanks to the philanthropy of Scholastic books, the Lacey Food Bank will be running a summer reading program for the food bank kids.
During the months of June, July and if supplies last, August, the children will be able to choose a free book from an assortment of over 200 books gifted for their use. Scholastic, believing that literacy is the foundation of learning, provides books and reading materials to low income children and families in order to improve reading skills and inspire the joy of reading among children.
When Lacey Library's head librarian, Kathy Lanzim, was told about this she got into the spirit of things by offering to have a staff member from the library present at distribution to assist children and their parents to sign up for a library card.
In addition, homebound clients will be encouraged to sign up for volunteer provided services in choosing & dellvering regular & large print books as well as books on cassette.
For information on how to become a volunteer for this service, call 732-269-5850. The program is run by the "Homebound and Volunteer Services" , OCC Library- Berkeley Branch , 30 Station Road, Bayville 08721 att: Shannon Walsh.
LACEY FOOD BANK HONORED TO BE HONORED !
To celebrate their 10th anniversary, the Ocean First Foundation held a cocktail reception and dinner to honor those who have received grants from this civic minded bank.
During the program, volunteers Rose & Howard Furbeck, representing the foodbank, were presented the plaque shown above which acknowledges our service to the community with yet another gift of 10 shares of Ocean First Stock and the notation "Because you shared with the community, we'd like to share with you".
The Ocean First Foundation was established by an endowment of $13.4 milion in Ocean First Stock during the bank's initial stock offering. Today, that endowment has a market value of approximately $38 million with community groups and organizations receiving over $16 million in small and large grants.
It was a grant from Ocean First that enabled us to increase the monthly food gift certificates from $5. to $10. Another grant bought us much needed refrigeration equipment, and a third grant enabled us to keep the food bank van on the road by paying for a year's \insurance. We fall in the small grant category, but these gifts enabled us to meet and improve services to the clients. Our appreciation is unbounded.
From shelters for abused children and women, to the arts, the theater, health care and scouting, the impact of the foundation's largesse is felt throughout the county. Isn't this refreshing in an age when other financial institutions are donating to political campaigns or lobbyists? For this we applaud Ocean First Foundation and the principles it embodies - "THAT A GREAT COMPANY GIVES TO AND INVESTS IN THE COMMUNITIES IT SERVES".
CINCO de MAYO FOOD DRIVE
MEET TRACY'S OSBORNE'S FIRST GRADE FROM THE OCEAN ACRES SCHOOL. THESE DETERMINED YOUNGSTERS HELD A FOOD DRIVE IN HONOR OF ZABIDIEL & KARLOS GONZALES AND AS YOU CAN SEE, IT WAS A BIG SUCCESS. ONE BY ONE THE CHILDREN PRESENTED THEIR BAGS OF FOOD TO THE CHAIRMAN AND THE STORESMASTER, UTILIZING THE LITTLE RED WAGON FOR THE HEAVY AND LARGER ITEMS.
THANKS TRACY AND KIDS - YOU ARE TRUE FRIENDS TO THE NEEDY.
*
LACEY SOCCER LEAGUE SCORES BIG !
(click on pictures to enlarge)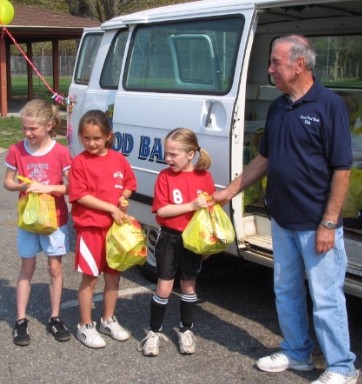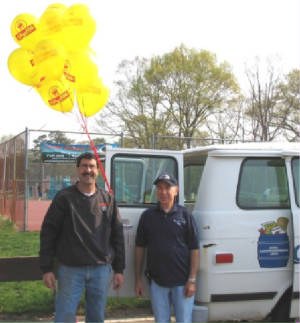 VP Chris Tonkovich & the storesmaster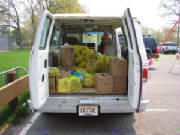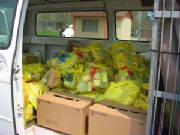 *
Thanks to the creative efforts of President Kevin Kazmeyer and VP Chris Tonkovich, the Lacey Soccer Club parents and children scored big for the food bank, filling our van in four hours. Along with the food, they donated $35 and five cases of apple juice.
To accomplish this, the club solicited prizes for drawings to be held with each youngster who brought in a bag of food eligible to win a prize. Along with this they distributed 900 bags and flyers to announce this event. Community philanthropist ShopRite donated juice and cookies for the players (althought food bank volunteers Guy, Dick and Sal were seen dipping into the cookie box)
Thanks to all of you who made this such a big success.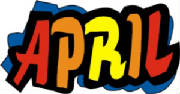 *
THE INTERGENERATONAL CLUB
presents
"THANKS, YOU MADE A DIFFERENCE"
CEREMONY
Tuesday, April 25, 2006
The Intergenerational Club held this ceremony honoring volunteers from several Lacey Organizations. Lacey MIddle School students, led by advisor Linda Devlin, honored the Food Bank.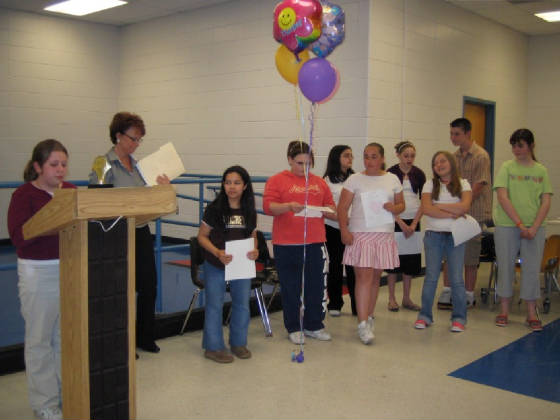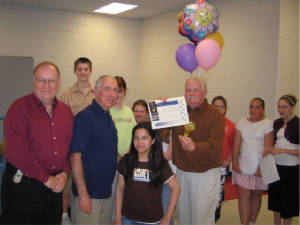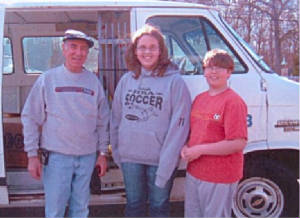 A BROTHER-SISTER FOOD DRIVE
Sometime we are astounded at the creativity and committment displayed by young supporters of the Food Bank. When Nicole and Geoffrey Rovira set out to collect food for us, they didn't fool around, but set out to distribute 50 empty bags in their surrounding neighborhood with a request for the residents to fill the bags. A week later they returned and collected the bags which held enough food to fill over three of our large banana boxes. This is the second year the sister\brother duo have helped the food bank. It is friends like these who lift our spirits and lighten our load. For this we thank you.
(Above are Nicole and Geoffrey with the happy storesmaster Dick)
Another young philanthropist is Nicholas Stevens who chose the Food Bank to be a recipient for his Church community project. Young Nicholas collected three large bags of food which he brought to the food bank along with two $10 ShopRite food coupons.

Surrounded by mounds of food are....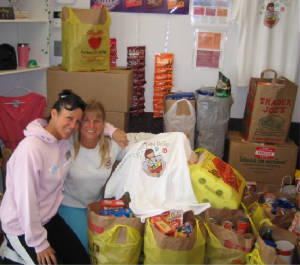 Anna Baranyay & Judy Hyslop
CURVES UPDATE
The final count is in and the women of CURVES turned in an astounding 2,170 pounds of canned and boxed foodstuffs. We cannot thank you enough. The Chairman has now declared you FOFB (Friends of the Food Bank)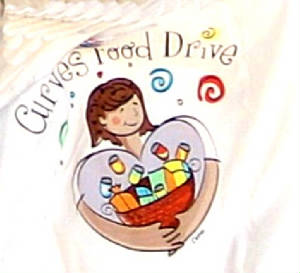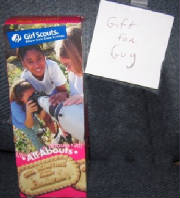 IT'S GIRL SCOUT COOKIE TIME, SO FIND YOURSELF A SCOUT AND STOCK UP ON A COUPLE MONTH'S SUPPLY. YOU ONLY GET THIS CHANCE ONCE A YEAR.
EILEEN ODOM, THE DYNAMIC LEADER OF GS TROOP #264 , STOPPED BY THE FOOD BANK TO DELIVER FOOD THE SCOUTS HAD COLLECTED FOR US. SHE THEN LEFT CHAIRMAN GUY A GIFT BOX OF THE SHEEERLY DELICIOUS "ALL ABOUTS" .
THANKS EILEEN, YOU'RE AN OKAY GAL FOR SURE!