IN THE FOOD BANK MAILBOX ....
" Thanks for the thank you note you mailed the last time when I gave for Thanksgiving. I was helped by the food bank one year ago so I am just giving back. So don't send another note to me, it will save a stamp.
Merry Christmas to all your people and those families you take care of. I also give at ShopRite when I shop. Thanks for everything and best wishes... "
Thank YOU for the thanks "Harry" You make it all worthwhile...
.
A HOLIDAY GIFT
Three days before Christmas and we were paid a very welcome visit from Tim Rausch, VP of Amergen\Oyster Creek . Bearing a check for $3720 - $3,000 of which is to support the cost of insuring the food bank van, courtesy of Exelon Amergen, the balance the result of generous Oyster Creek employees passing the hat as a holiday gift. So Virginia, there is a Santa Claus and he found us. (Storesmaster Dick is already planning to use the windfall for Easter hams. He's always thinking ahead )
IT TOOK A VILLAGE
And just take a look what our village of Lacey did for the Lacey Food Bank families and most of all the Food Bank Kids.
Facing the uphill battle to meet the needs of 190 families, as well as seeing that each food bank kid got something to wear and a toy, we weren't too confident we'd make it.
BUT then you came and came and came. You brought food, toys, clothing - you baked cookies, and you helped out. And by the end of the day, we did everything we wanted to do, and more.
Can we thank everyone who took part? No, we can't, because so many of you just stopped in and gave and gave and gave without leaving us a note or address so that we could properly thank you. So take a stroll through our Christmas Lane and see what we saw.... A happy ending for the kids and their families..
And special thanks to those we do know... Food Bank Kids Chairlady Sally McGahey and her band of determined elves, led by head elf Mary Wanka -
CURVES - SPRING OAK ASSISTED LIVING - THE LACEY LIBRARY - THE AARP - THE PHEASANT RUN LADIES CLUB - ULTIMATE GYM - LACEY ELEMENTARY SUNSHINE CLUB - BOY SCOUT TROOP 35 - LACEY HIGH SCHOOL'S PTSA - INTERACT AND SGA , STUDENTS, FACULTY & SECRETARY'S CLUB , The dynamic LAURA CAROCCIA + her family & friends - THE NODA FAMILY & FRIENDS -Ronnie KEENE & Family, PATTI BOCCINI - THE BOYER FAMILY -JUDY KEENE & WALT KEENE - THE DORSO FAMILY -PAT CROCKER - DONNA McAVOY & LAURA EUGENIO'S COOKIE BAKING SCOUTS WHO PRODUCE THOUSANDS OF COOKIES EACH YEAR FOR US -
Adding to our stores were the holiday food & turkey drives by Joseph Humenik's Lacey H.S. History Clases, and Chris Miller's Social Studies Classes....and from the children of the Goddard School. Give them an A+
And to all who remain anonymous, you've gotten your real reward as do the volunteers who make this happen ...doesn't it feel good ?
THE G.S. COOKIE BAKERS
Several years ago, Scout Leader Laura Eugenia initiated a cookie bake with all the other troops in town. The gaily decorated homemade cookie plates are eagerly awaited by the clients with the elderly particularily appreciative in this era of store bought cookies. Troop participation is high. This year they made over 100 cookie trays, with Troops 291 - 238- 507- 31- 375 - 299 - 578 giving it their all, plus brand new Daisy Troop 538 whose leader Heather reports were very excited to participate for the first time. Thanks to all the leaders and the bakers, your good deed was indeed a good one... !
And finally, meet the Peluso brothers, Michael & Gregory. This is the fourth year they have baked cookies with little sis Gianna serving as the taste tester . What a lovely family tradition - a nice one to embrace. And in a few years Gianna just might join one of those cookie baking brownie troops - with all that experience behind her, she'd do a good job.
WE LOVE A PARADE !
Hooray for the red, white and blue (& green) - and for the Lacey Elks Club, which made the Lacey Food Bank the theme for this year's Christmas parade. Asking parade spectators to fill shopping carts, wheeled through out the parade by the Elks sponsored youth group, the Antlers, they filled our van with food , a big boost for the winter season. And proudly appearing right behind the Elks color guard were Guy Burnett, chairman of the food bank, volunteer Jack Mountsier, and the food bank dog, Snoopy Burnett, who was a big hit with the kids along the way. Thanks to Richard Bard, who coordinated the event, for having us.
(sorry for the lack of pictures, the chilling cold made the camera freeze up, brrrrrrhhhhh )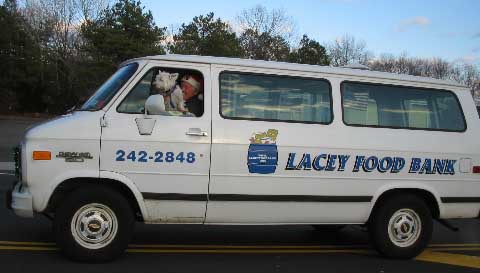 They say that the spirit of giving .....
lies within all of us. We believe it. Just this week we met up with young Samantha Chandler and her grandmother Ann Zack. Samantha decided she'd like to help people who needed food so she enlisted Ann to help her with the project. The twosome collected food then shopped for more. Here they're shown down at the food bank, where they presented the gift to Chairman Guy. What a great way to bond with your grandchild............
Then there is the Dorso family. After years of gift giving via the Pollyanna method among the adults, they agreed that there was little they needed or wanted , so they'd give the money to a worthy cause. LUCKY us - we are the worthy cause. The Dorso family also celebrates special occasions on our Memorial & Celebrations page and Tom and Anne Marie Dorso are esteemed sponsors. All of which has earned them the very special and exclusive title of F.O.F.B. (Friends of the food bank) ...................This week Shawn Huber paid us his annual visit. As his way of CELEBRATING Thanksgiving, he assembles & donates a large basket of dinner fixings and of course a turkey . He even provides an aluminum roasting pan. Bravo Shawn...................and finally our neighborhood by the food bank is collecting gifts for the FOOD BANK KIDS for Christmas.. Very simple method, they are honoring a child or grandchild in their lives, by buying a gift for his or her food bank kid counterpart. Who knows what a 12 year old boy wants or wears but a 12 year old boy?... Your are invited to join in this very creative cause. Distribution is December 19th so we need the gifts by the 18th. We just ask that a limit be set of $25 per item or piece of clothing. This is to avoid inequity of the gifts. And if you have 12 kids or grandkids, never fear, just pick your favorite one (we won't tell)
Intergenerational Club Pays A Visit
One of the storesmaster's favorite visits of the year is from Lacey Middle Schol Students\Elders from the Intergenerational Club of Lacey as as they arrive in a big yellow school bus chock full of non food items.
This year, they arrived in the rain, but by the time they left the sun was peeking through enough so that we could take our traditional picture in front of the bus picture.
The group sets out in early autumn to collect a large amount of non food items, everything from toothpaste and shampoo, to paper items and cleaning supplies and as you can see, this is one bit pile of items - this group of youngsters take their mission seriously. Luckily they stayed to sort and pack it - or the poor volunteers would have been there for hours. Thanks to all of you who helped, these gifts will be eagerly taken at the next distribution by the clients.
Happy Holidays to all of you
| | |
| --- | --- |
|   |   |
| | |
LACEY FOOD BANK'S FIRST ANNUAL GARAGE SALE A SUCCESS !
When FoodBank Volunteer Pete Peters initiated this happening, he had no inkling of things to come (or he might have quit before he started) The first date rained out, and with a trailer full of donated merchandise and more coming every day, the raindate was set in place.
But it was the day after distribution , the crew was weary and the weather prediction in the low 30's.... oh my word ! And the Interact Students from Lacey High had worked their fingers and feet to the bone. Could they handle another day of this? Could we handle this? Would anyone come on this frigid windy day?
Gamely the kids arrived with their advisor, Bunny McGauley and provided the muscle needed to get tables from the Fire Department, set them up, then dismantle them at the end of the day. PTSA President Laura Caroccia and Secretary Donna McAvoy came with a trailer loaded with treasures collected from PTSA family and friends. Interact officers Jenna Caroccia and Robbie McAvoy were on hand to receive and unload the many food donations that came in during the day.
The PTSA set up station in the front room of the food bank, and grateful volunteers, students and the public were able to get in out of the cold and have some coffee, hot chocolate, doughnuts and buttered rolls, all donated.
MERRY CHRISTMAS FROM FLOTILLA 79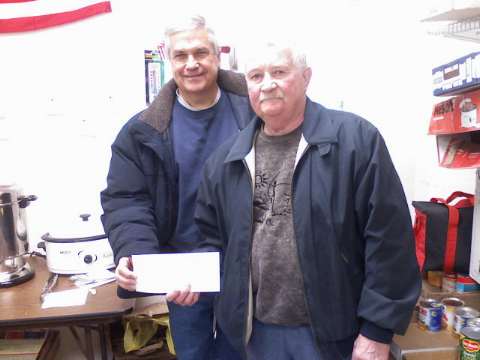 TO THE FOLKS AT THE LACEY FOOD BANK
Shoppers were generous, many leaving behind checks and others refusing change. And Commander Tom Don, of the Coast Guard Auxiliary Flotilla 79 , stopped by to present a donation of $500 to food bank chairman Guy Burnett as a boost for the holiday season.
Our thanks to Laura Caroccia for her reporting of this event, to all of the students and advisors, and to Pete Peters who took an idea and ran with it (with the help of these great organizations and his fellow volunteers who showed up and froze along with the rest of them) By the way, they are already planning the 2nd annual garage sale, BUT that one will be in the Spring.
AND A HAPPY THANKSGIVING TO ALL ...
Thanks to our friends at the Rotary Club and Lacey High School's Interact Club, the turkeys flew out the door this week with 176 families receiving a full turkey dinner, complete with pie. This annual tradition has seen our list of clients double over the past five years and somehow the Rotary manages to keep up with the list. While they provide the turkey and fixin's, the young women and men of Interact do the lifting and legwork. The day was sheer bedlam because it was also the regular distribution day for the food bank, but by mid morning, 160 families had happily carried their bountiful stash of food home. Update: by Thanksgiving day we gave out 176 turkeys and dinners , an all time high for the foodbank.
MR. TOUCHDOWN CONTEST A WINNER FOR THE FOOD BANK
This annual contest is a fun filled event with a purpose... to raise money for a good cause, and students at Lacey High enthusiastically join in the fun. Coach Jennifer Boyle assigns each cheerleader a player and the drive is on to get their man the title by selling votes. Now they say behind every successful man is a woman, and so meet Coral Caiola, who boosted her man to the front and gained him this prestigious title. A win win contest with the foodbank receiving $1,000 donation - $500 cash proceeds from the contest with the Football Foundation matching the proceeds . Thanks guys & gals and GO LIONS!
BOY SCOUTS DO THEIR GOOD DEEDS
And the food bank is back in business through the holidays. This annual food drive is a life saver for us. And the scouts really came through. The troops scoured the town, distributing thousands of bags. And our Lacey community responded by fillng them. Here's how the day went : Very early in the morning,
the Scouts fanned out across Lacey to collect the bags left on residents doors last week, then brought them to the food bank.
It was a real happening with Food Bank volunteers gathered at our building on the corner of Station Drive and Parker St. at nine o'clock, ready to receive the "troops of troops" Unhindered by the rain, by ten oclock, the scouts were coming with cars, vans and trucks filled with bags, a staggering 600 bags in all.. .. then our work started.
Volunteers met the scouts, who transferred the bags to our truck and van, then for the next 5 hours, the volunteers brought in the food, sorted it into in flat boxes (tuna with tuna, Peanut Butter,etc.) and shelved it. Just imagine a pile of 14 cases of tuna fish - pretty impressive? But the fact is that those 336 cans of tuna willl be given out the next month to our list of 186 families...and so it goes, the food comes in and the food comes out. And thanks to the great youngsters in the community of Lacey, it keeps coming in...
Here's a gallery of pictures from Saturday...We are sorry we could't feature each and every scout and troop, but there is always next year. (CLICK ON PICTURES TO ENLARGE)
MEET THE NEW PRESIDENT
Here's Patrick Maguire, the new president of Lacey High School's Student Government Association. Stopping by the food bank's headquarters on Station Drive with the first of many offerings the students will collect over the school year, he was greeted warmly by Snoopy Burnett, the Food Bank Dog. (Snoopy looks forward to meeting new friends and checking for broken bags of cookies )
Lacey High School Students are major players in the battle to keep the food bank's filled. Take a look at the past year in the newsletter and on the "Thanks and " page, to see the roll call of the many events and contributions they've made to us. We know that this ethic of giving will last them a lifetime and we applaud them for being true FOFB (Friends Of the Food Bank.)
LANOKA FARMS "PUMPKINS UP" THE FOOD BANK
Cheers to Robert Porcellini Jr. for brightening up our Halloween distribution. Thanks to him each family's bag was topped off with a pumpkin. And never mind just the kids, the old folks love it too. This is the fourth year Lanoka Farms has gifted our clients . They are true FOFB (Friends of the Food Bank)

LACEY SOCCER CLUB SCORES A WINNER !
Due to their committment to our food bank, the players, parents and great organizers and coaches of the Lacey Soccer Club filled our almost empty shelves with over 800 pounds of the food they collected on Sat. October 25 - most of it being the much needed SOUP. Despite a bad weather forecast, the games kept coming and the players kept donating. A real win for the food bank. Thanks to all for the "souper" effort.
IT PAYS TO KNOW SOMEONE !
Thanks to our faithful volunteer, Jim Joeriman, husband of faithful volunteer Joanne Norton Joeriman, the food bank gained another esteemed sponsor and a trunk load of food to boot. Jim is the manager of Caldwell Bankers Riviera Realty. His coordinator for the food drive which will be a ongoing event is Sherron Wilde, Sales Associate.
Sherron advises that the Riviera Realty office at 1055 Lacey Rd will be the drop off center for residents wishing to donate food or money. It is t heir intention to be a pernanent drop off point.
With this gift, they will be providing a food bank family a monthly ShopRite food card, and supplementary fresh food for a year. Thanks guys.
VFW PAYS US A VISIT
Not only did the folks at the VFW collect a mighty fine batch of food for us, but then they delivered it right to the front door. With our shelves very bare lately it was a welcome sight for sore eyes. Thanks to all at VFW Post 10118 for filling those bags and boxes. Shown below are:
Commander Larry Lee and Howard Toms.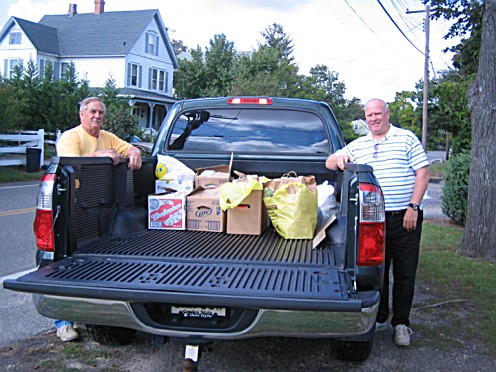 APPLE FESTIVAL DEFIES THE WEATHER
Despite gloomy skies, the Historical Museum's popular annual apple festival went on as planned. The quintessential small town Americana event is a delight - from the apple pie contest and the pumpkin patch, to the participation of the high school band and Boy Scouts. Committee man Dave Most, fulfilled his pledge to wash a school bus to pay off his losing bet and collected barrels of food for us. And of course, our faithful volunteers turned out to flier the crowd , hand out lollipops to the kids, and eat apple pie. Who needed sunshine for that? Take a look at the days events......
(click on pictures to enlarge)

Thanks to ShopRite, with the help of Jennifer McMahon, the food bank clients attending in August all received fresh salad ingredients. This gift was eagerly taken by all. Shop Rite is a true FOFB. We couldn't do it without them.
ALONG WITH THE SALADS, CLIENTS WERE AGAIN TREATED TO FRESH PRODUCE COURTESY OF THE FORKED RIVER PRESBYTERIAN CHURCH'S " HUNGER ACTION TEAM" . FOOD BANK VOLUNTEERS VALERIE KRUSIESKI & LORELLE GORMLY SORT AND PACKAGE 140 BAGS OF THE PRODUCE MONTHLY.
Thanks to the generousity of the Ocean First Foundation, the philanthopic branch of Ocean First Bank, the Lacey Food Bank will be able to buy a storage trailer, which will be placed adjacent to our building on the corner of Station Dr and Parker Ave.
This is good news for the storesmaster and for our clients. With the additon of additonal freezer space, we'll be able to accept fresh and frozen foods. When someone wants to give us an appliance, we can stash it there, so the next time a client needs a washer, dryer, stove or refrigerator, hopefully we'll have one for them.
This is the fourth grant Ocean First has awarded us. The first grant enabled us to increase the monthly food certificates to $10. , the second bought us freezers and refrigerators, the third paid for the insurance on our van, enabling us to put it on the road. They are true friends to the Food Bank, and for this we thank them.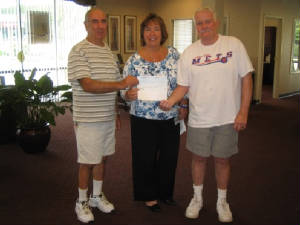 Shown here are Dick Sansone (l) and Guy Burnett (r) accepting
a check for $3,200 from assistant vice president and manager of the Lacey Branch
Lorrainne Dellert
.
1 + 1 = 2
THANKS TO MR. & MRS. WILLIAM LEACH FOR SIGNING UP AGAIN FOR THE ESTEEMED SPONSOR PROGRAM. THIS YEAR, THE LEACHE'S APPLIED FOR MOBILE'S RETIREES MATCHING GIFT FUND PROGRAM, WHICH DOUBLES THEIR GIFT. ARE YOU A RETIREE OR DO YOU WORK FOR A COMPANY THAT MATCHES CHARITABLE GIFTS? CHECK IT OUT.
.
THE WOMEN OF CURVES , ONCE AGAIN, CAME THROUGH FOR THE FOOD BANK KIDS, WITH THEIR DONATIONS OF SCHOOL SUPPLIES, JUST IN TIME FOR THE SCHOOL BUS ! ALL THIS BESIDES THEIR FOOD DRIVE EARLIER IN THE YEAR, ALONG WITH THEIR ANNUAL TOY DRIVE IN DECEMBER. THANKS LADIES, YOU ARE TRUE F.O.F.B.
* Friends of the Food Bank
LACEY POP WARNER LEAGUE CHEERLEADERS HOLD FOOD DRIVE
Stores Master Dick Sansone, shown here accepting food collected by the Pop Warner League Cheerleaders food drive. The shelves are emptying quickly this summer so it was most welcome. Thanks to all who participated.
CLICK TO ENLARGE ALL PICTURES

ON THE WEBSITE.
LACEY DAY A HIT !
Up to 5,000 Lacey residents took advantage of a picture perfect day to come out for Lacey Day. Free food, games & rides on the firetruck delighted the youngsters. The business expo showed off our businessmen, and there were exhibits from everyone from the Garden Club to the Lacey LIbrary. And of course, the Lacey Food Bank took the opportunity to educate the public with fliers and even collected almost $150 in impromptu donations.
Mayor Dave Most, the Rotary Club and Lacey HIgh's Interact club were kept busy cooking the burgers and dogs to a long line of hungry people, courtesy of Shop Rite. (Storesmaster Dick, using a quantum theory, followed a guy in a yellow shirt as he moved along the line and clocked the wait at only 12 minutes!)
Here's a picture gallery from one of the happiest events held in Lacey.
LACEY HEAD LIBRARIAN, KATHY LANZIM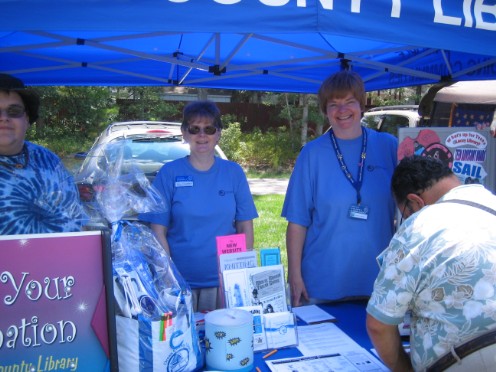 & STAFF, OUT FOR A DAY OF SUNSHINE
DICK & GUY - PARTNERS IN THE WAR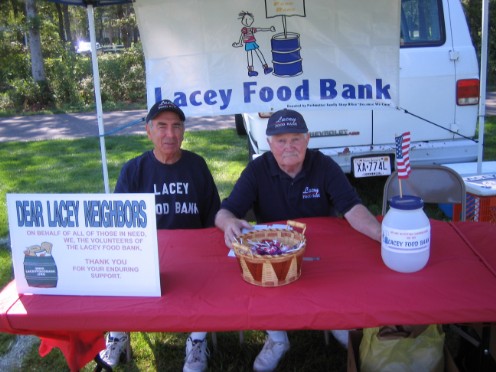 AGAINST HUNGER
JUDY & JOANNE, TAKING A DAY OFF FROM THE OFFICE

TO DO A GOOD DEED.

LET'S SEE, 5,000 PEOPLE X HOW MANY HOT DOGS AND HAMBURGERS? MAYOR MOST AND ROTARY ARE COOKING UP A STORM

ONLY 12 MINUTES ? SO SAYS THE STORESMASTER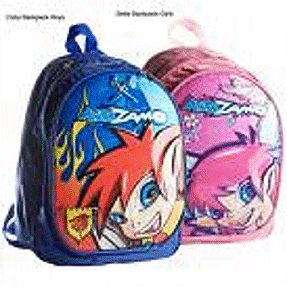 .
BACKPACK DRIVE GETS UNDERWAY
HELP OUT THE FOOD BANK KIDS (& THEIR MOMS)
IF YOU SEE THEM ON SALE, WOULD YOU PICK ONE UP AND GET IT TO US BY THE AUGUST 21st DISTRIBUTION?
YOU'RE INVITED TO A CONCERT
FOR THE BENEFIT OF THE LACEY FOOD BANK.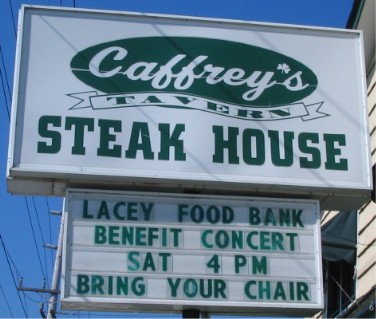 Join us at CAFFREY'S on Saturday July 19th - 4 pm until ?? - for an outdoor concert and enjoy a great deal\meal too.
CAFFREY's offers a daily happy hour from noon to six o'clock with half price drinks and appetizers. (try the pizza, it's the best in town) So here's your plan...Get there early. Order a $2.00 glass of wine or a $1.50 beer. Try to decide what appetizers you want - bar size pizza? 25 cent wings? Or bacon & cheese topped potato wedges... Eat up, order another beer in a paper cup and join the crowd outside...Enjoy the music and go back in for dinner...always a great selection at reasonable prices. Don't forget to bring a chair !
We'll be there, hope to see you
.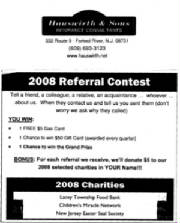 click to enlarge picture
CHECK OUT HAUSWIRTH & SON INSURANCE CONSULTANTS
Do yourself (and us) a favor and call them for an estimate on your insurance needs. You'll be pleasantly surprised by the rates and the small town personal attention you'll receive from Rich and Margaret Hauswirth.
The Hauswirth are official members of the FOFB (Friends of the Food Bank ) as well as being esteemed sponsors for the last six years. When the food bank needs a boost, they always come through, whether it be ShopRite gift cards as an extra present for the clients at Xmas, or toys and clothes for the food bank kids.
Last year, along with two other charities, we received over $1,000 from their referral program. To receive their witty informative newsletter give them a call at 693-3123 and tell them you were referred by the Lacey Food Bank. Then tell your family and friends to do the same.
LACEY TOWNSHIP WELCOMES HUDSON CITY SAVING BANK,
a new addition to the AppleBee's Shopping Center on Route 9. Bank officials were welcomed by Lacey's Deputy Mayor, John Parker and Committeeman Mark Dykoff, during the grand opening's ribbon cutting ceremony.
As part of their commitment to become part of the community, bank manager Tom Wright presented our own "CEO" Guy Burnett with a check for $1,000. This makes them the newest member on our Esteemed Sponsor list, for with this gift, they will be supporting four families for a whole year with a monthly $10. ShopRite gift card and $10. worth of refrigerated food must buy to supplement the pantry offerings.
And for that we thank them.
AS YOU VIEW PICTURES ON THE SITE , CLICK TO ENLARGE THE PHOTOS
THE STUDENT GOVERNMENT ASSOCIATION OF LACEY HIGH SCHOOL CELEBRATES NATIONAL HUNGER AWARENESS MONTH ALL YEAR LONG!
Here's SGA president, Justin Rand, during his delivery of the food Lacey HS students collected for the food bank . Look back over the last two years and you'll find that this is a regular service act the SGA performs for us.
Sorry to say we won't be seeing Justin around here any more - he's off to the Unversity of Pennsylvania Law school where he'll major in philosophy, politics, economics and hopes to become part of the federal judicial system or go into politics. Now how do we know that? We found it in a newspaper article celebrating the brilliant careers of high school seniors in the county and Justin was "the man" from Lacey High School.
We wish him success and have no doubt that he will become an outstanding member of society. Lacey High School is proud to call him their own.
.
THANK YOU JOSEPH DE RADO !
You fulfilled your service commitment by working with us at the food bank. You were a pleasure to have around so we thought we'd show our "viewers" a picture of you as you helped pack and load food into the van at the Soccer Club picnic.
Meet Joseph (he is working hard)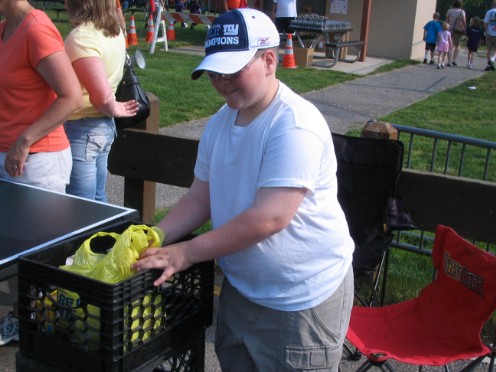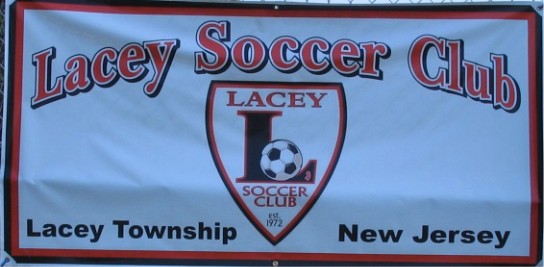 .
THE LACEY SOCCER CLUB HOLDS ANNUAL PICNIC
Despite the sizzling heat, the picnic was a huge success. Games, team awards and a huge table of "mom" goodies & food were the focus of the celebration A really special surprise was the appearance of Pro Soccer's Seth Stamler of the NY Red Bulls.
Chris Tonkovich, Jamie, Dick the Storesmaster
Seth Stammler & President Kevin Kazenmayer
As in the past, the club held a collection of food and funds for us, over a quarter of a ton of food & donations totaling over $200. Thanks to all the coaches, parents and players of the Lacey Soccer Club for their continued support of the food bank. We couldn't do it without you.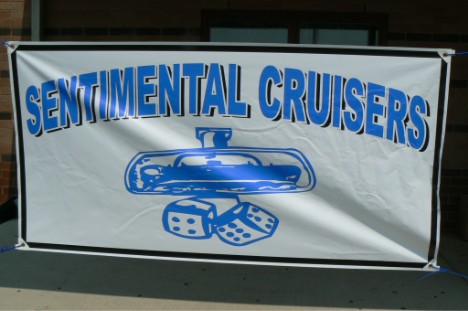 A BEAUTY !
MELLOW YELLOW IS THE GAME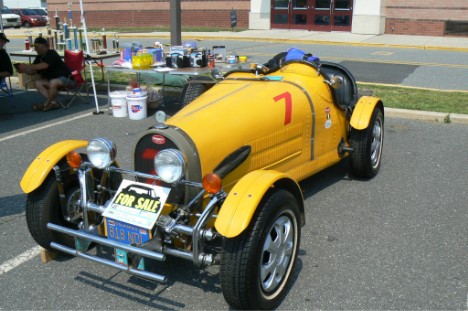 .
IT WAS HOTTER THAN BLAZES ON JUNE 7 ..
but the fans of antique cars came out in force at Lacey High School to view the dazzling array of beauties lovingly restored and maintained by their devoted owners. Thanks to the Sentimental Cruisers of Ocean County and president John Samolyk for assigning the proceeds of the 50\50 drawing to us thereby combining a life passion with good deeds. (The Club has been an esteemed sponsor for the last two years)
click to enlarge pictures
photos courtesy of Bruce McGahey
A LETTER FROM JACKIE RANUSKA, PRINCIPAL, CEDAR CREEK SCHOOL

The Cedar Creek School participates every year in MARE (Marine Activities Research Education).
The school spends an entire month studying the ocean. Each grade level studies a different habitat such as the Rocky Sea Shore, the Sandy Beach, the Wetlands, Ponds, and the Kelp Forest. The month ends with a culminating week of activities. One of the activities is a MARE Family Night. This year over 450 students and their parents visited the school to participate in games, activities and view projects.
This year, the committee chairpersons Jen Bently- grade 3 teacher- and Jude Hadley - Transitional first grade teacher - decided to enhance family night by ceating a "Food Pool" for our Cedar Creek families to donate food to the Lacey Food bank.

We hope our contribution is helpful to our community!
YES, PRINCIPAL RANUSKA, YOU WERE INDEED HELPFUL AND ON BEHALF OF OUR STORES MASTER, ALL THE VOLUNTEERS AND THE CLIENT FAMILIES WE SERVE, I THANK YOU.
Guy Burnett, Chairman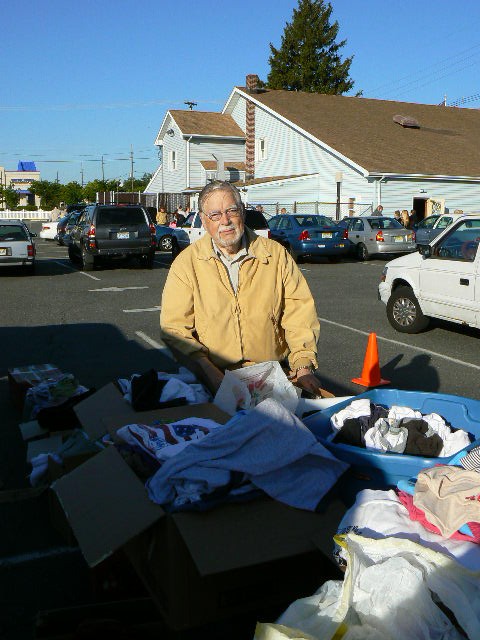 Clark Paradise
*
CHECK OUT THE FOOD BANK VAN !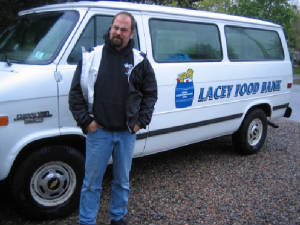 NO, WE DIDN'T STRIKE IT RICH AND BUY A NEW VAN, BUT IT SURE LOOKS LIKE NEW. USING A GRANT FROM AMERGEN, WHO ORIGINALLY GAVE US THE VAN, WE TOOK "HER" TO "WRECKREATION", A LOCAL AUTO BODY SHOP THAT WORKED WONDERS.
HERE'S THE MAGICIAN OWNER OF WRECKREATION, HERMAN WEIGMAN, SHOWING OFF THE NEWLY RUST FREE, ROT FREE, GLAMOROUS VAN. HERMAN IS STATE LICENSED, WORKS WITH ALL INSURANCE COMPANIES, AND GAVE US A GREAT PRICE. WE HOPE YOU DON'T NEED HIS SERVICES, BUT IF YOU DO, CALL HIM A CALL AT 693-8010 FOR AN ESTIMATE.
US LETTER CARRIERS ANNUAL FOOD DRIVE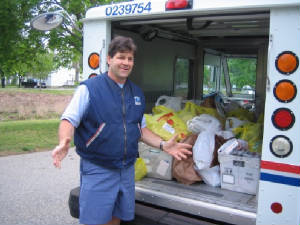 Lakehurst Postal carrier Frank was the first guy in. Thanks for giving that "extra" push today fellows.... we appreciate.
MAY 10TH SAW POSTAL CARRIERS FANNING OUT ACROSS THE NEIGHBORHOODS COLLECTING FOOD FOR PANTRIES AND FOOD KITCHENS ACROSS THE NATION. ALTHOUGH OUR LOCAL POST OFFICES HERE IN LACEY DO NOT PARTICIPATE, WE ARE FORTUNATE TO BE ABLE TO SHARE THE WEALTH. EACH MAY, THE CHAIRMAN AND THE STORESMASTER TRAVEL TO THE LAKEHURST POST OFFICE AND COME BACK WITH A HUGE AMOUNT OF FOOD, JUST IN TIME TO REPLENISH OUR SHELVES FOR THE BUSY SUMMER SEASON. THANKS TO ALL THE HOUSEHOLDS WHO DONATED FOR THIS WORTHY CAUSE.
.
THE SIGN SAYS IT ALL - MARCH IS LACEY FOOD BANK MONTH AT CAFFREY'S, OUR OLDEST AND MOST COMMITTED SPONSOR. STOP BY AND ENJOY THEIR SPECIALS - HAPPY HOUR IS DAILY FROM 1- 6 WITH HALF PRICE APPETIZERS - AND RIB EATERS TAKE NOTE OF THURSDAY'S ALL YOU CAN EAT SPECIAL. WHILE YOU ARE THERE, DROP A COUPLE $$ IN THE BIG JUG AND SIGN YOUR NAME ON A SHAMROCK. LET'S SEE IF WE CAN COVER THE WALLS BY THE END OF THE MONTH.
* UPDATE CAFFREYS collected a grand total of $1500 from their generous diners - which will support six families for the coming year with a $10.ShopRite food certificates each month as well as $10 worth of refrigerated necessities. And....a little birdie whispered that there will be an outdoor concert this summer in our honor too. Thanks to Joe & Dan Coleman for being such great supporters of not only us, but of the entire community.
*
APPLEBEE'S COMES TO TOWN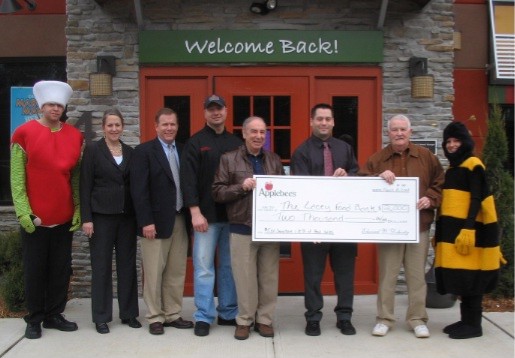 APPLEBEE'S OPENS
With a successful grand opening on St. Patrick's day behind them, the management of AppleBee's turned to their new community and gave the Lacey Food Bank a grand gift. Shown here are Chairman Guy Burnett and Storesmaster Dick Sansone receiving a check for $2,000 from Ray Bartz, general manager of the Lacey restaurant. This gift represents 10% of the opening night proceeds as well as donations from each guest the night before on the "family and friends" try out night.
Unlike many chains, Applebee's is known for integrating into the community and (as per our motto) demonstrates "Caring by Sharing". On behalf of all of the volunteers and clients of the food bank, we give thanks to Applebee's and to Mayor(s) Danny Most & Brian Reed who suggested that we be recipients.
Needless to say,they shall be placed on our Esteemed Sponsor list for 2008. When you stop in for lunch or dinner, give them a round of applause & thanks from the LFB !
GIRL SCOUT TROOP 123
This troop of lovely young scouts came by the food bank recently and along with their leaders, Debbie Smith, Melissa Fastow and Jennifer Stratton delivered an astonishing 3 van loads of food for us. This visit coincided with the (miniscule) food bank's readiness for distribution so it was quite a challenge to store it in and around 260 packed bags plus many boxes which get sent over to Community Hall.
But the good thing is that as our food goes out, it is groups like these dedicated scouts who replenish it. Thanks to all of you for a job well done.
CURVES DOES IT AGAIN !
(click to enlarge pictures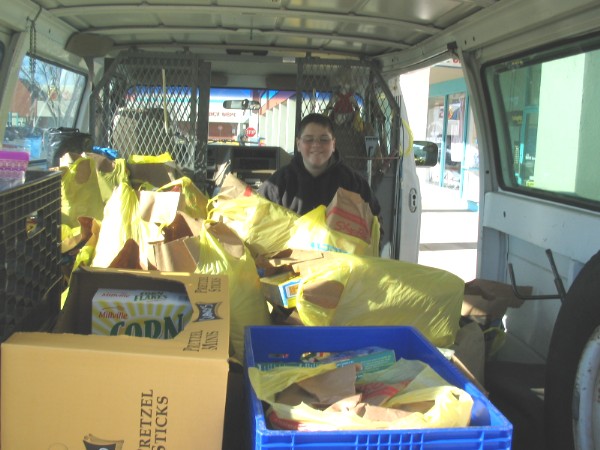 *
The Women from Curves, knowing that after the holidays, shelves are fairly bare, set aside March each year to collect food for pantries all over the country. Our Lacey Curves, owned by Judy Hyssop and Allan Milboer do much more.. school supplies in September and always toys at Christmas. This March they collected the amazing amount of (ta da)
1300 POUNDS
(or over half a ton)
Shown here are instructor Carol, checking out the goods, and in the overflowing van was Boy Scout Joesph Da Rado, doing his good deed by helping the old (umm mature that is) chairman and storesmaster to load, unload and store the food. Thanks to all for your outstanding support.
(click to enlarge pictures)
*
MEET GS TROOP 215
aka
" THE "LEAF BUSTERS"
KELSEY, ANNA & GIANNA
Watcha looking for Gianna?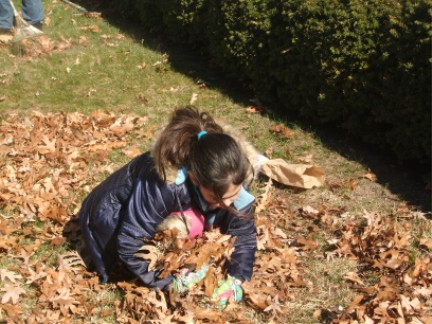 THE LAST SATURDAY OF MARCH FOUND SCOUTS FROM LAURA EUGENIO'S TROOP 215 WIELDING RAKES AS THEY SWEPT ACROSS TOWN, RAKING LEAVES AND DEBRIS FOR A DOZEN OF THE FOOD BANK'S ELDERLY OR HANDICAPPED CLIENTS. THE GROUP OF 7 SCOUTS, SIX PARENTS, ONE BOYSCOUT AND ONE BROTHER SPLIT UP INTO TWO TEAMS AND STARTED AT 8:30 AM - NOT ENDING UNTIL AROUND 3:30.
THIS UNIQUE GIFT WAS WELCOMED BY THE BENEFICIARIES WHO, ACCORDING TO LAURA WERE VERY APPRECIATIVE WITH SOME OFFERING TREATS OR A FEW DOLLARS TO THE GIRLS. (THE FORMER ACCEPTED, THE LATTER POLITELY DECLINED) THE WHOLE OPERATION LASTED UNTIL MID AFTERNOON, AND THEY ALL LEFT HAPPY WITH THEIR GOOD DEEDS AND WEARY OF ARMS AND FEET. (and she reports they broke only one rake and no bones)
OUR THANKS GO OUT TO THE ADULT HELPERS WHO GAVE UP THEIR TIME TO ACCOMPLISH THIS WITH THE SCOUTS AND TO THESE WONDERFUL YOUNG GIRLS WHO AT A YOUNG AGE ARE THINKING OF THOSE LESS FORTUNATE - A HABIT THAT WILL LAST THEM FOR A LIFETIME.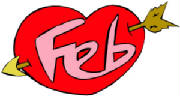 The Food Bank recently received a letter and a check from Mary Granahan, 6th Grade Teacher at he Mill Pond Elementary School. Here is some of what it said....
BEYOND THE POND
"Mill Pond Elementary students engaged in this program which was instituted by Principal Susan Gallagher and Supervisor Mary DeFillippis. The projects encourage the students to reach out and help others in the community. Gifted with $50. seed money from the PTA, each class had the option of raising more money with the base amount, buying supplies to make items that would be donated to a charity or donating their base amount to support other classes. The projects were diverse and inspired the students to look beyond their own needs and wants and to become caring and compassionate in life."
The Lacey Food Bank, one of several charities chosen to be recipients of the student's labor, was happy to receive a check for $120.30 from Mary Ganahan's 6th grade. If you look at the numbers from our esteemed sponsor page, this money will support one family for 6 months by providing them with a $10 food certificate and $10. worth of fresh food. We congratulate all of you for implementing this creative, wonderful project and thank you for choosing us as worthy of receiving your gift.
"SOUPER BOWL '08 "
The little red wagons were filled with soup, courtesy of the first and second grade students from the Ocean Acres Elementry School. This creative tie-in with the Superbowl, along with the Big Blue victory is the coup of the week. Teachers Tracy Osborn & Marti Connolley ran the event with the children making their "souper"goal . Thanks to all you little "soup heads" from the volunteers and clients of the Lacey Food Bank.
INTERACT, REDUX
The missing photos have been uncovered, hidden somewhere in the undernet , so we couldn't resist the chance to show off the wonderful teens from Interact, a service club based at Lacey High School. Each November, during the food bank's monthly distribution, the group teams up with their senior Rotarian mentors, to supply and distribute turkeys and boxes of dinner 'fixin's from soup to apple pie. It is a massive effort and on behalf of the clients and volunteers of the Lacey Food Bank, we heartily thank them.
LOTSATURKEYSREADYTOGO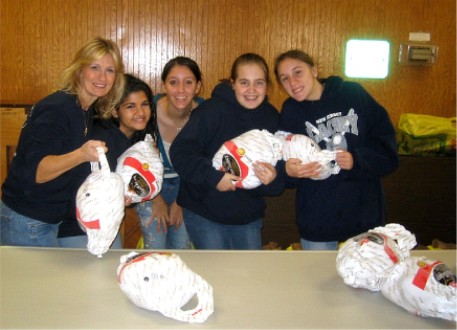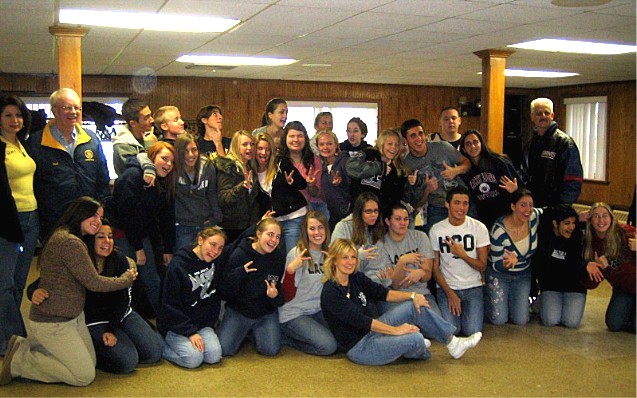 A BOOST FROM THE BOOSTERS
The Lacey High School Booster Club starts off the food bank with a big boost, a trunk load of groceries and $109.50 as well. The proceeds were from their successful annual Chinese auction which funds the Boosters for the year. Lucky us.... being the beneficiary of their thoughtfulness. All attending had a choice of paying full price (with $1.00 rebated to us) or bring in an item food to save $1.00 off admission. A win win situation for the food bank. Thanks to all the Boosters for continuing this annual gift, so needed at any time of the year, but especially after the holidays. Shown below is the chairman of the Booster club, Brian Egbert, wife Lynda and son Paul.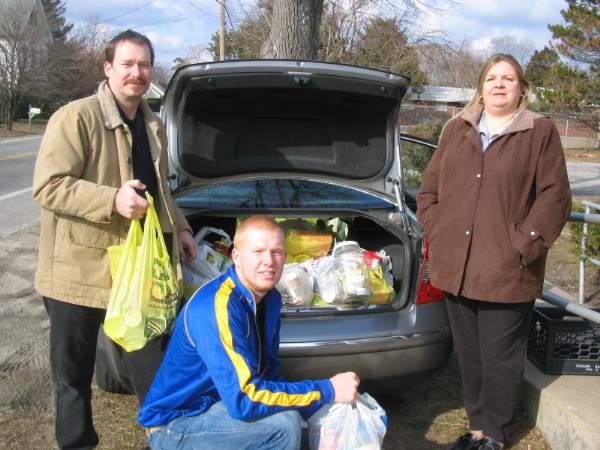 Happy Birthday Theresa Roeseler, from the Lacey Food Bank,
for celebrating your birthday by asking for food for us in lieu of gifts from your family & friends. Your gift is being acknowledged on our Memorial & Celebration's page, but we think that this is such a good idea, we wanted to make it front page news this month.
and...
A big welcome to the top of the ESTEEMED SPONSOR list
to Patrick Allen the first sponsor of the year.(along with our devoted monthlies) May you be joined by the multitudes. (of course, you sort of stay on the top of the list, due to the alphabetical order but we won't count that this time)
JANUARY MEANS LACEY FOOD BANK VOLUNTEER MONTH
For the sixth year LFB volunteers met at Caffrey's of course (our first esteemed sponsor) to celebrate another year of service. Chairlady Rose Furbeck always manages to make it special with prizes and home baked cookie bags. A good time was had by all. (unfortunately, no one thought to bring a camera so you can't see the full range of merriment amonst the 35 participants) The good guys at Caffrey's promised another Lacey Food Bank month of March for us.
*
OUR FIRST NEW ESTEEMED MONTHLY SPONSOR WEIGHS IN...
What a nice way to start the new year.........with a thoughtful e-mail from Laura & Jenna Caroccia who have now joined the list of our "monthlies".
"Good Morning, This is something my daughter and I would like to do. I've already sent a check in for January.
My daughter Jenna took part in the Rotary Thanksgiving food distribution and she came home from that experience with a new outlook and an appreciation of how lucky she is. Thank you for giving the teens of our community an insight to the real world.
Happy New Year, "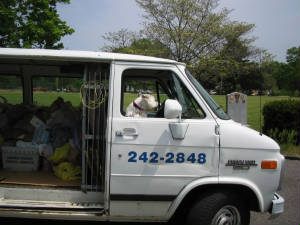 EXELON GRANT KEEPS FOOD BANK VAN ON THE ROAD
The food bank van will be insured, registered, and repaired, thanks to a $3,000 grant awarded to us by FOFB Amergen's parent company Exelon. Originally gifted to us by the company, the van has become a familiar sight as it works it's way around town, picking up food daily, delivering food, and receiving food drive donations from all of the FOFB s(Friends of the Food Bank) The picture on the left was taken in Whiting, as the crew waited for the post office trucks to come in bearing vast amounts of food donated during the annual post office drive in April. Look closely & you'll see food bank mascot Snoopy Burnett, keeping a look out.