NEWSLETTER 2009
AS WE NEAR THE END OF 2009, TAKE A MINUTE TO LOOK BACK AND SEE WHAT IT TAKES TO "MAKE A VILLAGE" . FROM TINY TOTS TO TEENS, CHURCHES, SCHOOLS & ORGANIZATIONS TO BUSINESS LEADERS AND THE TOWNSHIP OF LACEY, WE ARE SO PRIVILEGED TO HAVE THIS OVERWHELMING SUPPORT FOR WHAT WE DO.
TO ALL THE RESIDENTS AND SUPPORTERS IN LACEY WHO TAKE THE TIME TO PICK UP AN ITEM FOR THE FOOD BANK FOR A FOOD DRIVE OR TO SHOP & DROP INTO SHOP RITE'S PULL OUT DRAWERS IN THE LOBBY, WE THANK YOU.
Guy Burnett
Chairman
(CLICK ON WEBSITE PICTURES TO ENLARGE).
LET THE LIGHT SHINE
PRESENTING THE LACEY FOOD BANK VOLUNTEERS IN THEIR ANNUAL PORTRAIT, TAKEN RIGHT BEFORE THE DOORS OPEN FOR BUSINESS AT THE CHRISTMAS DISTRIBUTION. THESE COMMITTED, HARDWORKIING CITIZENS GIVE THEIR ALL TO SEE THAT THE NEEDY IN LACEY ALWAYS HAVE A PLACE TO COME FOR SUBSTENANCE.....ASSISTED BY THE GENEROUS PEOPLE OF LACEY TOWNSHIP, THE JOB GETS DONE. WE WISH WE COULD SHARE WITH ALL OF YOU, THE HAPPY FACES ON THE MOMS AT CHRISTMAS WHEN THEY GET TO CHOOSE A PAIR OF WARM PAJAMAS OR BOOTS - A TOY FOR THE LITTLE ONES OR A PRETTY NECKLACE OR WATCH FOR THE TEENS. IT MAKES IT ALL WORTHWHILE. NOW CHECK OUT SOME OF THE HAPPENINGS THAT DAY.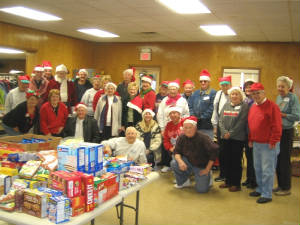 UNDER THE WEATHER THIS YEAR, SALLY McCLAUS , THE FOUNDER OF THE FOOD BANK KIDS PROGRAMS, GOT A BIG BOOST FROM THE NEW GIRLS ON THE BLOCK - ALL WORKING HARD TO FILL THEIR MENTOR'S SHOES.

SUPPORTERS FROM THE BEGINNING FOR

ALL FOOD BANK KID PROJECTS,

OUR GOOD FRIENDS AT CURVES CAME THROUGH AGAIN.

HATS, SCARVES AND BOOTIES, MADE WITH LOVE, COURTESY OF

THE TALLWOODS "HAPPY HOOKERS"

HERE'S OUR GAL JOANNE NORTON JOERIMAN

COZYING UP TO SANTA

(AKA EARL WALLER)

WHERE DID ALL THOSE CLOTHES AND TOYS COME FROM? WELL, FROM YOU OF COURSE. AND WHO ARE YOU? WELL, YOU ARE THE DORSO FAMILY WHO INSTEAD OF BUYING EACH OTHER THEIR TRADITIONAL FAMILY POLYANNA GIFTS, DONATE THE MONEY THEY'D SPEND TO THE FOOD BANK KIDS FUND.... YOU ARE A BROWNIE TROOP WHICH COLLECTED PAJAMAS AT A PAJAMA PARTY MEETING.....OR A GROUP OF CO-WORKERS WHO GOT TOGETHER AND BOUGHT ENOUGH GIFTS FOR A WHOLE FAMILY OF KIDS...YOU ARE A LIBRARY PATRON WHO PLACED NEW BOOKS IN THE COLLECTION BIN FOR THE FOOD BANK KIDS....SEE THE CEDAR CREEK ELEMENTARY SERVICE CLUB, THE CUBBIES, WHO FILLED A VAN WITH CLOTHING AND GIFTS. YOU ARE EVERYONE AND EVERYWHERE..... GOOD SOULS ALL...AND WE LOVE YOU FOR IT.

SANTA OUT DID HIMSELF.... LOOK AT ALL THOSE TOYS AND GAMES

WHAT? EVEN MORE TOYS? THIS IS THIS

THE BOMB (AS THE KIDS SAY)

DID YOU KNOW THAT MOST POOR CHILDREN DO

NOT WEAR PAJAMAS? WELL THIS YEAR OUR

FOOD BANK KIDS WILL. ALONG WITH WARM COATS,

HOODIES & BOOTS LACEY , YOU DID US PROUD !

HERE'S CHAIRMAN GUY'S

FAVORITE LITTLE SHOPPER

JACQELINE

CHECK OUT THAT CUTE LITTLE HAT!

KIBITZERS ANDEA & JENNA

NOW BACK TO WORK GALS
THE HAPPENINGS AROUND HERE DURING THE LAST WEEKS IN NOVEMBER WERE ASTOUNDING, WITH THE CHAIRMAN AND THE STORESMASTER STILL HANDING OUT EMERGENCY THANKSGIVING BASKETS AT 4 PM ON WEDNESDAY. FOLLOW ALONG WITH US AND CHECK IT OUT...........AS WE MOVE CLOSER TO CHRISTMAS, EVEN MORE GENEROUSITY IS BEING DISPLAYED BY LACEY FOLKS AND GROUPS. IT REALLY IS EXCITING TO SEE.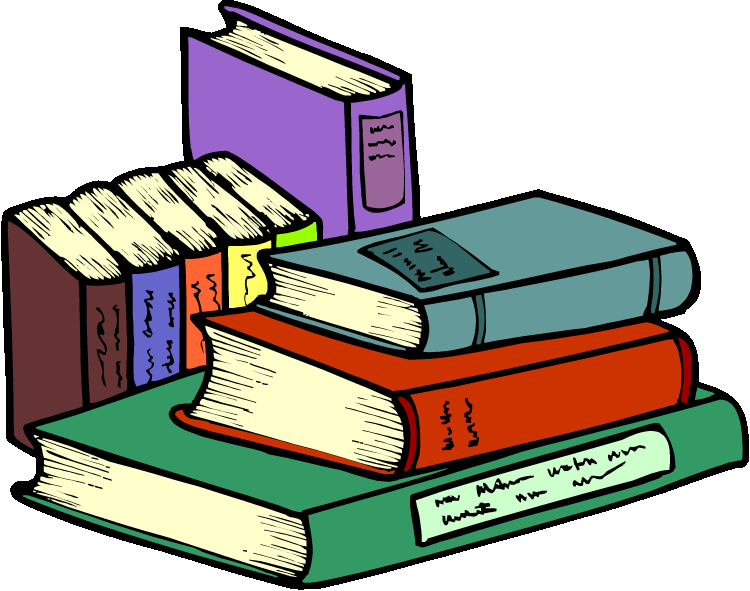 The Lacey Food Bank LOVES the Lacey Library
Once again our pals at the Lacey Library came through with gift book donations for the food bank kids as well as a holiday food drive. Thanks to all of you from all of us.
Many thanks to the Cedar Creek Elementry School's service club, the Cubbies. They collected a whole van load of food for us. (we are jealous, the Beacon printed a picture but alas , we don't have one. )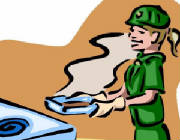 A SPECIAL CHRISTMAS TREAT FOR ALL CLIENTS WERE THE FESTIVELY DECORATED HOME MADE COOKIE PLATES. A TRADITION CARRIED ON FOR SEVERAL YEARS BY LAURA EUGENIA, OUR COOKIE CHAIRLADY. THANKS TO THE MANY SCOUT TROOPS & LEADERS REALLY CAME THROUGH FOR US. BY BAKING AND WRAPPING THOUSANDS OF COOKIES FOR 200 FAMILIES.
YOU KNOW WHAT THEY SAY - "NOTHING SAYS LOVIN' LIKE SOMETHING FROM THE OVEN" AND THIS SWEET GIFT WAS LOVED BY ALL.
HERE IS ANOTHER SWEET TRADITION CARRIED ON BY MIKE AND GREG PELUSO FOR THE LAST FOUR YEARS. THEY TOO, BAKE COOKIES AND BRING THEM BY IN TIME FOR THE CHRISTMAS PARTY. SEE HOW THEY HAVE GROWN SINCE THEY STARTED THIS FAMILY TRADITION. (MAYBE WHEN THE BOYS GO AWAY TO COLLEGE, LITTLE SIS GIANNA WILL BE OLD ENOUGH TO TAKE OVER)
MORE FRIENDS AT LACEY HIGH SCHOOL COME THROUGH FOR US
For the second year in a row, Chris Miller's Social Studies Classes held a food drive for us. The students came through with a huge amount of food, which will help us in January because what came in December, was quickly used at the Christmas distribution. Thanks to the students and to Mr.Miller for being good friends of the food bank. (FOFB)
CLAP HANDS FOR OUR NEW END OF THE YEAR ESTEEMED SPONSORS - LACEY MOOSE LODGE # 1907 , THE GODDARD SCHOOL, LACEY H.S. BOOSTER CLUB, & THE LT EDUCATION ASSOCIATION. YOU'VE JUST BECOME PART OF THE MORTAR THAT HOLDS THE FOOD BANK TOGETHER - ALONG WITH ALL THE OTHER FAITHFUL SPONSORS . (SEE TUNA CLUB BELOW) WE'LL SAY IT AGAIN, YOU ARE THE REASON WE CAN DO WHAT WE DO.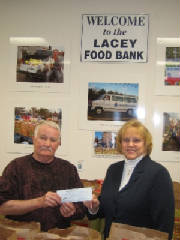 AND WHAT TO OUR WONDERING EYES DID APPEAR.....
BUT A TUNA CLUB LADY WITH A GIFT FULL OF CHEER
Shown here is Tuna Club Women's Auxiliary member, Betty Schwarz, presenting a check for $350 to Chairman Gu. This is the third major donation they've given the food bank this year. Which certainly qualifies the Auxiliary as as ESTEEMED SPONSOR, several times over.
Thanks for your support ladies, you are true FOFB (Friends of the Food Bank.)
BOOSTERS GIVE US AN END OF THE YEAR BOOST !
THANKS TO THE LACEY HIGH SCHOOL BOOSTER CLUB FOR THEIR DONATION OF $500 WHICH MAKES THEM A MEMBER OF OUR ESTEEMED SPONSOR PROGRAM. WITH THEIR GIFT, TWO FAMILIES WILL RECEIVE A MONTHLY $10 SHOPRITE GIFT CARD AND SUPPLEMENTARY FRESH FOOD FOR A YEAR. VICE CHAIRMAN HAROLD PETERS & STORESMASTER DICK SANSONE WERE ON HAND TO ATTEND THE PRESENTATION BY MARK PRINCIPATO, AT THE LACEY TOWNSHIP COMMITTEE MEETING. YOU CAN SEE THIS THROUGH JANUARY 5TH ON MUNICIPAL CHANNEL 21 PRODUCED BY LHS-tv FILM STUDENTS.
LITTLE FOOD GATHERERS FROM THE GODDARD SCHOOL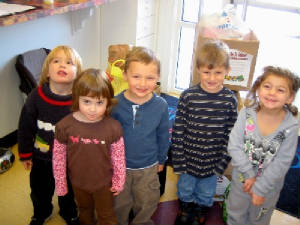 A favorite old hymn has always been "Jesus Loves the Little Children" Well we sure do love these litttle children from the Goddard School. The tiny tots collected 8 big cartons of food and the Goddard School contributed $300. making them ESTEEMED SPONSORS for 2009. Thanks students, staff and parents for your support.
LACEY'S ANNUAL CHRISTMAS PARADE '09
Thanks to the Lacey Elks, Bill Shepherd's grand old parade goes on. Deserving retirment, after a long run, Bill now gets to watch the parade which gets better every year.
For the second year in a row, the Christmas Parade, sponsored by the Lacey Elks Lodge and coordinated by Rich Bart, has featured the Lacey Food Bank as a beneficiary of their efforts. At the front of the parade was the food bank van, bearing popular mascot Snoopy Burnett, Chairman Guy Burnett & Storesmaster Dick Sansone.
Wielding shopping carts, the junior Elks "The Antlers" paraded along, collecting food donations from the crowd - collecting a half van load of food for the needy.
Inspiring cheers from the crowd, were the Lacey High School Marching Band. What a festive way to start the holiday season. Thanks from all of us from the food bank to the Lacey Elks....
Now here's some scenes from the parade - wish we could post pics of all the scouts and groups who participated, including all the marching dogs...(was that Skip Peters in a golf cart with a BULLDOG?)
THE PRESBYTERIAN CHURCH YOUTH GROUP
JOINED THE RANKS OF PROLIFIC FOOD GATHERERS THIS WEEK WITH A HOLIDAY FOOD DRIVE. SEEN HERE ARE THREE MEMBERS ALONG WITH YOUTH GROUP ADVISOR TADD MARFUCCI. THANKS TO A GREAT BUNCH OFTEENS FOR THE HELP. A MERRY CHRISTMAS TO ALL OF YOU. NOTICE THE NAME ON THE YELLOW BAG... IT SURE WAS A WOW.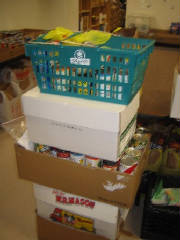 THEN THE LANOKA HARBOR ELEMENTARY SCHOOL SECOND GRADERS STEPPED UP TO THE PLATE AND HELD THEIR OWN FOOD DRIVE. CHECK OUT THIS LOVELY PILE OF FOOD. KEEP IT COMING KIDS, BECAUSE WHAT COMES IN, GOES RIGHT OUT ! THANKS TO MRS. JULIAN FOR COORDINATING THE DRIVE.
.
LACEY FOOD BANK'S TEEN VOLUNTEER CORP
A NOTE FROM LAURA CAROCCIA, VICE CHAIRMAN OF THE FOOD BANK AND CHAIRMAN OF THE FOOD BANK TEEN VOLUNTEER CORP. THIS YEAR'S FOOD BANK KID PROGRAM ORGANIZER, LAURA IS FILLING IN FOR MRS. McCLAUS, OUR WONDERFUL SALLY McGAHEY, WHO IS UNABLE TO DO THE JOB THIS YEAR.
"Here they are - our 2 delivery teens - Rob McAvoy and Brianne Mitchell - the food drive itself was a joint effort of many of the teens that we see supporting us with the garage sale, or snow shoveling or raking or any of a number of requests I make of them. My own daughter has told me before that they (meaning the teens) want to support the FB Kids Program because they can relate. They understand kid's feelings and a kid's needs. I'm just grateful that we're building a nice core group of teens who can pitch in when we need them. Some of the food that was included with this delivery comes to us courtesy of the Lacey High School PTSA's Sundaes with Santa event which took place yesterday at the High School."
In suport of the food bank kids program, the Food Bank Teen Volunteer Corp, inititiated a mini food drive by hanging shopping bags through out the Heatherington Court area, then retrievng them up over the weekend.

Rob McAvoy and Brianne Mitchell delivered the bulging bags of food to the food bank.

Here's the shot of the PTSA ladies and their part of yesterday's food drop off..

They are from left to right, top to bottom= Robbie McAvoy, Maryann Pietruska, Donna McAvoy (sitting) Carolyn Timpanaro, Peggy Sue Juliano, Jackie Quinn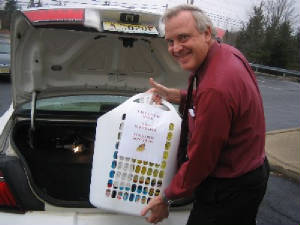 HERE'S WHARFSIDE CHIROPRACTOR TOM "DOC" McGILLICK LOADING UP CHAIRMAN GUY'S CAR WITH FOOD COLLECTED AT HIS OFFICE BY PATIENTS AND STAFF. PATIENTS ALSO MADE $$$ DONATIONS. THE CHAIRMAN WAS THERE FOR HIS REGULAR SESSION ((OH MY ACHING BACK)

WITH ALL THAT LIFTING AND LUGGING GOING ON AROUND THE FOOD BANK, IT LOOKS LIKE THE SESSIONS MIGHT BE BOOPED UP THROUGH OUT THE HOLIDAYS ! : )
.
THEN.....
NOT CONTENT WITH STUFFING OUR CUPBOARDS, TOM AND OFFICE STAFF AGREED TO SUSPEND CHRISTMAS CARD MAILINGS AND DONATE THE SAVINGS TO US. HERE HE IS PRESENTING A $500 CHECK TO CHAIRMAN GUY, ENOUGH TO SUPPLY TWO FAMILIES FOR A YEAR WITH SHOPRITE GIFT CARDS AND SUPPLEMENTARY FRESH FOOD.
THANKS TO ALL AT WHARFSIDE CHIROPRACTIC,
TRUE FRIENDS OF THE FOOD BANK.
,
LACEY HIGH SCHOOL CHEERLEADERS ELECT MR TOUCHDOWN
And the winners are Anthony Caputo - Mr. Touchdown
AND the Lacey Food Bank!
Seen here are Cheerleader Jessica Woolley and "her" football player Anthony Caputo presenting a $1,000 check to co- chairmen of the Lacey Food Bank, Pete Peters and Laura Caroccia.
This creative fund raiser assigns each cheerleader a fooball player. She then sets out to"sell" the most money for her man. This year, Jessica triumphed with a total of over $400 with the Football Foundation adding more to make the total $1,000. This means that four food bank families will receive monthly supplemental fresh food and a $10 ShopRite gift card for the next year.
Which is why we consider the Football Foundation anESTEEMED SPONSOR and a FOFB
( Friend of the food bank )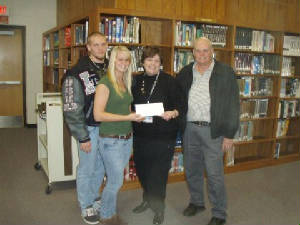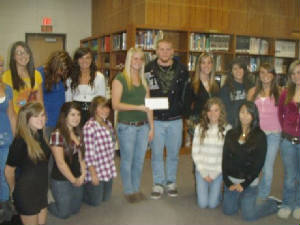 THE INTERGENERATIONAL CLUB
"Seniors and juniors coming together"
During the week of November 16-20, 2009 the Forked River, Cedar Creek, Lanoka Harbor and Mill Pond schools had a Paper Goods Drive as an Intergenerational club project. On November 23 the club members from these schools along with their teacher club members and senior club members met at the Lacey Food Bank and sorted the boxes and bags collected. The children learned first hand about how the food bank is stocked and how the food is distributed. It was a very educational experience for all who attended
Each year, the little yellow school bus comes rolling in,

filled with good cheer and lots of "stuff" too.

A chain gang works the best. Come on guys,

tote that box.

Now THAT is a lot of paper goods !

And for that, we thank you.

Sorting and shelving helps the storesmaster.
Max McAvoy, Robbie McAvoy, Brianne Mitchell,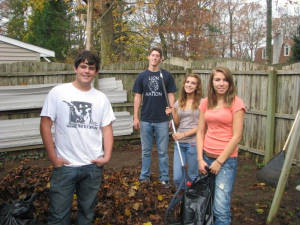 Ashley Tonon, missing from pic: Kylie Weissenburger
Robbie McAvoy (Teen Coordinator), Devon Ostermann,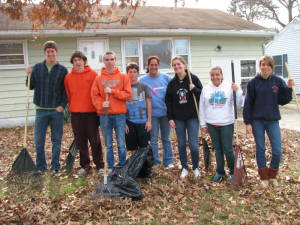 Roger Hopson, Danny McAvoy,Donna McAvoy, Victoria Werring, Justina Tulino, Ashley Tonon
MEET THE LACEY FOOD BANK "LEAFERS"
The energies of our teen volunteers was put to task this past weekend when the Teen Squad, coordinated by LTHS Senior Rob McAvoy, took to the rakes and cleaned up the leaves and debris from our most senior client's yards. Accompanied by Food Bank volunteer Donna McAvoy, these community minded young people, raked and bagged more than 120 bags of leaves in the few hours that it wasn't raining!! Thank you Robbie and Friends!! (They did 9 houses in 2 short days - in between the rain!)
LET'S ALL DO THE TURKEY TROT !
The 1st Annual Prince of Peace Turkey Trot was held Thanksgiving Morning in Gille Park. More than 140 racers participated in this first ever Lacey event. Coordinated by Wendi Fuller of Prince of Peace and emceed by Pastor Anthony, the Lacey Food Bank will share in the race proceeds with Starve Poverty. Food Bank Volunteers Pete Peters, Laura Caroccia, Donna McAvoy, and teen volunteers Jenna Caroccia and Rob McAvoy spent their Thanksgiving morning at the Food Bank table, getting to know these fine folks and collecting a bounty of food...enough to fill a big blue barrel!
Thank You, Prince of Peace Church for caring and sharing with your Lacey neighbors!!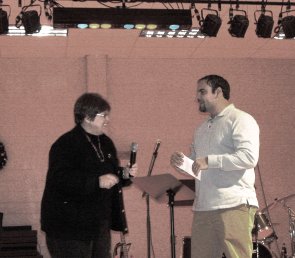 HERE'S OUR OWN LAURA CAROCCIA ACCEPTING AN $1800 CHECK FROM PASTOR ANTHONY ON BEHALF OF THE FOOD BANK - OUR SHARE OF THE PROCEEDS FROM THE TURKEY TROT, THE OTHER HALF GOING TO THE INTERNATIONAL " STARVE POVERTY" PROJECT.
ALONG WITH THIS MAGNIFICENT GIFT, PRINCE OF PEACE ALSO DONATED GIFT CARDS FROM LOCAL PIZZA PARLORS, APPLEBEES AND PERKINS. WHICH WILL MAKE GOOD GIFTS FOR SOME OF THE FOOD BANK KID TEENS WHO RARELY GET TO HAND OUT AFTER SCHOOL WITH PIZZA. MANY THANKS TO TURKEY TROT COORDINATOR, WENDI FLYNN, PASTOR ANTHONY AND THE CONGREGATION - THEY ARE ON OUR OFFICIAL LIST OF FOFB'S.
.
| | |
| --- | --- |
| | And they're off ! Doing the Turkey Trot |
| Rob & Jenna - LFB teen volunteers | Pals Donna & Laura talking "turkey" |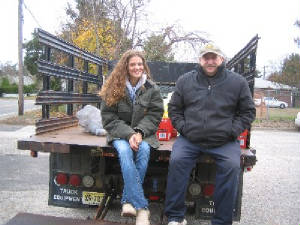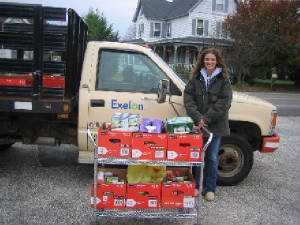 .
AMERGEN EMPLOYEES HOLIDAY FOOD DRIVE
Arriving mid morning on Tuesday, between the visit from the Intergenerational Club and the presentation of the Lacey Cheerleaders gift were Amergen employees Russ and Kelly bearing over 20 big boxes of food. Plant employees do this each year and this drive is one of the reasons we manage to meet the demands on us, not only during the holidays, but going into the winter season.Thanks to all.
.
ROTARY'S GIFT c. 2009
Each year we get bigger and each year our friends at Rotary grow with us in meeting the demand. Coordinating for months, they arrive at Communitdy Hall early in the morning, with a truckload of turkeys, dinner "fixin's" and a posse of help from the Junior Rotarian service club "Interact" from Lacey High School.
The scene is bedlam as the teens spread out and form chain gangs of turkeys, the stuffing & gravies, yams, potatoes, peas, rolls and always the pies. When the doors open and the eager clients rush in , they are dazzled by the wealth of food in the room for their regular bags are there, too. Thakfully, the teens & volunteers help them out with their bounty. During all of this, volunteers and John Kilmurrays staff on Recreation load the bus with everying, to be delivered to the homebound throughout Lacey Township.
This well choreographed operation gets better every year with volunteers from Rotary, Food Bank, & Interact aided by the Lacey Recreation Department working together for the Gift from the Community. Our heartfelt thanks to all.
ROTARY TURKEY DINNERS ARRIVE

FOOD BANK VOLUNTEER KEITH GALLAGHER

LOADING UP THANKSGIVING TO THE HOMEBOUND CLIENTS, COURTESY OF THE RECREATION DEPARTMENT BUS CREW.

WHAT'S THANKSGIVING WITHOUT PIE?

(LOTS AND LOTS OF PIES)

Three key players - Bunnie McCauly, LTHS Interact Advisor, Jack Ryan, Lacey Township Recreation Bus Driver, and Joanne Norton, Lacey Food Bank Volunteer.

NOT THE WEAKER SEX FOR SURE, THESE TEENS LUGGED AND LIFTED OVER A TON OF TURKEYS PLUS TH FIXIN'S

MOVING ALL THOSE BAGS MAKES YOU HUNGRY

PIE ANY ONE?
ROSA & TOM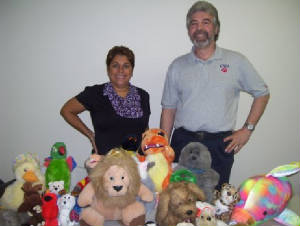 WITH THEIR MENAGERIE
CHRISTMAS COMES EARLY TO THE LTEA

The calendar may have said it was Halloween but the number of stuffed animals collected by Tom DiPalma, 2nd VP of the Lacey Township Education Association reminded us that the Holiday Season was fast approaching.

3 large bags of stuffed animals were presented by Tom to Food Bank Kid Committee member Rosa Steitz at the LTEA office. These toys will be distributed at the December food distribution.

The mission of the Food Bank Kids Christmas Program is to insure every child on our client list receives at least 1 new toy and 1 new article of clothing for Christmas. Many thanks to the Lacey LTEA
.
.
ANNUAL BOY SCOUT FOOD DRIVE A SUCCESS
DESPITE A WINDY RAINY START TO THE DAY, THE SCOUTS MANAGED TO GET OUT THERE AND CAME UP WITH 530 (and still counting) BAGS OF FOOD FROM A SUPPORTIVE LACEY COMMUNITY. CARS STREAMED INTO THE PARKING LOT OF THE FOOD BANK FROM 10-2 , AS WAITING VOLUNTEERS SEPARATED AND SHELVED THE DONATIONS.
WE ONLY WISH WE COULD IDENTIFY THE TROOPS AND SCOUTS IN THE PICTURES, IT GETS SO HECTIC THAT IT JUST DOESN'T HAPPEN. MAYBE NEXT EYAR WE WILL ASSIGN THE PHOTOGRAPHER A "SCRIBE".... MEANWHILE SCOUTS, YOUR GRANDPARENTS WILL KNOW WHO YOU ARE WHEN YOU SEND THEM THIS WEBSITE.........
TWO OTHER VISITORS SHOWED UP TO ADD TO THE CONTROLLED CHAOS. SHOWN BELOW ARE BRITTANY KNOERDEL, THE NEW PRESIDENT OF LACY HIGH SCHOOL'S STUDENT GOVERNMENT ASSOCIATION WITH A TRUNK FILLED WITH FOOD DONATED BY HIGH SCHOOL STUDENTS, AND THOMAS DON FROM THE US COAST GUARD AUXILIARY BEARING A CHECK FOR $500.
AS WE GO INTO THE HOLIDAY SEASON IT IS SO HEARTENING
TO RECEIVE THIS SUPPORT. THANKS TO ALL FOR THEIR GENEROUSITY.
(click on pictures to enlarge)
LHS Student Government Association President

Brittany Knoerdel

GOOD JOB SCOUTS & LEADERS !

CODY- PACK 35

US Coast Guard Auxiliary represented by Thomas Don

presented a $500 donation to Chairman Guy Burnett

.

.
THE OCTOBER DISTRIBUTON WAS EXCITING FOR ALL. JEAN SULLIVAN'S BOY SCOUT TROOP #156 CAME BY WITH OVER 60 HALLOWEEN COSTUMES FOR THE FOOD BANK KIDS. ALONG WITH THE COSTUMES, EVERYBODY RECEIVED A PUMPKIN FROM BOB PORCELLINI, LANOKA FARMS AND BAGS OF APPLES FROM THE WOMEN OF THE FORKED RIVER PRESBYTERIAN CHURCH. THANKS TO ALL OF YOU FOR MAKING THE DAY A B IT MORE FESTIVE.

AN EXTRAORDINARY TALE OF VOLUNTEER CREATIVITY
Recognize the woman in the picture with Jim & Joanne Joeriman? (see below for aswer) And how did we happen to receive two checks from this notable person - one made out for $240. in honor of Jim & Joanne as esteemed sponsors, and one for $400. on her own behalf ? Well Jim, manager of Caldwell Banker Riviera Realty, has a favorite motto "It is better to fall short of a high mark, than to reach a low one" - H.C. Payne and his success as a realtor as well as the result of this recent exercise in fund raising surely proves out. Diddling around on the computer he designed a website for this notable and sent it on with the offer that if she wanted to use it, he'd sell her the rights to the domain and the website design for a donation to the Lacey Food Bank. And as you can see, it proved to be successful and is probably the most unusual fund raising we've ever experienced. Thanks to former NJ Governor , Christine Todd Whitman, for being a good sport and for her generous contribution and thanks to Jim & Joanne for all their hard work on our behalf.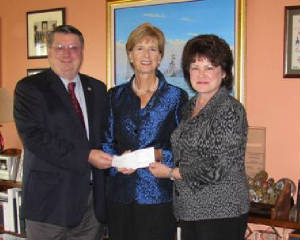 WALMART COMES TO TOWN
THE LONG AWAITED GRAND OPENING THIS PAST WEEK WAS A ROARING SUCCESS. FOOD BANK "DIGNITARIES" - CHAIRMAN GUY BURNETT, VICE CHAIRMEN PETE PETERS AND LAURA CAROCCIA AND STORESMASTER DICK SANSONE WERE INVITED TO THE PRE-OPENING ON MONDAY NIGHT AND WERE GIFTED WITH A CHECK FROM WALMART FOR $5,000. (THAT WILL BUY A LOT OF SOUP THIS WINTER)
ALONG WITH THE CHECK TO THE FOOD BANK MANY OTHER COMMUNITY GROUPS WERE GIFTED - FOR A GRAND TOTAL OF $21,000 FROM THE NEW GUYS IN TOWN. PRESENTING THE CHECK TO GUY WAS STORE MANAGER GEORGE SMITH JR.
OUR THANKS TO THE WAL MART FOUNDATION FOR THEIR GENEROUSITY AND TO LOCAL MANAGEMENT AND ASSOCIATES FOR THEIR HOSPITALITY.
APPLE FESTIVAL TIME
THIS IS ONE OF LACY'S SHINING EVENTS. HELD BY THE LACEY HISTORICAL SOCIETY, WE KNOW THAT FALL IS COMING WHEN THE SIGNS GO UP. THE WEATHER WAS GLORIOUS, THE BANDS WERE OUT & PARTICPATION WAS HIGH. THE PIES? OUT OF SIGHT!
THE LACEY FOOD BANK GAVE OUT "WE LOVE LACEY FOOD BANK BALLOONS" POWERED UP BY HELIUM DONATED BY JIM JOERIMAN
FROM CALDWELL BANKERS RIVIERA REALTY (THANKS JIM JOERIMAN)
THIS WAS A BIG HIT WITH THE YOUNGSTERS.
THANKS TO OUR GREAT VOLUNTEERS FOR REPRESENTING THE LACY FOOD BANK AND TO THE CHAIRMAN OF THE EVENT, HAROLD ) PETE ) PETERS FOR BRINGING IT ALL TOGETHER ALONG WITH TAKING THIS GALLERY OF PHOTOS THROUGHT THE DAY.
| | | |
| --- | --- | --- |
| | | |
| | LACEY H.S. BAND | |
| JUDY IS TYING UP ALL THOSE BALLOONS | MICKEY & JOHN | |
THE BEST OF LACEY
If your were out and around in Gille Park on the the first day of Fall, you might have noticed this merry band of Food Bank volunteers, kicking off the busy holiday season with a coming together picnic. Organized by Vice Chairman Harold (Pete) Peters, it was a resounding success. The Storesmaster provided the dogs and the bugers, and the ladies piled the table up with salads and desserts. We are being indulgent by plastering the site with pictures (hey they deserve some recognition, right?)
Plus a request from your webmaster - help fill in the blanks of names please and identify yourself or your fellow diners if I have missed them?
WHAT'S BETTER THAN A TRUCKLOAD OF FOOD?
That's an easy answer for sure - TWO truckloads of food. Delivered to our door by VFW Post 10118 the result of the generousity of the vets during their annual family day picnic. This has become an annual tradition for them and one roundly appreciated by storesmaster Dick Sansone who has had a hard job keeping our shelves filled lately. Thanks guys.
And to our star neighborhood food gatherer, Janice Celmer, we thank you for your faithful and generous offerings.