Lacey Township Food Bank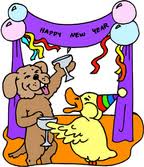 Attention all volunteers - Don't forget the annual luncheon to celebrate a year well done and the beginning of another year of service. - Monday, December 3, 2011 at Caffreys.
Choice of three entrees , beverage , tax & tip for $10.
Call Pete - 242-0806 - to sign up .
Newsletter 2010
AS WE REACH THE END OF THIS YEAR, LET'S TAKE A MINUTE TO LOOK BACK AND SEE WHAT IT TAKES TO "MAKE A VILLAGE" BY SCROLLING BACK THROUGH THIS NEWSLETTER . IT IS AMAZING. FROM TINY TOTS TO TEENS, CHURCHES, SCHOOLS & ORGANIZATIONS TO BUSINESS LEADERS AND THE TOWNSHIP OF LACEY, WE ARE SO PRIVILEGED TO HAVE THIS OVERWHELMING SUPPORT FOR WHAT WE DO.
TO ALL THE RESIDENTS AND SUPPORTERS IN LACEY WHO TOOK THE TIME TO PARTICIPATE IN A FOOD DRIVE OR TO SHOP & DROP INTO SHOP RITE'S PULL OUT DRAWERS IN THE LOBBY, WE THANK YOU. YOUR CONTRIBUTIONS ENABLED US TO HELP UP TO 206 FAMILIES LAST YEAR.
Co - Chairmen Laura Caroccia and Harold (Pete) Peters
And this from the Chairman of the Stores committee, Dick Sansone
2010 very busy year for the Storesmaster. Going over my records for this annual update I even surpised myself when I saw that my monthly purchases were approaching $ 3,200 plus. All of this was for groceries and other necessary items from the Lacey ShopRite and the Monmouth-Ocean Foodbank. I can't even imagine what how much larger that total would be without the enormous coupon-clipping efforts of Rose Furbeck and her wonderful late-husband Howard Furbeck. Such a great, giving team.
My job was, as always, made so much easier by the Big Blue Crew. Each day, without fail, these guys empty the Foodbank bins at Lacey ShopRite and bring the food donations to the Foodbank building where other volunteers sort and stock what turns out to be many tons of food per year. Thank you to all.
I happily report that the good, ol' Foodbank Van is still chugging along. It had some mechanical problems earlier this year but thanks to the donation of the hard work and diagnostic skills of "van doctors" Ed Monari and Jack Ryan we're still on the road.
<<<<Don't forget to CLICK ON ALL PICTURES TO ENLARGE>>>>
This photo represents the 1st floor hallway. All in all we received: 31 pairs of boots, 330 pairs of socks,30 scarves, 60 pairs of gloves,45 hats, 4 prs of pjs, 10 prs of slippers, and 2 crates of games and toys .Plus a barrel of food.
DEAR FOFB
The Employees, Residents and Families of TallWoods Care Center in Bayville, under the direction of Ms. Lee Borghesi and her staff, once again filled a truck with donations of gifts and toys for the Lacey Food Bank Kids and they topped it off with a barrel of food to help restock our pantry shelves. In the weeks leading up to Christmas, employees and visitors could donate a pair of Warm New Socks and get a Lollipop or put their name on a cut-out boot that would adorn the nurses stations and hallways; the $1.00 donation going toward the purchase of snowboots for our Food Bank Kids. There was even a "Wear Your PJ to Work Day"
How's that for a creative and innovative approach to gifting? Thank You TallWoods for being a true Friend of the Lacey Food Bank!
TURKEY TROT A RESOUNDING SUCCESS

Two years ago, Prince of Peace Community Church approached the Lacey Food Bank with the idea of holding a 5K Run/Fun Walk on Thanksgiving Day. The Run evolved, Pastor Anthony explained, from conversations and ideas being explored to benefit the Lacey community by members of the congregation during their morning walks in Gille Park.

This year, the 2nd Annual Prince of Peace Turkey Trot, drew more than 200 runners and walkers, of all ages and fitness levels, bringing together families, individuals, and local sponsors who shared in the spirit of giving back and giving thanks. The proceeds from this year's event once again benefited the Lacey Food Bank and STARVE Poverty International.

Here's a photo of Pastor Anthony Morici and Laura Caroccia sharing smiles at a recent Sunday Service. This year's Turkey Trot brings $4310.00 to the Lacey Food Bank just in time for the cold and hungry winter months ahead.

Many thanks to Pastor Anthony, Geri Ziobro and all the congregants of Prince of Peace Church! We hope the Turkey Trot tradition will continue and extend through generations of participants who believe, as you do, that it is a way to support and benefit those in need as well as give thanks!
SANTA PAWS VISITS THE FOOD BANK
So many of our clients face the decision of feeding their pets or having to give them away. Never has this been more true than now. With shelters overcrowded and unable to care for the many pets that are being surrendered or abandoned, it's a No-Win situation for us all. So the Lacey Food Bank Social Services Committee extended their umbrella just a bit to try and forestall this decision for some of our clients. An active campaign was put in place and thanks to the generosity of Deb Davies from PetValu (ShopRite Plaza Rt 9 Forked River), boxes and crates of dog and cat food have been made available to our clients at the monthly distributions.
As we neared Christmas, LFB Co-chair Laura Caroccia reached out, through faculty advisor, Renee Gurcacz, who is a well known champion for shelter and rescue animal groups, to the teens of the ESC (Emergency Services Club) and SADD (Students Against Destructive Decisions) at Lacey Township High School.
A Giving Basket was set up in the main office of LTHS and the word spread throughout the faculty and student body. Pet food, treats, toys, collars, beds and even a dog house soon filled the basket and more!! Here's Storemaster Dick Sansone with members of the clubs and the piles of food that will help keep our clients and their furry family together...
Hunger, for our clients or for their pets, doesn't end on December 31. Please remember those less fortunate by putting a can or a box or a bag of non-perishable, shelf-stable, people or pet food in the pull out drawers located in the lobby at ShopRite.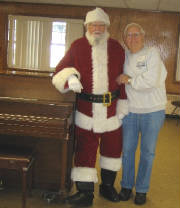 HO HO HO And a Merry Christmas from all of us to all of you.
December's holiday distribution is an exciting time for volunteers and clients of the food bank. For months, gifts have been coming in, and the food bank kid's committe has been busy shopping to fill in the gaps, making sure that eack kid gets a toy or teen tchotke, something to wear and something warm like hats, mittens, or pajamas.
The stores committee has been accumulating hams, turkeys and dinner fixings then along with all the regular food, packing it up and with the help of the Lacey DPW , haul it over to Community Hall the day before the big event. While the stores committee is filling the tables with food, the kids committe is upstairs, sorting and setting out toys and clothing for 235 food bank kids.
Then along come the recreation bus crew. Led by John Kilmurry they pack up and bring homebound clients their holiday dinners and food topped off with festive plates of home baked cookies donated by many of the scout troops in Lacey.
Friday am starts early with the "boys" meeting up at 6 am. Packing up the perishables into pick up trucks, picking up the hams & turkeys from ShopRite, and getting the doors opened by 7am. After a frantic last minute check, the volunteers assemble for their annual photo op, resplendent in their Santa or Elf hats.
Then off goes Earl Waller , the food bank Santa, to jolly up the clients who are waiting on line, and then on up to the second floor to spread his Santa cheer to the food bank moms. Along the way he catches up with a few volunteers for phto ops. ......... Here's a composite of some of what goes on. Enjoy !
| | | |
| --- | --- | --- |
| The "Boys" - getting it all together | LFB Loves the Lacey Recreation Bus crew ! | Deerhead Lake School Teach, Skip Peters, brought his students over to help witht the lugging and to set up the heavy clothing racks. |
| SANTA EARL AND JOANNE JOERIMAN | CURVES PLAYS SANTA FOR US EACH YEAR COLLECTING PILES OF TOYS | THE FOLKS FROM CLAYTON BLOCK STOPPED BY WITH AN ARMLOAD OF JOY |
| JANE RISPO SORTING HER JAMMY PILE | ANDREA FLAHERTY SORTING OUT THE DOLL BABIES | The upstairs at Community Hall never looked so good. |
| | Jeanne Maccioca & Glenn Candeletti- the " p.j. team " | Mother daughter team volunteers - Sandy and Angela Feis |
WHARFSIDE CHIROPRACTIC- A TRUE F.O.F.B.
Doctor Tom McGillick, his wife Noreen, and his office staff are all committed to helping the food bank. Along with all the food drives they've held for us over the years, they decided to forgo sending Christmas cards to clients and instead, donate the money they saved to us. This puts them right up there on our esteemed sponsor list with the gift providing two families with supplemental food and a $10 Shop Rite gift card every month for the coming year.
Needless to say, Guy is always happy to visit the office & receive the check. ( But then he gets to see everyone a few days after distribution week each month to get an adjustment after all that lugging and lifting. )
Thanks to all of you at Wharfside from all of us at the LFB.
KIDS HELPING KIDS
We are often asked by parents, what their children can do to help out. Here are some of the ways other families have integrated good deeds into the consciousness of their youngsters. At Christmas time and throughout the year, as the youth in our community perform so many different tasks, from leaf raking for the elderly to self initiated food drives - all it takes is the will and the intiative. Scan down the web page for inspiration on how you can help on the Community Service page. Kids can and do make a difference.
.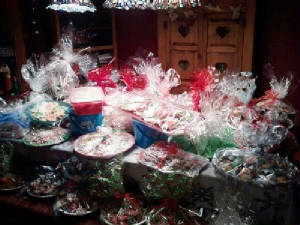 THANKS TO THE COMBINED EFFORTS OF LACEY GIRL SCOUT TROOPS
ALONG WITH MANY OTHER BAKERS AMONG US,
EACH CLIENT WAS TREATED TO A PLATE OF HOME BAKED COOKIES.
ANOTHER GIFT FROM THE COMMUNITY THAT IS CARING BY SHARING
| | |
| --- | --- |
| Meet Gregory , Michael, & Gianna Peluso - aka "the Cookie Kids" These amazing youngsters started gifting us at Christmas with their home made cookies, way back in 2005 when baby Gianna was only a twinkle. Here they are in 2006. | And here we are in December 2010 - Gianna looks like she just might reach the counter to stir some cookie dough, doesn't she? What a meaningful tradition the Peluso family has initiated. Their note in the Christmas card wishes us all a Merry Christmas and advises us that they'll see us next year. We sure hope so. Thanks to all of you from all of us. |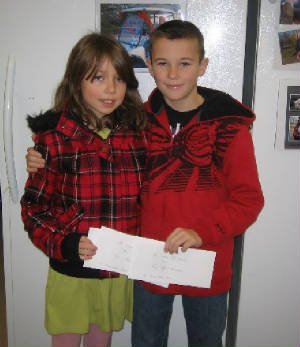 Ryan & Meghan Kilmurray
THEN MEET THE KILMURRAY KIDS
Stopping by the food bank with a check for the holidays were Ryan & Meghan Kilmurray. They, and their sister Erin, have made a family tradition of donating their own money to us as a tribute & gift for their Aunt Anne Marie Dorso, who, along with her husband Tom, is an longtime esteemed sponsor. Thanks kids, you're all a fine example of the oft said truism
"The spirit of Christmas is giving"
CHRISTMAS CRAFT SALE
I often say that extraordinary things happen when the right people come together. Never has that been put to a better test than the recent Christmas Paver Sale.
Armed with donated pavers from Claytons, Donna McAvoy and her band of Picasso's set to work to transform these ordinary bits of concrete into extraordinary pieces of Christmas Art with a message and a mission. Sold at two recent Lacey Township High School events, the $450.00 earned from this holiday enterprise will go toward restocking the Food Bank shelves with warm and filling winter foods. As an added bonus, several of the Food Bank teens will accompany Storemaster Dick Sansone on his early morning rounds and learn first hand what it takes to feed a family on a limited budget.
Congratulations on a job well done to this group of Christmastime Elves:
Donna, Max, and Danny McAvoy
Deb and Jessica Smith
Joe Stapleton
Jena and Kathy Locandro
PeggySue and Marissa Juliano
Laura Crankshaw
Randi Vaccaro
Tana and Brianne Mitchell
Laura Caroccia
Laurel Fitts and Ashley Tonon
Jill and Justin Kramer
Ashley Candeletti
LACEY LIONS SCORE TWICE
On and off the field they just can't be beat. On the heels of their big win, Lacey Lion players and cheerleaders scored big time in the war against hunger. This year's Mr. Touchdown contest netted the Lacey Food Bank $1,500 - which is the equivalent of sponsoring SIX food bank families for the coming year with $20 monthly food gift cards and supplementary fresh food .
This year's Mr Touchdown, David Vieira, had his cheerleader sister Katie promoting him to victory - she estimates that she collected over 400 $1.00 votes to secure her big brother his title. What a great team these Vieira teens make !
The Lacey Food Bank sends thanks to all the players, cheerleaders, coaches & "cash voters" who made this annual event so profitable while having fun.
Shown here giving and receiving the BIG check are: (back row l-r) Head cheerleading coach Jennifer Boyle , Lacey Food bank's storesmaster,Dick Sansone, LHS Football coach Lou Vircillo & co-chairmen Laura Caroccia and Harold ( Pete ) Peters. Seated - Katie & David "Mr. Touchdown 2010" Vieira.
LACEY KICKS OFF THE HOLIDAY SEASON
Don't you just love a parade? Lacey's annual event, started by resident Bill Shepherd 20 + years ago, continues to grow. Now sponsored by the Lacey Elks , we were once again privileged to be honored as the designated beneficiary of a food collection carried out throughout the parade route.
Check out the gallery below. The Antlers fanned out on both sides of the street, collecting cans and boxes of food. Skip Peters led off our contingent in a golf cart accompanied by his buddy bulldog , and surrounded by his helper elves, daughter Olivia and her friends Jamie & Kelly (see banner carriers below) Next up came Chairman Pete Peters, with the official food bank mascot, Snoopy Burnett, followed by Dick Sansone and Guy Burnett in the food bank van.
Meanwhile members of the Lacey Food Bank volunteer Teen Corp, Joey Stapleton, Rachel McElvaney, Max mcAvoy Courtney Parker, Ryan Mahon and Joey Noda, handed out candy and dog biscuits to parade goers. Despite the frigid temps, the sun shone brightly on the large crowd of marchers and viewers. As our banner says
Thanks Lacey!
DO THE MATH - 1 19 OZ. CAN OF SOUP = 1 LB 3 OZ.
X 12 CANS = ? POUNDS OF SOUP ?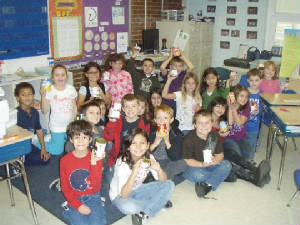 Lanoka Harbor Elementary School second grade classes conducted an elegant food drive for us in November. Incorporating the ethic of giving to those in need along with a study of the weights and measures of the canned foods, the youngsters produced quite a haul for stores master Dick & Chairman Pete to collect. Shown here is Mrs. Ritacco's second grade class. Thanks to the staff, students and parents for thinking of us.
RUN THE RACE BEFORE YOU STUFF YOUR FACE!....was the battle cry of the hundreds of runners who came to the 2nd Annual Prince of Peace Turkey Trot to benefit the Lacey Food Bank & STARVE Poverty International. This year's race, double the participants of last year, drew runners from all over the county! The Lacey Food Bank is grateful to Rev. Anthony Morici and all the Prince of Peace volunteers who organize and run this fastest growing Lacey Thanksgiving tradition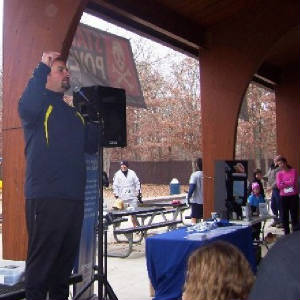 Pastor Anthony gives last minute inspiration
AND THEY'RE OFF !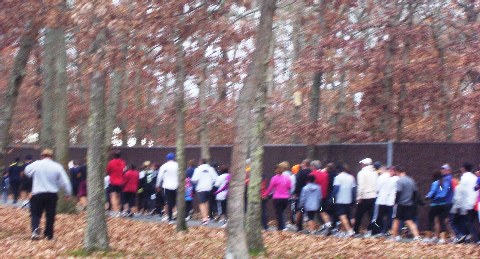 Donna McAvoy and Laura C


IN THEIR SECOND ANNUAL TURKEY TROT

Jenna & NIck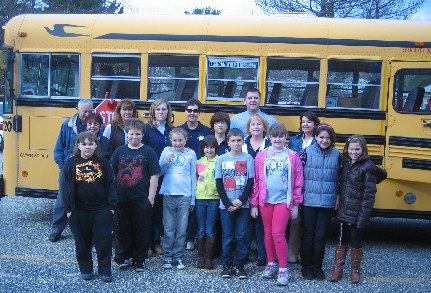 Inter-Generational Club Pays the LFB a Visit
The LFB loves the Inter-Generational Club's annual visit. This year, Lacey Middle School Students joined the club's Seniors to collect essential non-food products - paper goods, soap, toothpaste, shampoo, detergents, et al - and arrived in a school bus with the students gearing up to unload and sort the huge boxes of goods.
ZZZZZZZZZZZUMBA............
Zumba came to Forked River Fitness Saturday and the Lacey Food Bank gained quite a few pounds...of food that is! Certified Zumba Instructor Sarah Leddy gave 2 gifts to the Lacey community this weekend; a lively zumba class to some 'willing to sweat' participants and a barrel of food to the Lacey Food Bank that represented the "admission fee". We've had a couple of these Lose/Win situations lately (the participants lose a pound; we gain it in a donated can of food) Makes everybody happy!!!
| | |
| --- | --- |
| | |
ANNUAL THANKSGIVING DISTRIBUTION BIGGER THAN EVER
Thanksgiving was in the bag as more than 50 students of the Lacey High School Interact Club provided the manpower to pack and distribute turkeys with all the

fixins

to the more than 190 families currently served by the Lacey Food Bank.

For more than 25 years, Thanksgiving Dinners have been provided to needy families in Lacey, Waretown and Barnegat by the Forked River Rotary.

With turkeys donated by Lacey ShopRite and Walmart in Lanoka Harbor, the students from Lacey High School Interact Club joined the volunteers of the Lacey Food Bank on Friday to experience first hand a 21st century version of the shared harvest feast that served as one of the first Thanksgiving celebrations.
Editor's note: No one can even fathom the behind the scenes work that it takes to do this. Over 50 LFB volunteers were involved in packing the more than 380 bags (two for each family) then moving the food to Community Hall - up to 4 tons worth - the schools & organizations that have held food drives that fill those bags, along with the above mentioned teens from Interact, the Rotary, ShopRite , Walmart - the list goes on and on. And it all starts at 6 am in the morning. Good job, well done. LFB volunteers. Happy Thanksgiving to all.
| | | |
| --- | --- | --- |
| A truckload of turkeys and fixins | | |
| | | |
| | | |
| | | |
LHS STUDENT GOVERNMENT
as part of thhe SGA's ongoing collection of food for us, once again the high school students have come through. With winter almost here, the delivery this month was timely and most welcome. Thanks to faculty advisor Patrica Felice and the faculty , students and parents for making this program such a success.
CEDAR CREEK - A GREAT F.O.F.B.

Cedar Creek School students and staff members held a school-wide food drive to benefit our Food Bank. The drive was a huge success and the amount of food collected was amazing! Over 90 bags of canned and dry food items were donated. Teen volunteers Joe Stapleton, Devin Osterman, and Danny McAvoy picked the food up from the school and delivered it to the Food Bank. Co-chair Pete met the teens at the food bank to accept the donations. Thank you Cedar Creek School!!!!

And thanks to the Lacey teen squad (l-r) Dan McAvoy, Chairlady Donna McAvoy, Joe Stapleton, and Devin Osterman.


 
ANNUAL BOY SCOUT FOOD DRIVE A ROUSING SUCCESS !
Every year during the second week of November, the Boy Scout Council of America wages it's own war against hunger by blanketing local neighborhoods with empty bags, and then returnig to collect the food and deliver it to local food pantries. Here at the Lacey Food Bank, they came and came and came, and when the day was over, we were richer by the amazing total of 556 bags of food.
We cannot overstate the importance of this gift of time and effort on the part of the scouts and their families as well as the generousity of our Lacey community who filled the bags. Going into the holidays and winter season, when heating bills take priority over food for food bank clients, this will help us continue to provide them with what they need.
THANKS THANKS THANKS
from all of us to all of you.
Please note: it was so busy at the food bank, not everyone was photographed and we don't have names. If you can identify yourself for us, send an email and the web mistress will "tag "you.
HOW TO MAKE A STORES MASTER SMILE
5 STARS FOR LACEY SOCCER CLUB
Once again our FOFB, the Lacey Soccer Club came through for us with a huge amount of food, collected before and during the benefit game they held for the benefit of the Lacey Food Bank. Stores Master Dick and Co-Chair Pete were on hand with the food bank van to collect the food. Many thanks to all the coaches, kids and parents for their generousity, with special thanks to Diane Wright and Kevin Kazenmayer for organizing the event. It could not have come at a better time with food bank shelves woefully light at the start of the winter and holiday season when demand almost exceeds our capacity.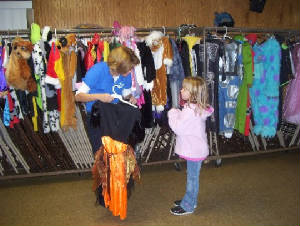 Volunteer Deb Candeletti serves a young patron
IF YOU WANT A TASTY SWEET ..........
Be sure to holler Trick or Treat! The Food Bank Kids Committee 1st Annual Costumes for Kids took place today during the regular October food distribution. Ghouls and Goblins - Princesses and their Superheroes found an array of clean, gently used costumes and accessories to choose from. More than 70 of our Food Bank Kids (or their Moms) picked out a costume that they will be able to wear for school and for Trick orTreating! Each child also received a Snack Pack and their very own pumpkin! A special Thank You to the Blackwood and Tulino families for their generous donations!!
*
*
MAKING A WORLD OF DIFFERENCE
Our own Laura Caroccia was honored by the Ocean County Women's Connection recently and given an award as one who is 'Making a World of Difference". Held at the Holiday Inn in Toms River, Laura was joined by fellow co-chairman of the Lacey Food Bank, Harold Pete Peters, and food bank committee heads, Guy Burnett-Financial Committee; Dick Sansone - Stores Committee - and members of the newly formed Food Bank Kids Committe headed by Rosa Steitz & Laura. The group proudly watched as our gal received her much deserved award. For she has indeed made a difference in our own little food bank world and for the people we serve. Our thanks to the Ocean County Women's Connection for choosing Laura as a worthy recipient of this prestigious award.
.
| | | |
| --- | --- | --- |
| Receiving her honor from the Ocean County Women's Connection | Laura & "the Girls" - all members of the Food Bank Kids Committee. | Laura & "The boys" - Guy Burnett, Dick Sansone & Co-Chairman Harold (Pete) Peters |
A GIFT OF A DIFFERENT COLOR
Sometimes we receive a gift that is so unique and inspiring that
we just have to share it with you.A recent donation of a large
amount of pet food was accompanied by the following letter.
Our "dawgone" thanks go out to Ms. Wilde for her thoughfulness.
"I recently purchased a home & invited 30 of my friends to
"Meet My House".I told everyone that I was not accepting gifts,
but to fulfill my passions for pets, I requested that everyone bring
me pet food to be donated to the Lacey Food Bank. Thiswill
enable people to keep their pets home with them and out of the
shelters. I collected almost 140 pounds of dawg\cat dry food,
24 cans of cat food, 4 cans of dawg food and one box of dawg
treats. It was a massive success !

Eat heartily fur babies."
Sherron Wilde
Manchester
.
Knit 1 - Purl 2
The Lacey Food Bank is looking for a few talented Crafters! Can you crochet? Can you knit? Know someone who does? We were the recipients of 2 large, large bags of assorted skeins of yarn...all colors...all weights. I'd like to find a few people who would like to take this find and turn it into one or two or more a

fghan/blankets that we could then give to our neediest of senior/disabled clients. Don't have time to crochet or knit a finished piece? Volunteer to make some blanket squares and we'll have them put together to form a very cozy afghan. We can't warm up America this winter but we can warm up our seniors with a gift of a warm winter afghan. If you can help with this project, or for more information, you can leave a comment here or please call the Lacey Food Bank at 609-242-2848 and leave a message for Laura. Thanks for doing what you do to help us do what we do!!
.
HAVE QUESTIONS ABOUT THE FOOD BANK? WANT TO HEAR WHAT IS GOING ON?
HEAR CHAIRMAN LAURA BEING INTERVIEWED BY TRIPP ROGERS FROM MAGIC 101.1 FM AT
<<<<<CLICK ON ALL PICTURES TO ENLARGE>>>>>

APPLE FESTIVAL SIGNALS THE FALL SEASON
The Apple Festival is quintessential small town Americana. Sponsored by the Historical Society, the festival delights adults and kids alike. While the LHS band played on, rides on the firetruck, musket shooting, pie eating contests, and wonderful apple desserts for sale, along with the popular pumpkin patch, made this picture perfect day fun for all.
Loyal food bank volunteers showed up to hand out balloons, "Snoopy" (the food bank mascot ) cards and lollipops to the kids, while they "fliered" the adults who generously responded with over $600 of donations. New volunteers Ed Weisbrat, Elaine Mandio & Bob West joined old pro volunteers to see that we were well represented. And Jeff Connell dashed in to set up the tent early, and take it down at the end, while showing houses in the middle. Such dedication ! Thanks to foodbank volunteer, Jim Joeriman- Caldwell Banker - Riviera Realty- for donating the helium for the balloons.
| | | |
| --- | --- | --- |
| | | |
SET UP TIME UNDER THE TENT.

CHAIRMAN PETE, GUY BURNETT, KAYLA PETERS, JEFF CONNELL AND EARL WALLER

BOB WEST, JOHN & MICKEY ESPOSITO & MARION SPIELBERGER

BOB WEST, FRED & MARION SPIELBERGER

ED WEISBROT, JOAN TOPPING & ELAINE MANDIO

OUR GOOD 'OLE BOYS

PETE, GUY & EARL (AKA SANTA)

 
 
 
Lacey Soccer Club Adult League Kicks Off Christmas
for the Lacey Food Bank Kids
It may have been 90 degrees in the shade but that did little to melt the enthusiasm of the Lacey Soccer Club Adult League Committee, Players, Coaches, Referees, and Soccer Friends and Families as they hit the field for their Christmas in August benefit game that kicked off the 2010 Lacey Food Bank Kids Christmas Campaign.
Organized by Lacey Soccer Club Adult League President, Kevin Kazenmayer, the coaches and parents faced off in a spirited game where everyone came out a winner. More than 150 new toys, games, books and art supplies were collected along with more than 875 pounds of food destined for the empty food bank shelves. A generous donation by Lacey ShopRite stocked the concession stand with hot dogs and cold drinks and the attending Referees boosted the night's donations by contributing their game fees. Lacey Food Bank Kids committee member Diane Wright remarked that "so many donated time playing, supporting, officiating, working the grill and snack stand and giving so generously from their hearts, that this was a night that all of Lacey could be proud of"
In the photo below we have Diane Wright and League President Kevin Kazenmayer presenting a check for $500.00 to Lacey Food Bank Co-Chair Laura Caroccia at the Lacey Soccer Club Adult League general meeting held on September 13th.
(by the way, the broken leg happened before our benefit but while he was playing soccer - that's one of the reasons why Christmas in July turned out to be Christmas in August!!)
| | |
| --- | --- |
| | Diane Wright, Kevin Kazenmayor & Laura C. |
OUR THANKS TO WACHOVIA - A TRUE F.O.F.B.
(Friend of the Food Bank)
Here's Storesmaster Dick, Co-chairman Pete, and Susan Hahn, manager of the Lacey branch of the Wachovia/Wells Fargo Bank. (adjacent to ShopRite center)
On behalf of their foundation, "Wachovia Community Partners" she presented us a $1000 check at a breakfast given at the Lakewood Country Club on Sept 12, 2010. This is the second time our Food Bank has been selected to receive their generous gift. Thanks also go out to Cynthia Boylan-Pieja, food bank registered agent and trustee for expediting the application for this grant.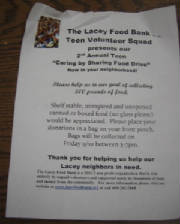 LFB TEEN CORP FOOD DRIVE A SUCCESS
Over the summer, food bank shelves got looking pretty bare so Teen Chairperson Donna McAvoy asked the LFB Teen Corp to step up to the plate and help out.
Fanning about their neighborhoods, the teens left bags on doorsteps and returned to collect the bounty - over 70 bags of food. Donna estimates this amounts to over 2,000 pounds or a TON + of food. Now THAT is a great accomplishment. After turning in the food, the teens stayed to socialize with Snoopy, the food bank mascot, and sort and shelve the food. Thanks to all who participated and to the Lacey residents who showered us with food .
(bottom row, l-r ) MATT MACGILVRAY, DANNY MCAVOY, JESSICA SMITH.

(back row, l-r) DEVIN OSTERMAN, DONNA MCAVOY- TEEN CHAIRMAN, BRIANNE MITCHELL, MAX MCAVOY, BEN MROZINSKI, JOE STAPLETON & ASHLEY TONON.

OTHER FOOD COLLECTORS MISSING FROM THE PICTURE WERE: REBECKAH HANSEN, BRETT KINSEY, KYLE MITCHELL & JOE NODA.

Snoopy says, "Hah, I thought so, there is NO pup-er-oni mentioned in that flier."

Now comes the real hard part, sorting and stashing for the stores master's approval.
LACEY FOOD BANK BACK TO SCHOOL PROGRAM
GETS AN A+!
Heading back to school after the long summer vacation can be tough on parents and students alike. For many of our parents, the added expense of buying Back to School supplies can be overwhelming. Between backpacks and supplies even the most basic of back to school shopping can run $15 to $20 a child.
The Lacey Food Bank Kids Committee hosted their Annual Back to School giveaway at the monthly food distribution held on August 20th. Client children in Grades K-6 received new backpacks stocked with the basic school supplies that they will need to get started those first days of the school year. The middle school and high school students were provided with a 'Take-Me' table of loose supplies such as binders, highlighters, multi-subject notebooks and more. Every child also received a snack sack of healthy snacks in kid-friendly sizes.
Funded by donations from the Lacey community and the Food Bank Kids Committee, more than 95 children will have the opportunity to start smart this year by having the supplies they need before they get to school.
(L-R) ) ANDREA, JOAN, ROSALIE, PEGGYSUE, KATHY, DEBBIE, SARA, ASHLEY, KORI, DIANE W, ROSA & LAURA. (NOT IN PICTURE WERE DONNA AND EMILY)

LOTS OF BACK PACKS, LOTS OF "STUFF" IN THE BACKPACKS, LOTS OF WORK BY THE FOOD BANK KIDS COMMITTEE. THANKS EVERYONE.

THE "SNACK PACKERS" - JOAN, ROSA AND DEB W.

THE COMMITTEE THAT "STUFFED ALL THAT GOOD STUFF" INTO THE BACKPACKS

(L-R) ROSALIE, DIANE W. , SARA, ASHLEY, KORI & KATHY
LACEY FOOD BANK VOLUNTEER PICNIC
It was hot, it was humid, there was a thunderstorm, and flies were out in full force, but nothing dimmed the spirits of the stalwart volunteers (The ELITE of Lacey)
Gathered around the tables laden with potluck food and home baked treasures, the crowd ignored the weather and managed to get a game of horseshoes in before the deluge. Grillmaster John Arnao was smoking !
Non-(POTENTIAL) volunteers please note: LFB volunteers are the friendliest nicest people you could meet., They share a common trait, compassion, kindness and giving. Now these are birds of a feather to flock together with.
GRILLMEISTER JOHN ARNAO IS SMOKING !

EARL & JOHN SHARE A LAUGH

STORESMASTER DICK SERVING UP HIS BURGERS.

MONDAY STOREKEEPERS, LORELLE & VALERIE ( WITH DAUGHTER BRIANA )

MR. & MRS. PETE, GUY & LAURA

Our Lacey Recreaton Bus friend, Bud Mazzera, spent his lunch hour with us. (Take note: the bus transportation crew, being furloughed on Fridays till the end of the year, offered to continue doing their job for us on a volunteer free basis. Tnanks guys , you embody the spirit of the Lacey Food Bank )

JOHN & ELEANOR BIDWELL, FRIDAY STOREKEEPERS

THE BICENHOWERS AND SMITHS BREAKING BREAD !

FRED & MARION SPIELBERGER

JOHN & ELEANOR BIDWELL AND DAVE & MARY LOU DI EUGENIO

JEFF CONNELL & JIM JOERIMAN

FAITHFUL VOLUNTEERS JUDY & JOANNE, TOGETHER AGAIN.....

THAT HAD A NICE RING TO IT BERT !

(BERT TOPPING & HIS WIFE JOAN ARE THE WEDNESDAY STOREKEEPERS)

GEORGE & PENNY SNEAKING IN A SNUGGLE

THE WEATHER DIDN'T CRIMP THEIR STYLE

LAURA C. WITH HER KID'S COMMITTE CHAIRS, ROSA, DONNA AND JENNA

DAVE & BERT SAMPLING THE WARES
NOTICE
AUGUST IS BACK TO SCHOOL SUPPLIES DAY
THE FOOD BANK KID'S COMMITTEE WILL BE DISTRIBUTING BACK PACKS & SCHOOL SUPPLIES TO CHILDREN WHO ARE BETWEEN THE AGES OF 5 – 11 (K-6) AND WHO ARE SHOWN AS DEPENDENT CHILDREN ON OUR CURRENT CLIENT LIST. LIMITED SUPPLIES ONLY WILL BE AVAILABLE FOR CHILDREN IN MIDDLE/HIGH SCHOOL.
| | | |
| --- | --- | --- |
| A NOTE FROM CHAIRMAN LAURA RE: JULY'S DISTRIBUTION | | |
Early Friday morning, the doors opened...And the cupboard was almost bare...July brought more than 180 families to the monthly distribution and sadly we had little extra to offer this month. It's not unusual for our food donations to drop during the summer months...but this was one of the leanest offerings I've ever seen.
Our Baking Table is usually laden with muffin, biscuit, cookie and cake mixes. Pancake mix, syrup, and even pie filling give our Moms an opportunity to serve up a special treat every once in a while. Microwave popcorn or pretzels or crackers and sometimes even some candy generally give us 2 or 3 Snack Tables to share with our families. This month our snack offerings consisted mainly of boxes of matza crackers and donated nutrisystem meals. Personal hygiene and cleaning supplies were at a premium with only a few bottles of shampoo and a milkcrate of dishwashing detergent available as a 'take me'. Thankfully the generous contribution of fresh produce from the Forked River Presbyterian Church, chaired by LFB volunteers & parishioners, Lorelle Gormley and Velerie Krusieski, gave each of our families a bag with tomatoes, potatoes, onions and bananas.
Donations of non-perishable food items a
re needed to get us through the rest of this long hot summer. Please use the bins located in the lobby of the Lacey ShopRite or you can drop off your donation at the Food Bank, 102 Station Dr. in Forked River. We are open Monday/Wednesday/Friday from 10 am - Noon or call 609-242-2848. Thank you



Lacey Food Bank Kids Summer Reading Program gets an A+
With the goal of fostering a love of reading and its rewards, the Lacey Food Bank Kids Committee sponsors a Summer Reading Program that is popular with children in pre-kindergarten through sixth grades.
A large collection of new or gently read books were free for the taking during the scheduled July food distribution. Included among the many favorites were offerings from Dav Pilkey of "Captain Underpants" fame, Ann Martin's "Babysitter Club", and classics such as "Peter Rabbit", "The Very Hungry Caterpillar", "Madeline" and so many, many more.
Parents and children alike were assisted in their selections of age appropriate and challenging book ideas by Summer Reading Chair, Rosa Steitz, along with Donna McAvoy, Laura Caroccia and Jenna Caroccia.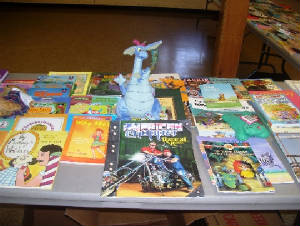 Your Grandmother's Cupboard
Ever wonder who's driving that red pickup truck that you see parked in the middle of the parking lot every distribution day? You know the one, the one with the trailer, the tables and the row after row of neatly organized bins of clean warm clothes, linens, personal hygiene items and even the occasional knick-knack or toaster?
Meet Clark & Jean Paradise, the dynamic couple that keeps Your Grandmother's Cupboard moving from one food bank to homeless shelter to church or community outreach center up and down New Jersey. Now serving 21 "Gathering Places", from Passaic in the north to Swainton in the south, Your Grandmother's Cupboard, a 501 c3 non-profit organization, reaches out to more than 1000 people a month recognizing the needs of those living in poverty and supplying them with common items they need for good health and hygiene but might otherwise not be able to afford.
The staff of the Lacey Food Bank recognizes the service that Clark and Jean provide for our clients and encourages our volunteers and community members to remember Your Grandmother's Cupboard with gently worn outerwear, warm sweaters, clean blankets, clean towels and sleeping bags. Plastic baby bottles and plastic sippy cups are always needed too.
Your Grandmother's Cupboard is located at:
Roslyn Plaza
173A Rt 37 West
Toms River, NJ 08755
Visit www.yourgrandmotherscupboard.org or call (732) 240-0441
.
YARD SALE A HUGE SUCCESS
Sunny skies, warm breezes and table after table of bargain priced knick-knacks, housewares, sporting goods and electronics made for the perfect recipe of success for the Lacey Food Bank 3rd Annual Yard Sale last Saturday.
Held in the parking lot of the Lacey Food Bank in Forked River, this yearly event has grown from a few tables of knick-knacks to the shopping event of the summer! Furniture, housewares, electronics, toys, bikes, ski and fishing equipment were just a few of the fast moving sellers. A gold watch, Lenox accessories, a Lladro figurine, Rosenthal Crystal, ski boots, bicycles, a regulation punching bag and even chaps were just some of the unique items found among the more than 25 tables of trinkets, treasures and trash!
An interesting tale, coming from the garage sale, was about the customer who bought a watch for $10. He then turned around and sold it to the Coin & Gold Shop in Waretown for $70. and promptly came back to us with the profit of $60. noting that seeing us work so hard, made him happy to do so. Now THAT is inspiring.
Chaired by Pete Peters, the proceeds, over $1,100, will go toward restocking the shelves at the food bank and for the purchase of ShopRite gift cards.
Thanks to all the volunteers, donors and customers who made this such a success. Check them out in our photo gallery below.
Laura C.
.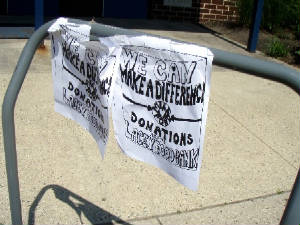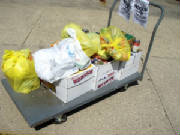 "WE CAN MAKE A DIFFERENCE " the sign says...
Students at the Mill Pond School along with students in the entire Lacey School system, make a huge difference in our ability to provide our families with an end of the month supply of food when cupboards are bare. After picking up this bounty of food from Mill Creek School, the storesmaster proceeded on to the Cedar Creek School where yet another good load was waiting for him. Thanks to all of you, staff, students, and parents for helping us do our job. You are true FOFB !~ .
CEDAR CREEK FOOD DONATIONS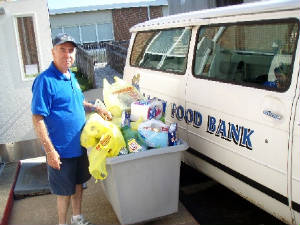 MEMORIAL DAY 2010
Check out the three musketeers, Guy, Dick & Pete, who along with Snoopy Burnett, represented the food bank at the annual Memorial Day parade. Co- Chairman Pete, a stalwart despite the heat, marched along in front of the van, pushing a shopping cart. Greeting them was Committeeman Dave Most .
OUR DYNAMIC DUO, PETE & LAURA
have been media busy this month. First, Laura had an in depth interview with "Around Ocean County" radio host Tripp Rogers. The show airs on Sundays from 7am - 8 am on Magic 100.1 FM. Because of the early time of the interview few of the volunteers got to hear her, but trust us, she represented the food bank in a a delightful, intelligent and infomative manner. We hope to get an audio link posted on the website and will then send all a bulletin.
UPDATE: CLICK ON LINK- ABOVE LEFT- TO HEAR THE INTERVIEW
Then Pete had an interview with Bill Clanton, owner operator of a new radio station broadcasting out of Barnegat. After final tests for the FCC, Bill said he expects to be on the air full strength within two weeks as he is only at half power now. He's has a library of 7000 recorded tapes of oldies music broadcasting 24/7.
Pete said."We covered quite a bit in the interview, but Clayton wants a follow up in a few weeks as a community awareness service. I hope I was able to cover our mission and what we do and how we do it." Time and date to follow .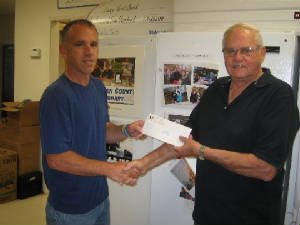 GANNET FOUNDATION GIFTS THE FOOD BANK KIDS PROGRAM
Accolades go out to our registered agent & trustee Cynthia Boylen-Pieja, who, when reading the requirements for grants in the Asbury Park Press, took the opportunity to apply for a grant to give the food bank kids program a boost - a boost big enough to provide a backpack and supplies for each one of them at the August distribution with some $ left over for Christmas - thanks to the generousity of Gannet.
Shown here accepting a check for $2,000 from Rob Thomas of the Asbury Park Press, is co-chairman Pete Peters.
.
Lacey Food Bank Receives $5,000. Grant from TJ Maxx!
TJ Maxx parent company the TJX Companies, Inc. prides itself on being a Neighbor of Choice. The purpose of The TJX Foundation's Giving Program is to support qualified, tax-exempt nonprofit organizations that provide services which promote and improve the quality of life for children, women and families in need. Lacey Township welcomed its newest neighbor, TJ Maxx, at the grand opening of their newest store right here in the Lacey Mall.
The Lacey Food Bank and TJ Maxx partnered as Neighbors of Choice with a $5,000 grant awarded by Store Manager Susan Eghart to Food Bank Co-Chairs Laura Caroccia and Pete Peters at the ribbon cutting early Thursday morning.
Mayor Gary Quinn and Deputy Mayor Mark Dykoff were there to watch the presentaton and ribbon cutting as eager shoppers lined up at 8 am to start shopping.
| | |
| --- | --- |
| | |
|   |   |
TAKE ME OUT TO THE BALLGAME!!

The Lacey Lightning Coaches and the Staff from Millennium Radio faced off on Wednesday, May 12 at Clune Park for a charity softball game to benefit the Lacey Food Bank. Despite the freezing cold wind, sporadic rain and wet feet, a good sized crowd came out to cheer on their favorite coaches and radio personalities. Buster Blue Claw himself stopped by the Food Bank Van to help us load up the food donations brought in by the cheering fans! Lacey Lightning also made a surprise visit to the Food Bank the next day to present to us the game's refreshment take...a whooping $556.00...that's a lot of hot dogs!
Thank you to Lightning coach, Brian Emerson for coordinating this event along with all Lacey Little League/Lightning staff and to Ashly Emerson Promotions Director for Millennium Radio and all the guys and gals on both teams! There's a rumor that the Millennium team is calling for a rematch sometime this summer!
And thank you to the sponsors who donated the refreshments, Home Depot, Coca-Cola, Fusciello's, and Dust about Time!
Final score? Lacey Lightning Coaches - 7 Millennium Faces For Radio - 5 ! Fun night of Softball and they helped the Lacey Food Bank ! Great job everyone !
Laura Caroccia, LFB Co-Chair & Community Affairs Chair
CHAIRMEN PETE & LAURA AND

STORESMASTER DICK

FLANKING MASCOT BUSTER BLUE CLAW

BACK AT THE FOOD BANK FOR A PRESENTATION TO LAURA FROM BRIAN EMERSON

$ + FOOD - WHO COULD ASK FOR MORE?

FOODBANK TEEN CORP MEMBERS JENNA CAROCCIA & ANDREW STEITZ BRAVED THE WEATHER TO HELP OUT.
A BLOOMING SUCCESS IT WAS !
The 1st Annual Lacey Food Bank Plant Sale was a Bloomin' Success!! Thank you to Donna McAvoy and all the volunteers who unloaded the truck, sorted the petunia's from the phlox from the parsley and who were on their feet all day pickin' & packin' and making sure the orders were ready for carside delivery when the customers got there. A trem

endous job well done by a terrific bunch of people! Here's what one customer had to say:
| | | |
| --- | --- | --- |
| | | Add your content here |
CHAIRMAN PETE'S REPORT ON THE ANNUAL US POSTAL FOOD DRIVE
The food drive from Whiting Post office was a huge success in that Earle Waller and Chuck Stellwag drove to Whiting and coordinated the pick up and delivery of a ton of food from the mail carriers of Whiting Post Office. Earle's truck was so heavily loaded with food, he claimed it was the smoothest his truck had ever rode. I counted at least 58 milk crates and postal boxes of food, that was sorted and packed by Valerie, Bert and Jack. I had to leave early, but they worked tirelessly for at least 3 hours sorting, checking dates, and storing all the food. My tremendous thanks go to them and to the Manchester postal workers who donated their time to collect the food and the residents of Manchester for their generosity .
GUY TAKES TO THE ROAD
AFTER RECEIVING HIS 15 MINUTES OF FAME, OUR CHAIRMAN EMERITUS SET OUT TO FINISH THE JOB OF HONORING STALWART FOOD BANK VOLUNTEERS BY MEETING WITH THE TWO LONGEST RANKNG VOLUNTEERS OF THE FOOD BANK., STEFFIE SERENA & ZYGMOND (ZIGGY) ZWIERCHOWKSI.
STEFFIE RECALLS WORKING WITH ALMA BLAIR, THE FIRST CHAIRLADY OF THE FOOD BANK, WAY BACK IN THE EARLY 90'S, SO ESTIMATES THAT SHE SERVED AT LEAST TWENTY FIVE YEARS BEFORE RETIRING.. DITTO ZIGGIE, WHO WITH EMIL CIANGETTI, DECEASED FORMER CHAIRMAN, DATES BACK TO WHEN THE FOOD WAS STASHED HERE & THERE IN TOWN HALL CUPBOARDS AND IN AN OLD ARMY TRUCK (SEE HISTORY OF THE FOOD BANK.
THEIR PLAQUES READ:
"LACEY FOOD BANK GRATEFULY ACKNOWLEDGES STEFFIE SERENA - ZYGMOND (ZIGGIE) ZWIERCHOWSKI FOR (HER, HIS ) MANY YEARS OF OUTSTANDING DEDICATION AND COMMUNITY SERVICE AS A VALUED VOLUNTEER AND FRIEND TO THE NEEDY" April 2010
---
THE THIRD AND LAST CERTIFICATE WAS SENT ALL THE WAY TO SOUTH DAKOTA TO MISS DOROTHY MEHLER, THE "VOICE" OF THE FOOD BANK FOR MANY YEARS BEFORE RELOCATING.. YOU CAN VISIT DOT ON THE VOLUNTEER PAGE, (bottom left) ALONG WITH HER NOW RETIRED FOOD BANK CAT, MISS ROXIE. MEHLER.
| | |
| --- | --- |
| | |
SGA STRIKES AGAIN
Student Government Association president, Brittany Knoerdel and Alex Maraski came by the other day with 7 crates of food, collected from the student body of Lacey High School. Bear in mind that this delivery is only one of several they do throughout the school years. This week is "National Make a Difference " week and in our case, the staff and students of Lacey High School along with all the schools in Lacey sure do make a difference to us at the food bank. Thanks to all the young people who make this happen.
.
NEW LACEY FOOD BANK LEADERSHIP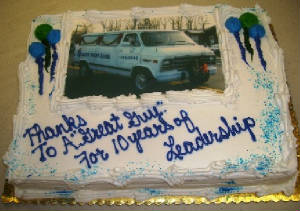 Food Bank volunteers gathered around at Community Hall on April 13 to honor outgoing chairman Guy Burnett, and to welcome our two new Co-Chairmen, Laura Caroccia and Harold (Pete) Peters.
For outgoing chairman Guy, this brings to fruition his long time goal of a committee led organization. Currently Laura heads the Community Affairs committee, and Pete serves as the chairman of the Volunteers committee. And no, Guy isn''t retiring, he'll serve as chairman of the Financial committee, has joined the board of trustees, and will serve as the resident guru along with Dick Sansone, chairman of the Stores committee in case the new "kids" need some help.
A lot of eating, planning, scheduling and arm bending went on during the meeting which was attended by an almost full force of dedicated volunteers, including Rob McAvoy, the leader of the newly formed Food Bank Teen Corp which will be chaired by his mom, Donna McAvoy. The teen corp has evolved into nearly 2 dozen pre-teen and teens volunteers who have already done yard cleanup for elderly clients, food drives, and the food bank kids Christmas campaign.
Co-chairman Pete threw in his famous prize drawing table. He offered some pretty good stuff, no wonder we have such good turnouts at the meetings.
Ten year longevity certificates were presented to Dick Sansone, Bruce & Sally McGahey,Howard & Rose Furbeck , Ann Brinkman & Ziggie Zwierchoski all of whom worked side by side with Guy during his first challenging year as chairman of the food bank.
The "Chief" as he will be know forever more (thanks Laura C) was surprised by the presentation of an engraved plaque acknowledgiing his ten years as chairman and a sheetcake . In turn he presented gavels to his replacements.... and Laura promises that at the next meeting, she'll not hesitate to use it to restore order. Now here's a few pictures of Lacey's finest - the dedicated LFB volunteers.
TROOP 477 PAYS A VISIT TO THE FOOD BANK
After holding a food drive, Troop 477 paid us a visit and had a tour of the food bank. Greeting the girls were volutneers Andrea Flaherty and storemaster Dick Sansone... And oh yes, Snoopy Burnett came by to say hello and hand out his autograph. Thanks girls...
NOW THEY GET TO PACK AND STACK ALL

THE FOOD THEY'VE BROUGHT

LOOK AT THAT SNOOPY BOY -

GETTING HIS BACK RUBBED

WHILE EYING THE GOODIES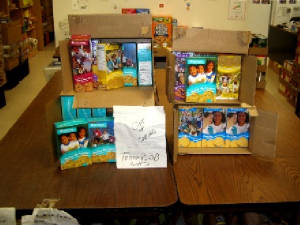 MYSTERIOUS BOXES LEFT AT THE FOOD BANK
STORESMASTER DICKCAME TO "WORK" TO FIND SEVERAL BOXES ON HIS DOORSTEP. (GOOD THING IT WASN'T RAINING) ON OPENING THEM, THIS IS WHAT HE FOUND...ALONG WITH A NOTE THAT SAYS " A GIFT OF CARING BY TROOP 238" ANOTHER GOOD DEED BY ONE OF MANY SCOUT TROOPS WHO HELP US THROUGH OUT THE YEAR.
.
ELKS HONOR CHAIRMAN GUY
Luring him to their annual outgoing\incoming leadership installing ceremony under the pretense that he'd be accepting a donation, the Lacey Elks pulled a surprise and instead of a check gave him this plaque which pretty much says it all.
"The Elks Distinguished Citizenship Award is presented to Guy Burnett for Outstanding and Meritorious Service to Humanity "
The chairman was surprised, to say the least . Note him (below) as he points his finger at one of his new co-chairs who colluded with outgoing Exalted Ruler Ed Eglentowice, to get him there.
He is honored to be feted for outstanding service to humanity but notes that this award of service should be shared with over 70 committed volunteers - all working to meet the goals of the food bank which is to see that no one goes to bed hungry.
Thanks to the Elks Lodge for recognizing the work of the Lacey Food Bank and of Guy Burnett, who has served the food bank for 12 years, the last ten years as chairman.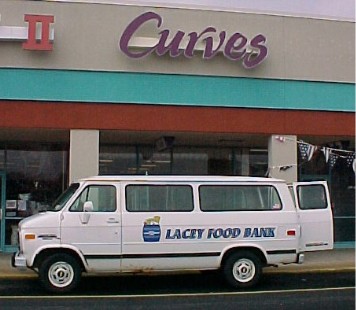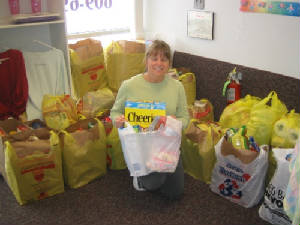 Jusy Hyslop
WOMEN OF CURVES DONATE OVER A
HALF TON OF FOOD TO LFB
During the month of March, Curves franchises nationwide carry out their own war against hunger. Here in Lacey, Judy Hyslop (r) and Alan Milboer, owners of Curves, consistantly turn up with large numbers thanks to the women of Curves who donate so generously to the food bank. Along with food, you'll find them gathering school supplies for the food bank kids in August and toys in December. Thanks to all of you from all of us.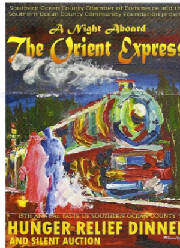 ALL ABOARD THE ORIENT EXPRESS!
It's that time of year for the "Taste of Southern Ocean County" dinner and silent auction.. Sponsored by the Southern Ocean Co Community Foundation, a project of the SOC Chamber of Commerce, this grand event benefits not only the Lacey Food Bank ( the foundation is a major source of our donations and is an esteemed sponsor ) but also our fellow food banks through out southern Ocean County.
This year's chefs will present a tasty array of dishes from ten European cities along the route of the Orient Express from Paris to Istanbul. So for an evening of murder, mystery and mayhem, international food and auction, call the SOC Chamber of Commerce for tickets. (609) 494-7211 x1100 . Tickets are $125. per person with Visa and Mastercharge accepted.
.
MEET THE LACEY FOOD BANK TEEN SQUAD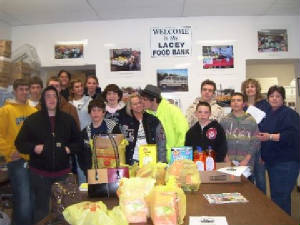 Pictured: Joe Stapleton, Max McAvoy, Ken Mueller, Kyle Bylsma, Andrew Uvegas, Ashley Tonon, Brianne Mitchell, Rebeckah Hansen, Devin Ostermann, Kyle Mitchell, Brett Kinsey, Dan McAvoy, Rob McAvoy, Donna McAvoy, Laura Caroccia, and Maddie Stapleton
Not in photo: Matt MacGilvarey, Jessica Smith, Jenna Locandro, Marissa & Nick Juliano, Dominic Tulino ,Jenna Caroccia
.
To read more about what the teen squad does, scroll down in this newsletter to a related story. Then, to sign up with the Teen Squad as a volunteer for their service projects, e-mail Chairwoman Donna McAvoy
rdmcavoy@msn.com
Tell her something about yourself and leave your name and telephone number. She'll get back to you.
OUR FRIENDS AT CAFFREYS ARE DOING IT AGAIN. ALL MONTH PATRONS BUY SHAMROCKS AND PAPER THE WALLS - ALL FOR US. SO STOP BY FOR LUNCH, HAPPY HOUR OR DINNER AND TELL THEM THANKS FROM ALL OF US AT THE LACEY FOOD BANK.
CAFFREY'S IS OUR FIRST & OLDEST "ESTEEMED SPONSOR" AND KEPT THE FOOD BANK AFLOAT FOR MANY YEARS.
.

MARY, MARY, QUITE CONTRARY, HOW DOES YOUR GARDEN GROW?
NO SILVERBELLS OR COCKLE SHELLS, BUT THE LACEY FOOD BANK YOUTH COMMTTEE IS HAVING A REALLY FINE FLOWER SALE JUST IN TIME FOR MAY PLANTING AND MOTHER'S DAY.
WE OFFER A WIDE VARIETY OF HEALTHY PLANTS FROM A LOCAL GROWER. THE PRICES ARE VERY REASONABLE - WITH FLATS OF ANNUAL FLOWERS AND VEGETABLES FOR SALE AT $11.50, 4 1\2 " POTTED HERBS 8\$18.00 OR ONLY $2.25 EACH,. THERE ARE 2 GALLON PERENNIALS FOR $8.00 AND HANGING BASKETS. FOR YOUR POTS AND WINDOW BOXES WE OFFER A SELECTION OF POTTED SWEET POTATO VINES, ORNAMENTAL GRASSES, GERANIUMS, ACCENT SPIKES , VINCAS & NEW GUINEAU IMPATIENTS,
MIX AND MATCH WITH YOUR GARDENING FRIENDS.
ALL PROCEEDS WILL GO TO THE FOOD BANK KIDS FUND WHICH SPONSORS THE SUMMER READING PROGRAM IN JUNE, THE DISTRIBUTION OF BACK TO SCHOOL SUPPLIES IN AUGUST & CLOTHING\TOY GIFTS AT CHRISTMAS FOR OVER 200 FOOD BANK KIDS
ORDERS MUST BE PREPAID. FOR FULL INFORMATION AND TO DOWNLOAD AN ORDER SHEET(S) CLICK ON THE PLANT SALE ORDER FORM LINK BELOW (LEFT)
VOLLEY BALL TOURNAMENT SCORES BIG WITH US
When you think about a night of family fun, nobody does it better than the parent teacher groups of Lacey Township. This annual Volleyball face off between the teachers and staff of the Cedar Creek, Lanoka Harbor, Forked River and Mill Pond Schools took place on Saturday February 20 to a SRO crowd of cheering students and their families. Held at Lacey High School, this event has become a hometown favorite.
Coordinating the event were Carlene Sramaty (who served as the event coordinator) & Kathy Neumann from Cedar Creek Elementary; Tracy O'Rourke & Laurie Richardson, Lanoka Harbor; Chris Crowell & Toni McKevash, Forked River and from the Mill Pond School, Lynn Talarico.
The PTO sees this as a great opportunity to teach the students about giving back to the community by having everyone bring something for the Lacey Food Bank. Each child that donated an item received a ticket for a chance to win a gift card donated by Walmart . Unclaimed, this also will be given to the food bank
In all 12 crates of food were collected for a total of over 400 pounds (that is one fifth of TON, people) Showing up to collect the food and bring it back to the food bank were Food Bank's Teen Volunteer Corp, and Laura Caroccia, vice chair of the food bank.
The food bank is honored to be part of this outstanding community event and we send sincere thanks to the teachers, parents & students who make this annual event such a success.
Our teens left to right


Dan McAvoy, Dominic Tulino,Max McAvoy, Rob McAvoy and Maraty Smolen

Add your content here

Storekeepers for the night


Melanie Smith & Tina Swain

Add your content here

Raking in the donations !


Lynn Talarico & Carrie Fracasso

Add your content here
CCD STUDENTS PAY US A VISIT
Meet St Pius X 4th graders who, along their CCD advisor, Jacqie Supsie, visited the food bank one sunny Saturday afternoon in January.
Food bank volunteeer Andrea Flaherty led the students through the real work that it takes to weed out outdated food, then sort, shelve and pack the food before it can be given to those less fortunate. Greeting the students was the food bank storesmaster, who had just picked up food which was donated by shoppers at ShopRite so the class was right on time to help out.
Also attending was Snoopy Burnett, who was there to distribute his autographed picture to all.
| | | |
| --- | --- | --- |
| Food bank volunteer Andrea Flaherty demonstrates the right way to do it while stores master Dick keeps a close watch. Pay attention students, Don't mix up the peas and carrots. | PART OF THE JOB IS TO CHECK THE DATES CAREFULLY. | This is a lot of food to sort. Not much fun though. |
DID SOMEBODY MENTION FUN? HERE COMES SNOOPY BOY BURNETT, THE FOOD BANK MASCOT.
A BIT CAMERA SHY, HE LOVES TO HAND OUT HIS AUTOGRAPHED PICTURE AND GIVE LOTS OF LICKIE KISSIES.
I CONFESS, I AM WHAT THEY CALL AN ATTENTION HOUND !

AND I SURE DO LOVE ALL THIS ATTENTION

BUT WHERE'S THE PUPPER-ONI ?
THE LACEY FOOD BANK OFFERS TOURS FOR LACEY SCOUT, CHURCH & SCHOOL GROUPS . YOUNGSTERS ARE ENCOURAGED TO BRING ALONG A CAN OR BOX OF FOOD.
WHILE VISITING, THEY'LL HELP SORT THE FOOD, LEARN ABOUT THE FOOD BANK AND THE PEOPLE IT SERVES AND WHEN POSSIBLE BE GREETED BY SNOOPY BURNETT, THE OFFICIAL MASCOT OF THE LACEY FOOD BANK.
GROUPS CAN CALL THE FOOD BANK AT 242-2848 FOR INFORMATION AND TO SCHEDULE A TOUR.
A NEW YEAR'S GIFT FROM WALMART
HERE ARE FOOD BANK VOLUNTEERS ROSA STEITZ AND LAURA CAROCCIA RECEIVING A GIANT SIZED CHECK FOR $1,500 FROM WAL MART MANAGER GEORGE SMITH AT A PRESENTATION CEREMONY ON JANUARY 15TH. THIS GIFT WAS DEDICATED TO THE FOOD BANK KIDS BACK TO SCHOOL FUND, AN EVENT THE FOOD BANK HOLDS EACH AUGUST AT DISTIBUTION. THIS WILL BUY A LOT OF BACKPACKS - OUR MOST NEEDED ITEM AT BACK TO SCHOOL DAY.THANKS TO THE WALMART COMMUNITY FUND FOR THEIR GENEROUSITY.
Lacey Food Bank Kids Recap – January 2010
The Lacey Food Bank Kids Committee took on a brand new face in 2009 and challenges quickly became opportunities as this newest generation of volunteers looked outside the box for new areas of support.
Enter the Teen Squad! A small brigade of 6 local high school students, spearheaded by then LTHS Senior Jenna Caroccia and LTHS Junior Rob McAvoy, were recruited to assist at 1st Annual Lacey Food Bank Yard Sale. Despite the worst weather ever, this group of teens moved in, set up, carried in, carried out and generally provided all the muscle needed to make our first yard sale an outstanding success. By the time our 2nd Yard Sale rolled around in the spring of 2009, our Teen Squad had grown to 8 members and these yard sale savvy youths had us set up and broken down in record time.
Under the guidance of Teen Squad Chair, Donna McAvoy, our teens have provided us with far more than just the physical strength needed to support the Yard Sales, the Book Drive, Back to School, the Teen Squad Food Drive and the Christmas Shop.
In their spare time, they rake leaves and shovel snow for our homebound clients too! Now a senior at LTHS, Rob McAvoy has been instrumental in growing this group of community service oriented teens and has himself given countless hours to each and every project the Lacey Food Bank Kids Committee has organized.
Our current Teen Squad consists of the Mighty McAvoys (Rob, Max and Danny), Hunter Smith, Brianne Mitchell, Ashley Tonon, Roger Hopson, Alex McElvaney, Rachel McElvaney, Kevin Komorowski, Devon Osterman, Rebeckah Hansen, and Chris Hofford. 
To sign up with the Teen Squad as a volunteer for their service projects, e-mail Chairwoman Donna McAvoy rdmcavoy@msn.com Tell us something about yourself and leave your name and telephone number. She'll get back to you.  
CAFFREY'S AND LACEY VOLUNTEERS
PERFECT TOGETHER !
Lacey's Elite - the volunteeer corp running the Lacey Food Bank, once more started off the New Year with a volunteer luncheon at CAFFREY's. Why always CAFFREY's? Well, when Chairman Guy took over ten years ago, there were two faithful contributors, attorney Art Stein - who serves us now as a trustee - and Dan Coleman, co-owner of Caffrey's with substantial contributions which literally kept the food bank afloat for it's then 45 clients. Trying to put the food bank on a firm footing, we encouraged his example by starting the esteemed program, which in 2002 had 13 sponsors, and in 2009, almost a hundred. And THAT is why the food bank is faithful to Caffrey's.
And here's a pictorial ode to the Volunteers of the Lacey Food Bank, the best Lacey has to offer..........
<<<<<Click on all pictures on this page to enlarge>>>>>
| | | |
| --- | --- | --- |
| | | |
| | | |
| | | |
| | | |