Co-chairman Ed Weisbrot - January 2018

We can look back at the past year's accomplishments and be proud of the work that was done to serve the needy. Not only did we fight hunger with food, but we helped people stretch their limited resources with non-food items such as laundry detergent, toothpaste, paper products and a host of other non-food items.

At Halloween, the Food Bank's Lacey Kids project provided costumes; at Christmas, presents for the kids; at Easter, candy. For thanksgiving, in cooperation with Rotary and the high school, complete turkey dinners were assembled and distributed. During the summer months and Christmas break, our volunteers, in cooperation with Lacey Township churches, bagged and delivered nutritious meals to kid's homes.

With limited funding, Food bank clients who hit a rough patch because of illness or loss of a job were helped with their utility bills or a car repair bill.

Looking ahead to the new year, we plan on continuing these services. No one knows how the new tax code will impact the charitable contributions that help us do the things we do. Lacey Township provides us the building in which we do our work. As the Township's budget is challenged to provide services, we are also challenged to continue our work.

Yet I am hopeful, because people of good will are working together to deal with these challenges, and that is what makes Lacey Township a great place to live.

CO-CHAIRMAN HAROLD "PETE" PETERS - JANUARY 2018

HUNGER STOPS HERE!!

I'm proud to be part of the volunteers who make that statement true, and who help make our Lacey Food Bank possible. It's heart warming to be able to help over 200 families fight hunger. We are thankful and grateful to many businesses and local folks who support this cause with foods and monetary donations. Because of this help, and allocated foods from the U.S.D.A. we're able to keep our client families away from this dreaded disease called hunger. This allows us to help each family with approximately 50 to 60 lbs of food , a $10 ShopRite grocery card for perishables , and an extra $35 grocery card at Christmas.

It takes a lot of behind the scenes work during the weeks prior to our distribution to make this end product successful. Our volunteers keep our food bank open every weekday between 10 am and noon, and a few Saturdays , they use their own vehicles to pick up local foods, they work extra hours to inspect, sort, stock, and bag tons of food. They keep watch of our refrigerators and freezers, answer phone calls, take care of issuing emergency food for those in need, give tours to school kids and scouts groups, and the work goes on and on. If you feel this same passion and would like to help others, stop in any weekday from 10 am to noon and fill out an application. We are a 501c organization and everyone is a volunteer.

Wishing everyone reading this, a Healthy, Happy New Year.

THE SOCIAL SERVICES COMMITTEE

The Lacey Food Bank has formed a new non-food committee under "Social Services"- as a way of helping clients who are going through a crisis, whether it be the loss of refrigeration in the middle of the summer, a car repair, a broken appliance, eviction, utility shutoff, or a multitude of other problems that a small act of kindness can solve. To become involved in this committee please contact :

Emergency Fund Chairman, Ed Weisbrot 609-693-1085

Requests for help will go through our committee of clergymen\trustees.

To contribute to this special fund, use the Visa \ Paypal option or Or send us a check the old fashioned way, made out to the Lacey Food Bank, 818 W. Lacey Rd Forked River, NJ 08731 and note on the bottom of check - "emergency fund" .

YOU WILL FEEL SO GOOD ABOUT YOURSELF!

FOOD DONATIONS

We are often asked what we need. And the answer is just about everything. To download & print a copy of this list for your school, organization or neighborhood, clink on the link below the list.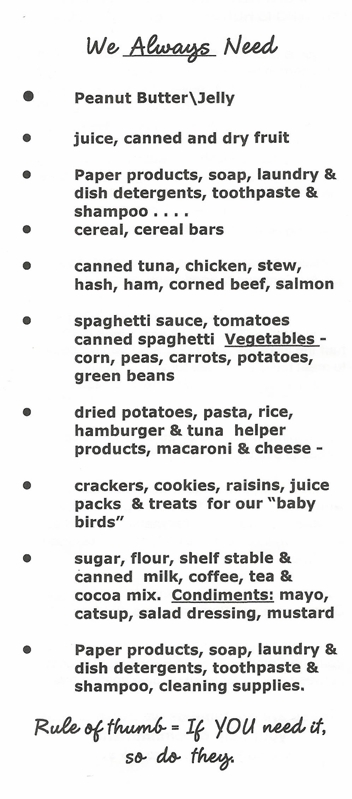 Do you have a couple of hours a month to help the Lacey Food Bank find, complete and submit grant applications for corporate and charitable funding? As an on-line, on-going project, this is a work from home opportunity, perfect for the detail oriented. Are you a responsible college student looking to fulfill community service obligations? Or perhaps you're someone who finds our regular volunteer schedule to be in conflict with your personal availability. Recently retired? Don't let those business skills go to waste! Familiarity with grant writing is a plus! Please call 609-242-2848 and leave a message for Co-chair Pete or email captpete100@gmail.com for more information. Thanks!!
PLEASE DON'T LEAVE DONATIONS OUTSIDE OF THE BUILDING
The generosity of our Lacey Community is what keeps the Lacey Food Bank going and growing. We would ask however that you not leave your donations outside the building. We try to have a volunteer on site Monday, through Friday from 10 AM - Noon. If we are closed, please call 609-242-2848 and we will be happy to make other arrangements. Food donations left outside overnight or over a weekend are subject not only to the weather but also are attraction for pests and animals. Many times, these donations must be thrown out.
Please help us by contributing donations other than food to the appropriate charities.We do not have the storage space or the manpower to handle clothing or other household donations at this time.
Thanks for your support!! Laura Caroccia, LFB