Lacey Township Food Bank



CO-CHAIRMEN ED WEISBROT & HAROLD "PETE" PETERS WELCOME YOU TO THE LACEY FOOD BANK.
CHECK OUT OUR HAPPENINGS OVER THE LAST YEAR.
2016 Newsletter
A gathering of foods, collected by Al and Dee Specht of Bayville helps the cause. It's great that folks think of us and our mission during the holidays. Every little bit helps. Thanks guys

(NOTICE THE ITEMS SELECTED - a variety of food designed to make several meals with needed items. )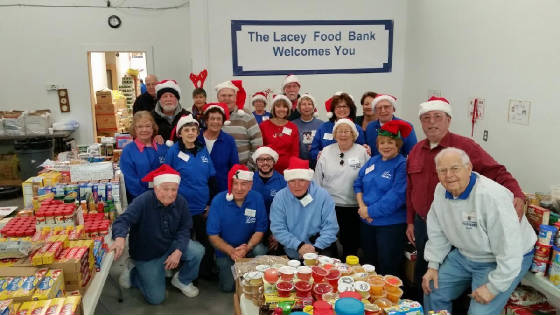 MERRY CHRISTMAS FROM ALL OF US TO
ALL OF YOU.
As we end another year of service to our clients we now have time over the holidays to plan to make the Lacey Food Bank thrive and flourish over the coming year.
Want to join our friendly group of volunteers & get your own Santa hat? Give Chairman Pete a heads up and tell him you want to sign up. ( he has a job for everyone)
THANKS FOR ALL YOU DO AND MOST OF ALL, HAVE A HEALTHY HAPPY NEW YEAR.
TUNA CLUB STOPS BY FOR A CHRISTMAS VISIT
Old friends, members of the woman's group, stopped by with a Christmas gift, an "uber" generous check, to help us out over the holidays. The club has supported us for years , being among the first to participate in the so important esteemed sponsor program,which keeps us going. Thanks to all the members for being FOFB (Friends of the Food Bank)
MEET JIM WIOLAND'S RECREATION CREW AND ASSORTED FRIENDS....
AS THEY PREPARE TO BOARD THEIR OVERLOADED BUS TO MAKE THE CHRISTMAS DELIVERIES TO HOUSEBOUND AND FRAIL CLIENTS OF THE FOOD BANK.
THEY ARE OUR MONTHLY UNSUNG HEROES, LUGGING HAMS, & TURKEYS DINNERS ON HOLIDAYS TO THE 45 CLIENTS ON THEIR LIST AND THE ENTIRE GAMMET OF PANTRY SUPPLIES PLUS FRESH PROTEINS EVERY MONTH THROUGH OUT THE YEAR. BUD MAZZERA KEEPS CLOSE WATCH ON THE LIST AS HE, RYAN & JACK RYAN DELIVER TO THE DOOR OF EACH CLIENT (INCLUDING SHOPPING THE TAKE ME TABLE FOR SPECIAL REQESTS.)
DO WE APPRECIATE THEM? HECK YES!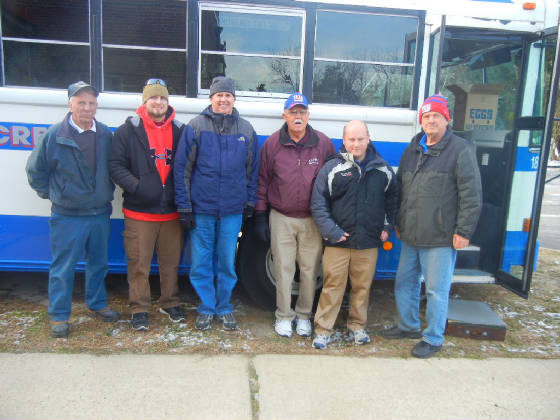 You don't need to look far for the Helpers.

In fact, some of them are right up the street!!

I'm not sure how we can adequately thank a group of people, most of whom we will never know, but who are always ready to lend a hand and open their hearts to the Lacey Food Bank Kids. Our Kids have a good friend in the employees and contractors who make up the Exelon Corp/Oyster Creek Generating Station, especially our good friends and supporters Marita & Michael Zaremba! With a pickup truck overflowing with gift bags the Zaremba's filled in for Santa with their annual Christmas from the Power Plant donation. It was just what we needed to give our gift drive a great big boost! And just in case they missed a wanted toy or two, they also presented us with $600.00 that had been pinned anonymously to their Angel Tree! Thank You Exelon friends for your help and support but most of all THANK YOU for believing it is up to all of us to Keep the Promise of Christmas to the children. And just in case that wasn't enough, our Christmas helpers presented us with an donation of $1,100.00 to go toward the purchase of Christmas hams for our families' holiday dinner! Thank You to everyone at Exelon for sharing the JOY of the Season! ~
HAVE I GOT A DEAL FOR YOU !!
CHAIRMAN PETE'S ANNUAL YARD SALE. . . .
FINALLY HAPPENED ( DUE TO A FEW DELAYS) BUT IT WAS A HUGE SUCESS. LOTS OF GOOD DEALS AS SUPPORTERS OF THE EVENT BROUGHT THEIR DONATIONS ALL MORNING, MOST OF WHICH WERE SNATCHED UP BY SAVVY SHOPPERS. THE EVENT PROVIDED US WITH ALL THE XMAS FOOD GIFT CERTICATES WE NEEDED TO MAKE SURE EACH CLIENT RECEIVED ONE.
HELPING OUT WITH THEIR YOUTHFUL BRAWN WERE MEMBERS OF THE JUNIOR ROTARY WHO DID DOUBLE DUTY THAT DAY, HELPING OUT "UPTOWN" AS THE ROTARY HELD A HUGE FOOD DRIVE AT WALMART.
STORE KEEPER DICK SANSONE WAS IN HEAVEN - THE YARD SALE BEING HIS THING, AND THEN THE TRUCKLOADS OF FOOD COMING IN TO BE UNLOADED & SORTED . THANKS TO ALL VOLUNTEERS WHO HELPED OUT, MEMBERS OF THE COMMUNITY WHO DONATED FOOD , FUNDS OR MERCHANDISE FOR THE YARD SALE. YOU ARE THE GREATEST.
| | | |
| --- | --- | --- |
| THANKS GUYS, FOR ALL THAT LIFTING AND LOADING. | | |
'TWAS THE WEEK AFTER THANKSGING AND WHAT SHOULD APPEAR? A BRIGHT YELLOW SCHOOL BUS, FILLED WITH GOOD CHEER.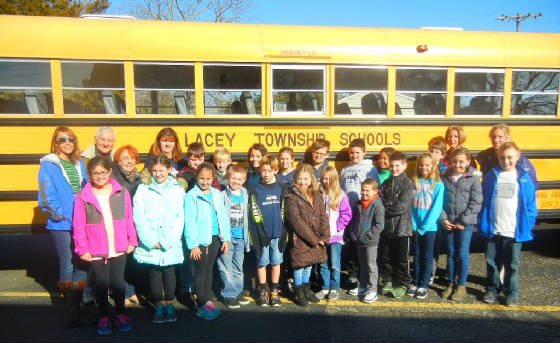 MEET THE INTER-GENERATIONAL CLUB, COMPRISED OF SENIOR VOLUNTEERS WORKING WITH TEACHERS AND STUDENTS FROM ALL OF THE ELEMENTARY SCHOOLS IN FORKED RIVER. THEY WORK ON A VARIETY OF CIVIC PROJECTS INCLUDING OUR FAVORITE - THE ANNUAL NON- FOOD DRIVE FOR THE BENEFIT OF OUR CLIENTS. FROM SOAP AND DETERGENTS TO PERSONAL NEEDS & PAPER GOODS, IT'S PILED ON TO THE BUS AND BROUGHT TO THE FOODBANK WITH WAITING LFB VOLUNTEERS HAPPILY RECEIVING THE BOUNTY. BECAUSE AS IT'S BEEN SAID MANY TIMES, MAN DOES NOT LIVE BY BREAD ALONE.
JUST SEEING THE DEDICATED LOOKS ON THE FACES OF THE YOUNGSTERS MAKES THIS DAY A FAVORITE ONE AT THE FOOD BANK. THANKS STUDENTS, SENIORS & SCHOOLS FOR MAKING THIS HAPPEN.
Make this Holiday Season a Little Brighter for Those in Need

Blase DeNatale Jewelers Holiday Promotion
Now through December Holidays
to benefit the Lacey Twp Food Bank

Give a $5 donation = One Free Pair of Pre-selected Pearl Earrings
or
a $10 donation = One Free Pre-selected Bracelet.

Blase DeNatale Jewelers is located at 11 Lacey Road in Forked River. Visit them online for directions at blasedenatale.com or Find them on Facebook! Thank you for your support and we hope everyone has a healthy and Happy Holiday Season.
Sea Breeze at Lacey Gives the Lacey Food Bank an early Christmas gift!!!

It was gray and rainy outside but these ladies brought lots of sunshine with them when they visited the Lacey Food Bank today!!The homeowners at Sea Breeze of Lacey have long been supporters (and even volunteers) of the Lacey Food Bank and just recently their Social Committee held a homeowner/community fundraiser to benefit the families we serve. Social Committee Chair Ann Marie Soto, along with co-chairs Leslie Lafrano and Judy Hovey, today presented a most generous donation of $2,100.00 to Storekeeper Joan Topping! This donation will help us provide a Christmas holiday dinner for our client families. Thank You Sea Breeze Social Committee and all the residents of Sea Breeze for helping us help the members of our community who need it the most. Merry Christmas!
The Lacey Elks Fall Teen Dance

There's something about living in a small town that makes it easy to ask and receive when it comes to helping our neighbors! Just last Saturday night the Lacey Elks sponsored their Fall Teen Dance. As part of the admission, the teens were asked to remember the Lacey Food Bank with a non-perishable donation. And remember us they did!! More than a shopping cart full of canned goods was delivered to the Food Bank thanks to two old friends, Mrs. Sue Pena and Mr. Mike Adamski . Thank You Lacey Elks for this donation and Thank You to the Antlers who will also be collecting food for the Lacey Food Bank at the upcoming Lacey Christmas Parade! .
Thank You Rotary Club of Forked River

With the Thanksgiving meal bags distributed by the Rotary barely put away in the cupboard, the Forked River Rotarians set up post outside of the Walmart in Lanoka Harbor the very next day for their 2nd Annual Rotary Day of Giving Food Drive - a day geared to restocking the shelves of the Lacey Food Bank. In anticipation of another cold winter and a higher than ever amount of families needing help the Rotary Club of Forked River together with the staff and shoppers of WalMart pulled together and presented the Lacey Food Bank with more than 3000 lbs of shelf stable non-perishable groceries! More than last year's 2500 lbs of food! And not one expired can or box in the lot!!!! In addition to the food donations, shoppers dropped their change and their dollars in the collection jar....gifting the Food Bank with nearly a $500 donation for the day!! But perhaps, even more important, this Day of Giving reinforces how all of us together, Rotarians, Walmart and the Shoppers who supported this program, can serve humanity simply by doing a little bit of good, right where we live! Thank You Rotary Club of Forked River, WalMart and WalMart Shoppers for your support of this Rotary effort to help those in our Lacey community who need it the most! ~ Laura Caroccia

| | |
| --- | --- |
| | |
Thanksgiving 2016

The Lacey Food Bank and the families we serve are blessed to have the support and friendship of the Rotary Club of Forked River and the Lacey Township High School Interact Club! Just in time for Thanksgiving, a turkey with all the "fixings" were provided to more than 200 Lacey Food Bank families thanks to their generosity and true spirit of Thanksgiving!! ~ Laura Caroccia
ANNUAL BOY SCOUT FOOD DRIVE A HUGE SUCCESS

BOY SCOUT PACKS 156 AND 35 COMBINE FORCES TO COLLECT AN ASTOUNDING TOTAL OF 403 BAGS OF DONATED FOOD

(CLICK ON PICTURES TO ENLARGE)

Lightning Dragon Patrol,
Pack 35.. Great Job!

Pictured below are a few of Cub Scouts Pack 35 who ran their own food drive for us. They managed to collect over 300 pounds of food. They learned how we manage so much food and participated with Pete in sorting and packing. They honor the Boy Scout Motto....:Be prepared

Lightning Dragon Patrol, Pack 35. Joseph Leonard, Kyle Leonard, Ryan Leonard, Brennan Meglis, Gavin & Katie Wood and Den Mother Mary
Make this Holiday Season a Little Brighter for Those in Need

Blase DeNatale Jewelers has a great offer for you! Win prizes from local businesses and help benefit the Lacey Food Bank too! "Pluck the Turkey" event at Blase DeNatale Jewelers between November 16th to the 23rd.

Pluck a feather from the Turkey at Blase DeNatale Jewelers and win a prize from local vendors...

Bonus Holiday Promotion through December
Give a $5 donation = One Free Pair of Pre-selected Pearl Earrings
or
a $10 donation = One Free Pre-selected Bracelet.

Blase DeNatale Jewelers is located at 11 Lacey Road in Forked River. Visit them online for directions at blasedenatale.com or Find them on Facebook! Thank you for your support and we hope everyone has a healthy and Happy Holiday Season.
A Special Thanks

We received an enormous donation of groceries. These were bought to us by Mrs. Manoy of Lanoka Harbor. She said the food was purchased by her children and grandchildren in lieu of birthday gifts for her and her husband. We filled two shopping carts from her car. We would like to thank the Manoy family for their generous donation. The picture doesn't even show all that we received - tuna, cereal, baby food, cereal ,rice ,pasta, spaghetti sauce and a large variety of canned goods.

What a wonderful way to celebrate a birthday. Thanks to all of you for this appreciated gift.
Lacey Township Annual Apple Festival 2016

The annual Apple Festival is a popular event in Lacey every year & an important fund raiser for the histdorical socieety. The Lacey Food Bank is always there to support our neighbors and to help inform those attending about what's going on at the Lacey Food bank... This year was a cold and drizzly day but it didn't stop people from coming to snatch up the home made apple pies. Popular with the kids is the pumpkin patch. Shown in picture above, Guy Burnett, Dick Sansone and Pete Peters, manning the information booth & passing out lollipops & candy apple kits. We hope everyone had a great time!
LFB Eagle Scout Garden Project



Eagle Scout Kyle Wollman

A long wished for project, completed in a weekend, that will benefit so many for years to come!!! Thank You and Congratulations to Eagle Scout Candidate Kyle Wollman for his perseverance in taking this idea from its initial concept to planning, funding and execution. The addition of 2 removable greenhouse tops will be added at a later date. Job Well Done Kyle and Troop 82 Scouts and Mentors!! And a great BIG THANK YOU to Kim & Mark Wollman, Kyle's parents, for their support and encouragement from start to finish of this project. ~ Laura Caroccia



Eagle Scout Garden Project Crew



Completed LFB Garden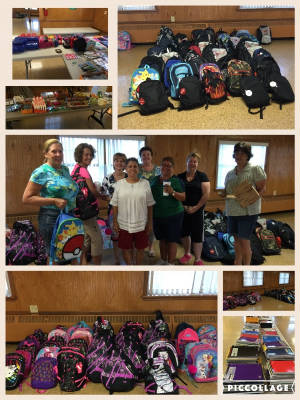 The Back2School Program of the Lacey Food Bank Kids does its best to see to it that our client children get the necessary supplies to start off the 2016/17 school year. This program undertaken by the LFBKids Volunteers is only successful because of YOU!

Backpacks, stocked with pencil cases, pencils, notebooks, crayons, markers, rulers, erasers, sharpeners, glue sticks, child scissors and more ...were distributed to children in K - 4. The students in grades 5-12 had their pick of binders, 1, 2 and 3 subject notebooks, pens, highlighters, staplers, index cards, sharpies, pencil cases, calculators and so many other supplies geared to the older student. Our Pre-K students were invited to take lunch boxes, crayons, notebooks and other pre-K friendly school supplies from the take-me area as well. The LFB Kids Volunteers are aware that sometimes kids fall through the cracks. For that reason, we pay it forward every August by donating a number of stocked backpacks to our Lacey Elementary Schools for the children's use during the school year too. This year was no exception with stocked backpacks designated for the Forked River School, Lanoka Harbor School and Cedar Creek. All thanks to your generosity!

Our thanks and appreciation to the community organizations, businesses and townspeople whose donations made this Back 2School event a success! An extra round of applause to Exelon/Oyster Creek Generating Station for going above and beyond to get us where we needed to be this year! Many thanks also to our community supporters Ryan's ServiCenter, New Concepts Hair Salon and Weichert Realty for serving as drop off points and for their own personal donations to this cause. Thank you to the employees at Home Depot/Forked River and to the Ladies at the Forked River Tuna Club for their continuing support. And Thank You to the Volunteers who give up their time and energy over the 30+ days it takes to make this happen.

On behalf of 126 Lacey Food Bank client school children who would not have had the opportunity to Start School Smart this year.......THANK YOU!!
HONORING CAFFREY'S
A TRUE FRIEND OF THE FOOD BANK

| | |
| --- | --- |
| | |

When I joined the food bank as a volunteer in 1998, things were pretty woeful. The shelves were bare, and our bank account almost non- existent. Our main contributor was Caffrey's. We had 40 clients, and thanks to him, they received a $5.00 Shop Rite gift certificate each month. Things have changed dramatically since then, except for one thing. Caffrey's is still with us after 20 + years and that's what we call a true friend. To see how they inspired the program that is the glue that holds us together financially, go to www. laceyfoodbank.org "Esteemed Sponsors" and read all about it.




Dan Coleman & his partner Joe DePasqale support one family each month or twelve families a year. In addition their staff embraces the giving ethic and makes the month of March "Lacey Food Bank" month, and work diligently to get the big jug at the desk filled to the brim , courtesy of patrons and staff.




For this, we thank all of you - you are true friends of the Lacey Food Bank.




Guy Burnett

Chairman Emeritus
School Supply Drive

I know it may seem like school let out for vacation only a few days ago (and it did!!!) but the LFBKids Committee is already working on getting school supplies together for our LFBKids in grades K-12. Our littlest students in K-4 will receive fully stocked backpacks and our older scholars will have the option of choosing supplies off our 'take me' tables. With about 200 kids on the client list this is our 2nd largest undertaking of the year. Lacey Teachers, you are welcome to let us know (send me an email at lfbkids@gmail.com) what you'll be requiring for your incoming K-4 students! We can all help our Kids Start Smart if we work together!! Thank You for your continuing support ~ Laura Caroccia
Thanks to the Forked River Rotary Club

For families who rely on the Lacey Food Bank to get them through the last days of the month, summer can be a time of uncertainty about where and when they'll have access to healthy food. Traditionally, we see a sharp drop off in donations as the schools recess for the summer. So it's this time of the year that we depend more and more on business and community members to help us stock the shelves. Pictured is Diamond Frandsen, the 2015/16 President of the Forked River Rotary Club presenting to LFBKids Chair, Laura Caroccia, a generous $500.00 check to help us fill our shelves with some of the staples we'll need to get through the long days of summer. No stranger to community involvement , the Forked River Rotary Club partners with the Lacey Food Bank at Thanksgiving to provide a full harvest feast for all the families on our client list. And in 2015 the Forked River Rotary celebrated a Day of Giving by sponsoring one of the biggest food drives we've seen in recent years - presenting the Lacey Food Bank with more than 2500 lbs of shelf stable non-perishable groceries! Thank You President Frandsen and the Rotary Club of Forked River for your support and efforts to help those in our community who need it the most!
LFBKids Rubber Ducky Race Results

It was a good day for our Lacey neighbors, for our Lacey Food Bank Kids and for the Town. Congratulations to Bud Mezera for 50 years of service with the Beach Patrol. Happy 50th Anniversary to the Lacey Recreation Beach Program. Thank You to everyone who supported our First ever Rubber Ducky Race and especially to Rosa Steitz, Joan Topping and Lynn Talarico who worked the Ducky Table on Saturday. A very big THANK YOU to Jim and his Staff from Recreation. You made it all work! Our Ducky Race winners were:
1st #185 Judy Ryan
2nd #82. Marissa Frasteri
3rd #236 Jessica Quackenbush
4th #258 Meryl Costa
5th #77 Christopher Filis
Wild Card #37 Tom Crowell
Congratulations to our winners and Thank You to everyone who participated in making our 1st LFBKids Rubber Ducky Race a success! We raised over $1,000. that will go toward our Back2School and ChristmasKids programs that serve more than 200 Lacey Food Bank client children!! Thank You All for being part of a Fun, Family Day! See you next year!!
Sam's The Man

Gathering in Gille Park on Father's day weekend, Sam Constantino continued to pay homage to the life of his beloved dad, Severino Constantino, by holding the third annual food drive for the Lacey Food Bank.

He and his committed band of helpers, received, sorted and boxed the generous out pouring of food and $$ donations and enjoyed a barbecue and music while doing so, making for a festive day for all.

In all the group gathered a large truck full of food, so needed by the food bank as we enter the summer season, when most food drives are discontinued. Monetary contributions were also received.

Sam, words cannot express our admiration for this loving tribute. Your dad must feel the radiation of your love. Our thanks go out to you and your friends as well as to all that made this a huge success.
"Friends of the Food Bank" Award 2016

Photo above: Mike and Marita Zarimba, shown with Laura, are the recipients of the "Friends of the Food Bank" award this year. We would like to thank everyone for their help and support of the Lacey Township Food Bank! Enjoy some of the photos from the event below.
Sometimes, especially when you're a kid, you need something more than a can of soup to get through the long, hot, sunny summer days. Today, during regular food distribution, the LFBKids Volunteers distributed to our youngest clients the Summertime over-the-counter supplies that CANNOT be purchased with an EBT card. With a generous contribution from Nicole Flanagan added to our own inventory we were able to provide sunscreen and sunburn aids, along with lip balms, insect repellent, first aid and more. Freeze it Ice Pops were also distributed to the Kids as part of this summer program. We are only able to do this project and others like it because of your generosity and support ! On behalf of the kids we serve, THANK YOU !! ~ Laura Caroccia
Summer Reading Project for the LFBKids

| | |
| --- | --- |
| | Kids engaged in summer reading activities are better prepared for the new academic year, show improvement in spelling, writing style, vocabulary and grammatical development. Reading also offers opportunities to discover subjects and storylines that are not associated with classroom lessons; allowing kids to expand their horizons and discover new story genres. Just as important, reading to and with your children is a memory maker! Keeping with this goal of fostering a love of reading and its rewards, the Lacey Food Bank Kids Division sponsors a free summer reading program every Spring. This year we were blessed with a generous sponsorship and donation of new and almost new young readers gifted to our LFBKids by the Women's Club of Lacey Inc. More than 150 books were eagerly chosen by parents and children today at the table set up outside the Food Bank during today's regular distribution. Our sincere thanks to our Women's Club of Lacey, our liaison Judy Schermerhorn for her help in coordinating this project with the Women's Club and to our LFBKids volunteers who brought a new meaning to tailgating by standing outside for 3 hours on the first hot and sunny day we've had in weeks! ~ Laura Caroccia |
Take Me Out To The Ballgame!

It was take me out to the ballgame for the Lacy Food Bank at the Opening Day Ceremony of the Lacey Little League last Saturday. Even the cold and drizzle didn't dampen the spirit or the generosity of the teams, the players and their cheeering parents!! The Lacey Food Bank was proud to take part in this hometown family event and score a home run in food donation!!! Our thanks to Tom Crowell and Robin Rioux of the Lacey Little League for coordinating this effort, to the teams and parents who supported it and to our own LFB volunteers Arlene, Trudy, Ed and Laurie for being our biggest cheerleaders! ~ Laura Caroccia
MARCH IS LACEY FOOD BANK MONTH
Our Friends at Caffreys, once again held a month long benefit for us with customers, employees, Joe Pasquale & Dan Coleman all helping to fill the big donation jug at the front desk. This year a whopping $1,000 total. Add to this that our first esteemed sponsor sends in a monthly donation that supports 12 families a year.
CAFFREY'S was one of just two regular benefactors of the food bank way back when it was struggling to keep going, and their support inspired our Esteemed Sponsor program which recognizes the need to have a continuing source of income - the glue that holds us together. The program started modestly with less than 15 sponsors and now has over 100. Some of the original sponsors have been with us for the 15th year now. Our goal has always been to have one sponsor per one client family but as client roles soar - going from 47 back then to up to 270 now - reaching that goal is quite a challenge.
Thanks to all of the good guys at Caffreys for their commitment in seeing that no one in Lacey go hungry.
Shown here are the youth group, their leaders,


Todd, Steve & Kelly, and hiding out in the rear row (left) is Pastor Terry




Pastor Terry Chapman came by the food bank recently, accompanied by the Forked River Presbyterian Church Youth Group and advisors, bearing a huge stash of food the group collected for us.




Pastor Terry serves as a trustee for the food bank and is supportive in so many ways, including an ongoing food collection at the church.




Our thanks go out to all of you and to those who supported your food drive. (Needless to say, stores master Dick was thrilled to get your food.)




CLICK ON PICTURE TO RESIZE


Luci's Souper Drive

Luci is a kindergarten student at H&M Potter Elementary School and attends religion classes at St. Elizabeth Ann Seton. She is an active learner and enjoys volunteering her time giving back to those less fortunate in our area. She decided her sacrifice for Lent would be community service. Luci collected over 300 cans of soup for Project Pride at St. Elizabeth Ann Seton Church. She and her father donated half of the cans she collected to the Lacey Food Bank. Thank you for your caring and support of those in your community less fortunate. Keep up the great work!
The LFBKids Volunteers found their inner Picasso while enjoying a night of fellowship, fun and food! The profit from this Sip n Paint Girls Night Out, courtesy of Lacey Recreation and held at Murray Grove, will be donated back to the Lacey Food Bank Social Services Division. A Win-Win for everyone! ~ Laura Caroccia
Without the generosity of our community we couldn't continue to do what we do for the 272 Lacey Families on our client list. Especially at holiday times. Thank You for every ham donated from shoppers who passed their 'free ham' on to us via the Shoprite program and a most heartfelt Thank You to our friends at Exelon who gifted us with a generous donation to help defray the cost of Easter dinner. Mrs. Marita Zaremba, from the Office of the Plant Manager and a long time supporter of the KIDS programs, also presented us with a check for $400. that enabled us to provide all the fixins' for baskets of goodies for our LFBKids and their famlies!! Easter egg coloring kits, Peeps, chocolate bunnies, jelly beans, colorful Easter eggs and lots more were given to our young (and not so young) clients at distribution! A big Thank You also goes out to the students who make up the Rotary sponsored Interact Club at Lacey High School for the buckets of sweets that completed our Holiday Take Me Table!! Happy Easter to all of you from all of us!!! (pictures: Mrs. Marita Zaremba with Storemaster Dick Sansone. Mrs. Marita Zaremba with LFBKIds volunteers Rosa and Jenna. LFBKIds Volunteers Rosa, Elaine & Lorraine at the TakeMe Table) ~ Laura Caroccia
The second graders at Cedar Creek School came up with a huge store of almost 300 cans, of soup and were followed by Mill Pond Elementary with more bountiful donations of warming soup - coinciding with Super Bowl Sunday - to add to the food bank stores. Thanks to all for thinking of us.


IT WAS A TOUCHDOWN!


HE'S A WINNER AFTER ALL

There are some people who just make you smile! Meet Tom Crowell!! While he was recently unsuccessful in his bid for political office, Tom has always been the biggest success in giving back to Lacey and the children who live here !! Tom joined us at distribution recently and presented to the LFBKids the remaining balance from his campaign funds. Like so many, it's not until you see the line of townspeople waiting for their food bags, do you fully realize the extent of the hunger that exists in our town. Tom has assured us that he won't forget what he saw and that a food drive will be on his agenda when it's time to Play Ball! Thank You Tom for your generosity and compassion!
Esteemed Sponsor donation in memory of Detective John Scott Stevens

| | |
| --- | --- |
| | |

The Lacey Food Bank was recently gifted with a very special Esteemed Sponsor donation in memory of Detective John Scott Stevens. At our January distribution the family of Detective Stevens joined us in a family community service day to honor him and his memory on the 1st anniversary of his death. Dawn Stevens joined us at the sweet table, while her son Scottie helped out at with the LFBKids annual "Keep Healthy" project. Dawn's Mom and Scott's Dad manned several posts throughout the distribution area and saw firsthand the team camaraderie and teamwork that sees to the needs of the 200 families that pass through the doors on distribution. In talking to Dawn earlier that day, she told me that she had carefully thought about a way to remember and honor Scott on this anniversary day. And it became clear to her that both she and Scottie and the family could best honor his memory by doing what he dedicated his life to doing.. ….serving his community. The volunteers of the Lacey Food Bank are grateful to Dawn and the Steven's family for their generous memorial contribution and for the time we shared with them celebrating the life of Detective Stevens ~ Laura Caroccia
ANNUAL VOLUNTEER LUCHEON

STARTS OFF 2016 WITH A BANG

Food Bank Co- Chairman Pete Peters , who also serves as the head of the volunteer committee, did it up in fine style. The luncheon was held at the Captains Inn with over 70 volunteers attending. Entertaining the guests were four musicians from Pius Church including our leader on the keyboard.




The meeting and greeting of the many factions of volunteers, from storekeepers and packer sackers. to the Big Blue crew and kids committee made for a very social event . A big highlight was the drawing by Pete of over 50 door prizes donated by local businesses from wine & car washes to WalMart gift cards.




Wouldn't you love to become part of Lacey's finest? Check us out with Mr. Pete at captpete100@gmail or call him at 609-402-5105 or spend a while on our website at laceyfoodbank.ORG