ANNUAL VOLUNTEER LUNCHEON
The Guys and Gals of the Forked River Food Bank gathered round the table to celebrate a year's work well done. The place? CAFFREY's of course ! Our way of saying thank you to one of our main sponsors and of course apart from that, being able to chomp down on a great selection of menu items. Where else can you h ave such a great lunch in such great surroundings with such great people, all for under $8.00? Thanks again to Rose Furbeck for acting as the luncheon chairperson.
January 9, 2006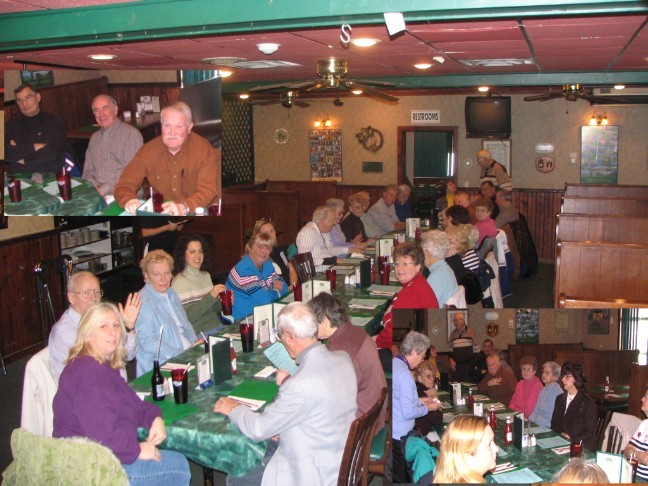 Is everybody having fun?
*
Lacey Food Bank Honors the Elks Club
Chairman Guy visited the Elks Club to present a plaque honoring their commitment to the Food Bank. "This generosity from the Elks community has enabled us to keep up with the demands on our resources", he stated. "Your support is the glue that holds this program together".
Receiving the plaque on behalf of the lodge were: (l-r) Blair Svihra, Leading Knight; Rich Bard, Past Exalted Ruler and Bob Wilson, lecturing knight.
Thanks to all of you from all of us at the Lacey Food Bank. .
January 12, 2006
A Handsome Trio
GIFTS OF A DIFFERENT COLOR
The suppport we receive from our Lacey Community comes in many ways - donations, food drives & gifts for the food bank kids & clients. Then there are the hidden gifts - a free repair for the van or a sign for our door for instance.
Here you see TJ Hutler, manager of the Forked River Freezer, "fork lifting" pallets of food into the food bank van.
We had the opportunity to get all this frozen food from Monmouth Ocean Food Bank, but no way to store it until after distribution - a take it or lose it situation - Thanks to TJ our problem was solved.
Storesmaster Dick appreciated the fork lift service to the point where he might put one on his wish list. (right next to the listing for unicorn fillets)
January 24, 2006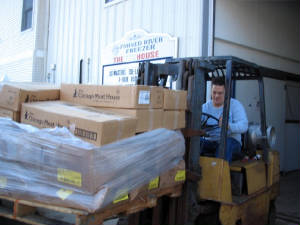 That's a lot of burgers ! !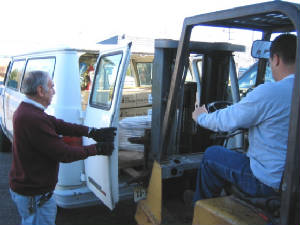 Easy in - Not so easy out !