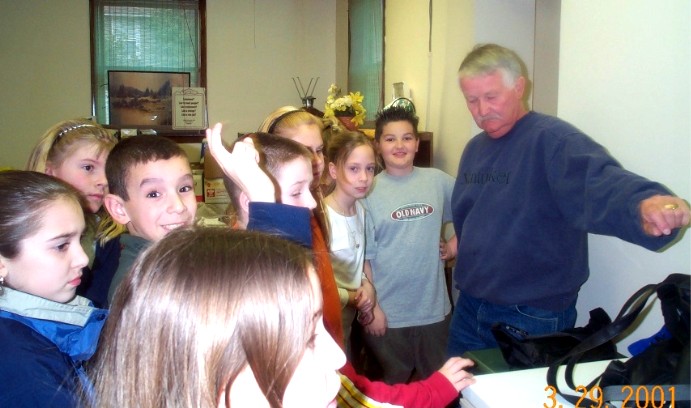 HERE'S "CEO" GUY BURNETT, GIVING
MIDDLE SCHOOL YOUNGSTERS AN
OVERVIEW OF THE FOOD BANK.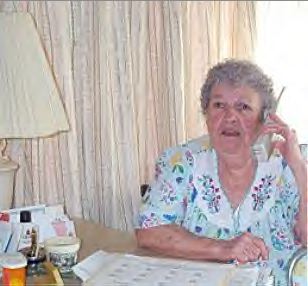 Volunteer "Miss Dorothy" (Dot Mehler) is the voice of the food bank. Homebound, she manages to fulfill her civic duties on all fronts. An active member of the Lacey Senior Council she is a neighborhood activist, always working to protect and enhance the quality of life in Lacey. The clients love to hear her friendly reminders and in turn , they pass along their needs to her. Assisting her in her calls is her new little helper, Ms. Roxie Mehler. (Dot reports that the bag is merely recreational)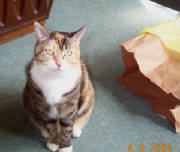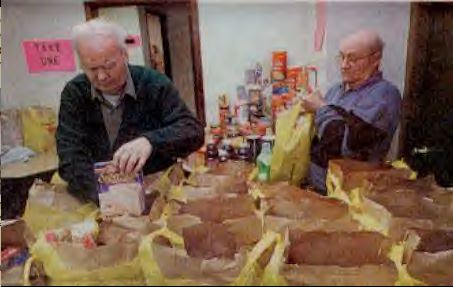 Ziggie Zwierchowski (l) is our ambassador to the Township Committe and Ralph Lanuto serves as liaison to clubs and organizations. Here they are,
packin' and sackin'..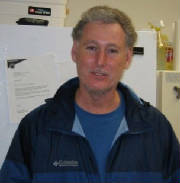 SAL BONOCOLTA IS THE NEW FOOD BANK ALL ROUND JACK OF TRADES\ HANDYMAN. SHOWN HERE MANNING THE OFFICE, HE CAN BE SEEN ALL OVER LACEY, RAKE\SHOVEL\LADDER OVER HIS SHOULDERS - THE "KNIGHT IN SHINING ARMOR" OF ELDERLY & HANDICAPPED THE FOOD BANK CLIENTS.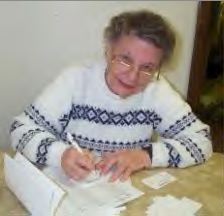 STEFFIE SERENA
Friendly Steffie Serina has served as a registrar with
the food bank from it's inception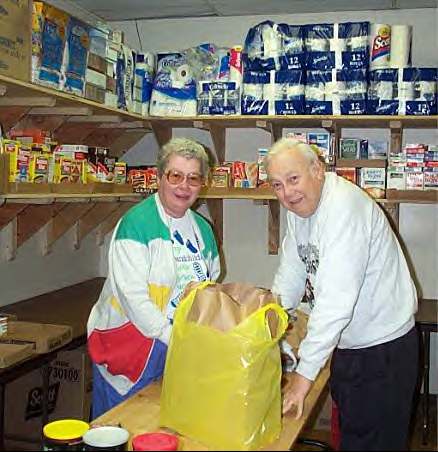 Rose and Howard Furbeck are
members of the Tuesday morning
"packin' and sackin" club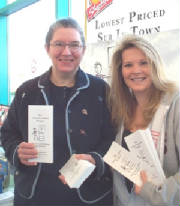 Linda Schweibert and Mary Hill are shaking up the cans at ShopRite during one of our information days. Not only did they get our message out, but the $ collection added to the stores fund.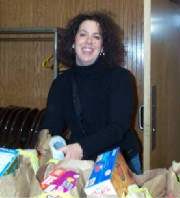 Volunteer Debbie Piazza gets a handle on all of those bags - all bagged at our building, then moved to Community Hall for distribution day.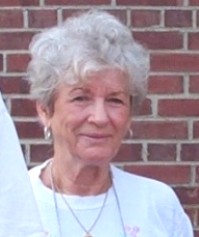 Meet our girl Shirl (aka Mrs. Mike Schmidt ) the consummate coupon clipper & shopper for the food bank. Along with hercoupon clipping, she serves as a trainer to those who would follow in her foot steps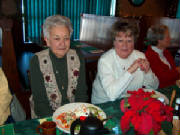 Here are Ann Brinkman & Sally McGahey, the "Skiffway Girls", enjoying a break at the annual Xmas luncheon at CAFFREY's.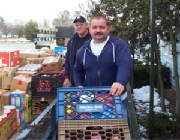 Volunteer Bruce Janiuk, caught doing the monthly hauling and lugging job from the main store room to Community Hall. When he gets done, that empty truck in the background will be full, then out it goes at the other end! Brucewas also the volunteer handyman for clients with all sorts of emergencies and raked and shovelled a lot of leaves and snow last year.
*
LET US REMEMBER ...
"MR. FOODBANK"
The Lacey Food Bank lost a friend and comrade on June 2nd, when Emil Ciangetti, former Chairman, and one of the original founders of the food bank, died as a result of an automobile accident.
Emil, 81, was a loving father to his grandson Steve, who he adopted as a young boy. He was involved in the food bank until his death, and belonged to many civic organizatons as well as being active in the Village Lutheran Church in Lanoka Harbor. He is honored for his many good deeds performed within his family and his community.
Rest in Peace Friend.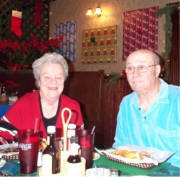 Ralph Lanuto, shown here with his wife Edna, was a pioneer in the foodbank, back when Emil, Ziggie and he were the only ones manning the "fort'. An active civic minded man, he served as our liaison to clubs and organizations. We miss his hearty laugh and helping hands.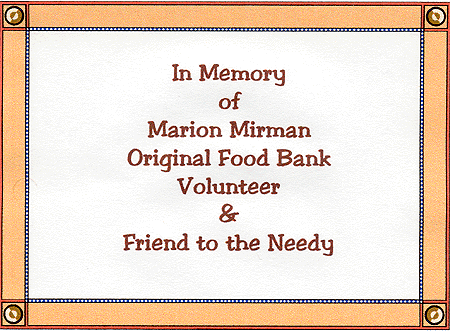 THE FOOD BANK CAT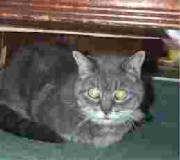 Ms. Dorothy's Beloved Snuggles