A "POLLYANNA" CHRISTMAS DONATION
A most giving gesture from the 7 member Dorso family...in lieu of drawing names for the allotted $25. max gifts they usually give to each other, they threw the $175 in a pot, and drew for favorite charity - and we won. (Considering that Tom and Anne are esteemed sponsors we figure we have a 2 out of 7 chance at the VERY least) Thanks guys...
TUNA CLUB SIGNS UP AS AN ESTEEMED SPONSOR AGAIN
Chairman Guy had esteemed vistors this week as members of the Forked River Tuna Club came bearing checks. Gathered at the club's holiday celebration, the contributions will supply 3 familes with monthly $10 ShopRite certificates and supplementary fresh food for the next year.
Thanks to all of you from all of us.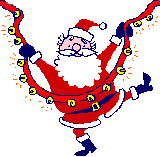 A FOOD BANK CHRISTMAS
Come on in and see how the food bank volunteers wind up the year at the Christmas distribution. Music, gifts, toys for the kids, and always the spirit of Christmas. Sally McGahey, chairlady of the Food Bank Kids project didn't let adversity get her down, she pulled out all stop, enlisted the toy gatherers and put on a grand display.
Check out the cookie bakers, the food gatherers - all the groups, schools and individuals who make us successful. Click on the Christmas projects page, and check out the list of those who donated enough $25. ShopRite gift cards to hand out to each family for those little Xmas "extras".
See our Santa, and the piano player pounding away on the ancient piano in Community Hall. See all of us, enjoying what we do - giving to others.. This is Christmas as it was in 2007.
Hope to see you next year.
CLICK ON PICTURES TO ENLARGE
The Food Bank Toy Store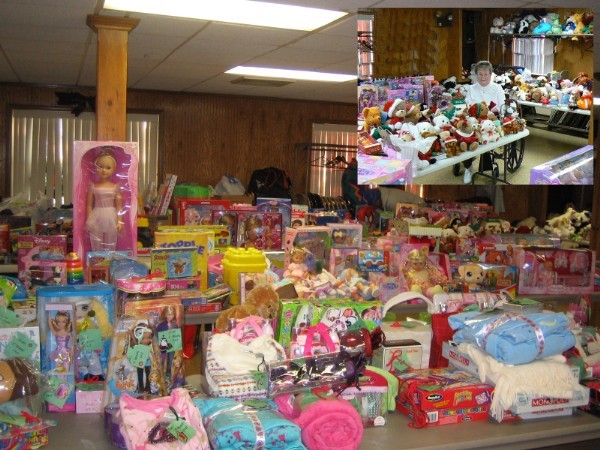 Open & ready for business
TOYS, TOYS, TOYS
The community that is Lacey poured it on, and as a result, you had a group of very happy food bank moms. How can we thank all of you enough? To the Lacey Library who collected 200 books, and to Curves, Spring Oaks Assisted Living (who preceeded the toy tree drive, collecting over 200 toys, by holding a huge food drive) the AARP and our Friends from the Evening Division of the Lacey Women's Club. And finally the scouts who baked cookies and donated toys...as well as the anonymous donors who dropped things off , you have given more than you know. We wish you could have all been there to see the impact your gifts had on our clients.
Lacey LIbrarian Kathy Lanzim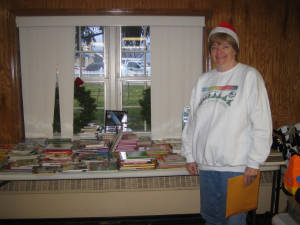 Jonathan said: " I like to help poor people ..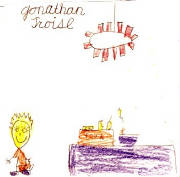 because I think it is nice "
*

THE FOOD GATHERERS

YES VIRGINIA, THERE IS A SANTA CLAUS. HERE IS A LIST OF HIS LACEY BASED ELF CREWS WHO, WORKING OVERTIME, MANAGED TO FILL OUR ALMOST BARE SHELVES WITH ENOUGH FOOD TO GET US THROUGH TO JANUARY. THANKS TO ALL OF YOU & HAPPY HOLIDAYS FROM ALL OF US AT THE LACEY FOOD BANK .

MILL POND ELEMENTARY

- PRECIOUS JOURNEY PRESCHOOL- FORKED RIVER BREAKFAST CLUB - SPRING OAKS ASSISTED LIVING - PHEASANT RUN LADIES CLUB - PNC BANK - LACEY LIBRARY - MOOSE LODGE # 2230 - LACEY MIDDLE SCHOOL \ INTERGENERATIONAL CLUB - LACEY H.S. STUDENT GOVERNMENT - AARP - LACEY DEMOCRATS -FIRST ADVENTURE & ASCENSION LEARNING CENTER -LACEY H.S. PTSA - LANOKA HARBOR ELEMENTARY - CEDAR CREEK ELEMENTARY -STAFFORD TOWNSHIP HISTORICAL SOCIETY - ITALIAN AMERICAN CLUB - GODDARD SCHOOL -DANCE WITH MARIE - ST. PIUS CCD CLASS, THIRD GRADE
16 TONS AND WHAT DO YOU GET?
Well, when you move about 3+ tons of food each month from the Food Bank headquarters where the food is stored and sorted to Community Hall where it is distributed to the clients that just about covers 5 months of loading and lugging by the volunteers. But we don't do it alone. Thanks to Casey Parker's crew, the food is loaded on to two flat bed trucks and driven over, with chain gangs formed at each end.It's quite a sight to see. And believe us when we say we appreciate those young strong backs !
Thanks to all the guys down at the garage.You're a great bunch .
Anna is getting ready to take inventory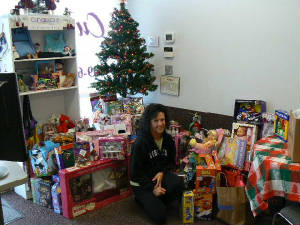 Where can she start ?
CURVES DOES IT AGAIN
Once again, the women of Curves have come through for the food bank kids, giving Sally McGahey, the toy chairman for the food bank kids a whole truck load of toys. Thanks to Judy Hyslop, owner of Curves and all the women who have made this annual gift such a success.
Meet Laura Eugenia's Troop 215
Master Cookie Bakers
When are there ever too many cookies? For the first year, the food bank was able to give cookies to all the clients thanks to the combined efforts of The Inter-generational Club, (Lacey Middle School,7th & 8th grades Suzanne Graham advisor) and the Girl Scout community courtesy of Troop 215 who produced 75 of those astounding cookie plates shown, and Francesca Ritchie's Troop 419 who also collected toys for the food bank kids. And of course, the Peluso brothers shown below, who have made this gift baking a holiday tradtion.
Thanks to all of the youngsters and their adult advisors for making this holiday special for those less fortunate.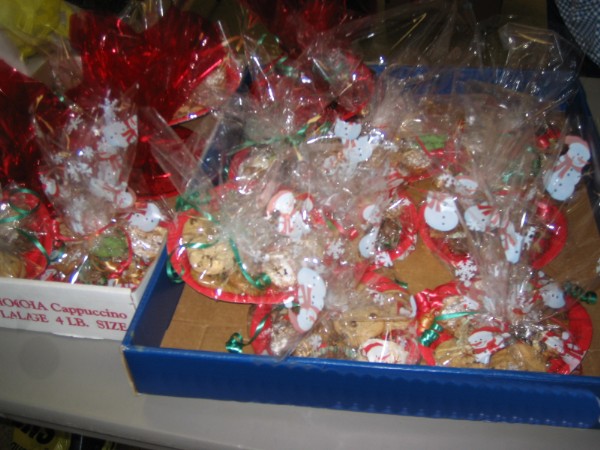 For the third year in a row, the Peluso Brother, Michael & Gregory, baked then donated the cookies for the food bank client's Xmas party. . This a service orientated family and we accord them the title FOFB (if you read our newsletter you know what that means) Little Sister Gianna is the official taste tester for the boys.
CLICK ON PICTURES TO ENLARGE
The school is Precious Journey Preschool-the three to four year old class and their teachers Debbie Timson and Susan Phillips and the children from the four to five year old class and their teachers Melissa Street and Leslie Corbley participated in the food collection. Food Bank volunteer Al Bille spoke to the children about how important it is to help people in need with the help of veggie friends(stuffed veggie characters with cool names) and how thankful we are for people like them who share what they have to give to people who may not have as much. The director of the program is Barbara Kirner.
All packed and ready to go back to the food bank.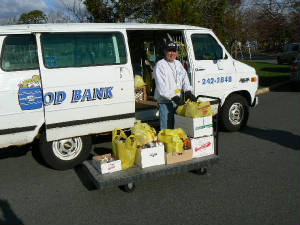 *
Reinforcing Math Skills with Cans
Was the clever way the teachers at Lanoka Harbor School used to collect food for us along with teaching the students how to sort, classify, compare, weigh and record data from the cans. Along with that , they learned Good Citizenship - a clever curriculum indeed. All of this produced a vast amount of food for our shelves. Picking up the food and sharing tales of the food bank with the students were Dick Sansone,the storesmaster and Bruce McGahey, our I.D. (information disseminator) Our thanks go out to to all of the students who participated, as well as their teachers Mrs. Ritacco, Mrs Julian, Ms. Costa, Mrs. Dickson, Mrs. Polcino and Mrs. Bergquist.
THE GIFT GIVERS
THIS YEAR EVERY SINGLE FOOD BANK FAMILY RECEIVED AN EXTRA $25. GIFT CERTIFICATE, A GIFT WHICH GENERATED GREAT APPRECIATION AND EXCITEMENT. THE GIFT CARD "ANGELS" WERE :
The Evening Woman's Club, Rich & Margaret Hauswirth , Knights of Columbus,Shop Rite, JoAnn Norton & Jim Joeirman , Friends of Ed & Lisa Mooney ,New Concept Hair Salon ,Lacey High School Booster Club ,Pheasant Run Ladies Club ,Dance with Marie ,CURVES, AARP ,Stella Russell ,Don Canetti & Bonnie & Barbara D'Amato .
Along with the gift givers, the OLD GUARD adopted 10 of the larger families and provided them with toys and Christmas dinner.
What a wonderful community we have here in Lacey Township.
*
ROTARIANS CELEBRATE THANKSGIVING
FOFB (FRIENDS OF THE FOOD BANK) THE ROTARY CLUB, AIDED BY THE JR. ROTARIAN GROUP "INTERACT" FROM LACEY HIGH, ONCE AGAIN CAME THROUGH FOR THE FOOD BANK. THIS YEAR SAW 137 FAMILIES RECEIVING FULL DINNERS IN A BOX, FROM TURKEY TO PIE...WITH ALL THE FIXIN'S IN BETWEEN.
THE SCENE IS LIVELY WITH THE TEENS SETTING UP, AND HELPING THE ELDERLY OUT WITH THEIR BAGS OF BOOTY. THE CLIENTS ARE SO APPRECIATIVE, GIVING THIS DISTRIBUTION A FIVE STAR RATING.
* * * * *
TO ALL OF YOU, THANKS FOR YOUR SUPPORT, WE COULDN'T DO IT WITHOUT YOU.
(PICTURES TO BE POSTED)
8
WHEN WHAT TO OUR WONDERING
EYES SHOULD APPEAR?
BUT A SHINY YELLOW SCHOOL BUS FILLED WITH FOOD BANK CHEER
Everyone at the Lacey Food Bank enjoys the annual visit from the
Inter-Generational Club. With great drama, the bus pulls up, and out pop the students , who were chosen to represent their schools. Participating this year were the Forked River, Lanoka Harbor, Cedar Creek & Mill Pond Schools.
By forming a human chain, the huge amount of paper items - paper towels, bathroom tissue, etc - collected by the schools was quickly brought in, then sorted and shelved by the kids under the direction of storesmaster Dick, Mike and fellow food bank volunteers. Dick's passion was shared with all, the students enjoying the show & tell with lively questions & interest. (Only Dick could enthrall with the ever present and utilized "banana boxes" )
Thanks to all the schools, staff, students and seniors who make this happen.
CLICK ON PICTURES TO ENLARGE
Many hands make light work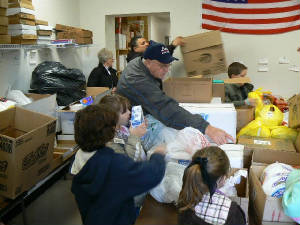 STORESMASTER DICK HAS THEIR ATTENTION
Now THOSE are banana boxes !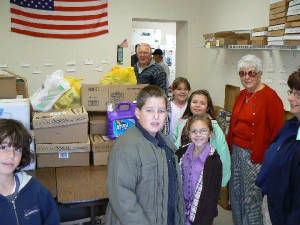 Scout community service badge
*
*
BOY SCOUTS BRING BACK THE BACON
Well, maybe not bacon, but over 600 bags of pantry goods, enough to get the food bank on the safe side as we approach the holidays and the winter season. For hours parents & scouts drove up to unload their collected food donations. Meeting them was a full complement of volunteers, having learned from last year, that more " bodies " were needed. The Lacey Food Bank wants to thank the Boy Scout Council, the troops and leaders and the generous citizens who responded to the call to feed the hungry. Good deeds by all.
*
TURKEY DRIVE STARTS AT SHOPRITE
Going to Grandma's house and don't need your free turkey? We are collecting turkeys and hams and need your help. When you spend $300 on groceries you'll receive a free ham or turkey for the food bank. Those hams & turkeys not needed for Thanksgiving will be given to the clients at the Christmas Distribution.
Call to find out how & when to bring it to us at the food bank 693-8703 or 242-2848 (answering machine)
Or to make it easy for yourself, just put the completed receipt in an envelope, (leave your name and address so we can thank you) and simply hand it in to the courtesy booth at Lacey Shop Rite. All food gifts for the holidays will be acknowledged on the Christmas page of this web page.
HOLIDAY FOOD DRIVES
ARE BEING HELD BY THE LACEY LIBRARY DURING THE MONTH OF NOVEMBER, PLEASE DROP OFF TO THE LIBRARY ON E. LACEY ROAD
PNC BANK, THROUGHOUT NOV. & DEC. PLEASE DROP OFF AT 17 W. LACEY ROAD AND 1329 HOOPER AVE, TOMS RIVER.
PHEASANT RUN RETIREMENT COMMUNITY- DROP INTO THE BIG BLUE BARREL IN CLUBHOUSE.
MR. TOUCHDOWN SCORES AGAIN
November "kicked off" with the food bank being presented with a $1,000 check from the Lacey Football Team and Cheerleaders. This creative fund raiser has each cheerleader vying for $1.00 votes on the behalf of her player. The winner gets bestowed with the title "Mr. Touchdown".
This year's winners are cheerleader Sandi Fernandes and football guard & defensive end, Fernando Silva, seen here with Coach Lou Vircillo presenting the check to food bank Chairman Guy Burnett - courtesy of the Lacey Football Foundation.
Hopes are high for Saturday's game with Wall, but whichever way it goes, this team is a winner in our books. Thanks guys and gals. With this gift you become the esteemed sponsors of 4 food bank families for the next year.
Our thanks also to Coach Courtney Norcross, the students, team, cheeerleaders and the faculty of Lacey HIgh School who support this creative fund raiser for those in need.
(Click on picture to enlarge)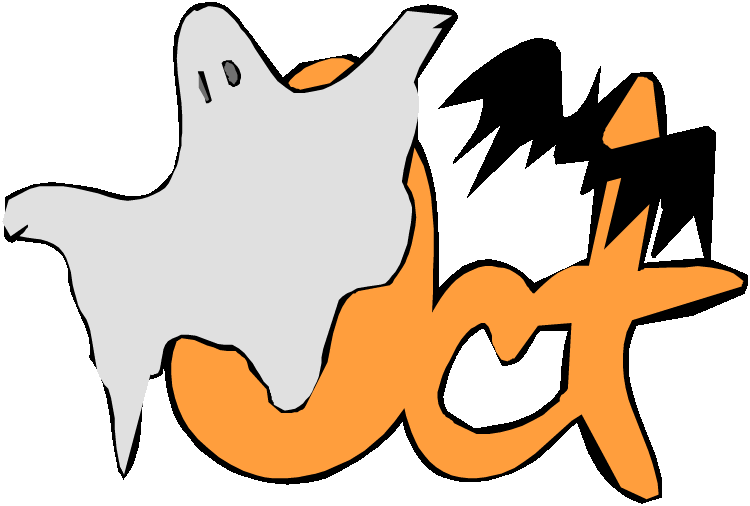 ROLLING THUNDER SIGNS UP
Invited to a pancake breakfast, Guy & Dick were surprised & happy to receive a check from Rolling Thunder President Louis Amoriello. With this gift, the group signed up to sponsor 4 families over the next year via our ESTEEMED SPONSOR program. For those not familiar with esteemed sponsorhood, it takes $20. a month, or $240 annually to provide a $10. ShopRite food certificate + fresh food (margarine, hot dogs, cheese, etc) each month.Thanks to all who thought of us. ( & thanks for the great pancakes, too!)
.
Whooooooo put a pumpkin into everyone's bag at the October distribution?
. Bob Porcellini of Porcellini Farms in Lanoka, that's whooooooooooo !

HOME DEPOT OPENS . . .
And who was there on behalf of the Lacey Food Bank to receive a $500 store gift certificate from store manager, Mark Saltarelli, but good ole' Guy and Dick . This generous gift will help get our new senior handyman program off to a good start. Volunteer Patrick Allen, a jack of all trades, will try to fulfill all requests for minor household repairs, but cannot provide the materials. Thanks to Home Depot for it's neighborly gesture.
CLICK ON PICTURES TO ENLARGE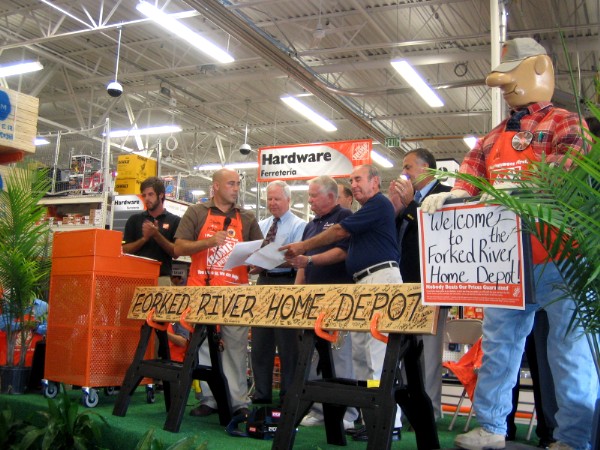 THANKS TO SPRING OAKS RESIDENTS & STAFF FOR A BIG FOOD BOOST
Our dwindling stores got a big boost as a result of the second annual food campaign held by Spring Oaks Assisted Living. It was so successful that we had to stop by and pick up the first installment so they'd have room to stash more. Many thanks to the residents, staff and families who took the time to think of us.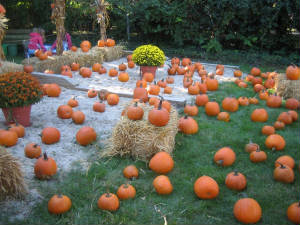 APPLE FESTIVAL A BIG SUCCESS!
This annual event, run by and for the benefit of the Historical Society is truly a slice of small town Americana.. Lacey might not be so small anymore, but some things never change with community spirit being the core.
The pumpkin patch, pumpkin painting, pies & apples for sale and the ever popular pie eating contest combined with a picture perfect day , added to the success of the day. Food Bank volunteers accepted donations and "fliered" the crowd with information re: the program.
Deputy Mayor Dave Most had requested those attending to bring pantry food for the food bank and we hauled home a whole barrel of it. Mr. Most also made good his promise to the police department, paying off his wager by washing a police car, then joined in the pie eating competition. See you next year. We'll be there.
THANKS DEPUTY MAYOR DAVE
FROM ALL OF US AT THE LACEY FOOD BANK
*
*
*
*
A TRUNK FULL OF LOVE
That is what you see here. Last week at Lacey Day we took the opportunity to thank all of those in the community for their support which we receive in so many ways ---by deed, money, or food - it all comes together and keeps us going. The creativity and varied activities of our supporters never fails to amaze us.
What you see here is the result of what has become a tradition for the "FORKED RIVER BREAKFAST GROUP AND SPOUSES" - a neighborhood which combines it's socializing with good deeds with admission to their social occasions being pantry food. In addition, they've given us financial support via participation in Memorials and Celebrations and the esteemed sponsor program.
Esteemed sponsors Bonnie & Barbara D'Amato delivered this to the food bank but modestly, couldn't be convinced to lend themselves to a picture. So we'll let this picture speak for itself. Thanks to all, you are thoughtful and caring neighbors.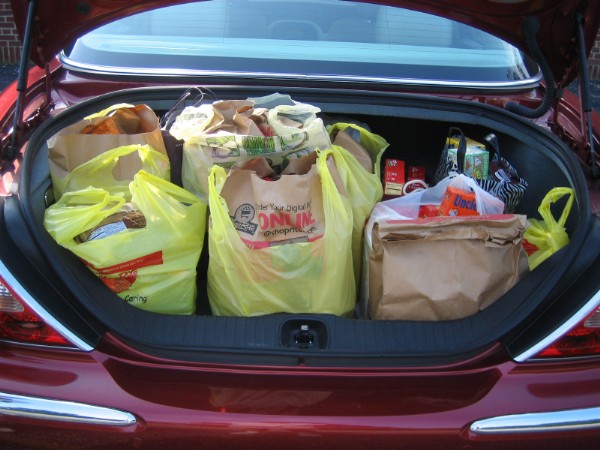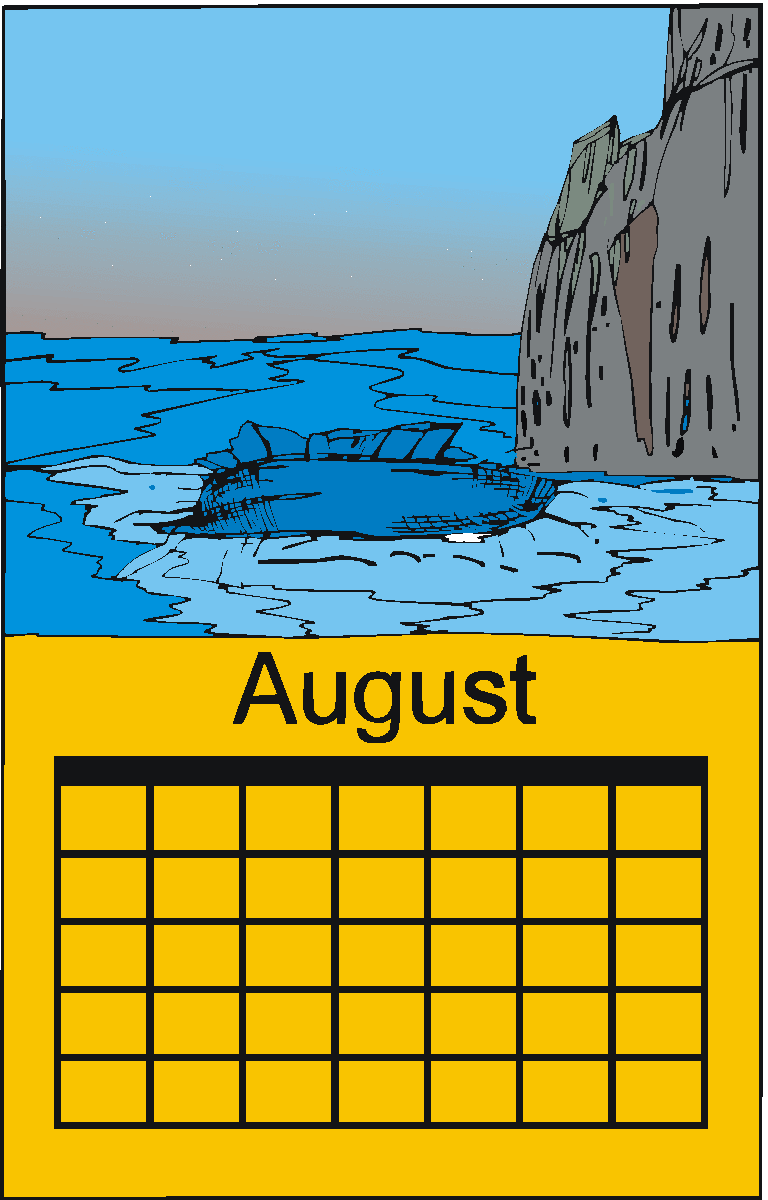 .
THE WOMEN OF CURVES DO IT AGAIN
Thanks to the women of Curves, the food bank kids will be able to choose from a large selection of school supplies at this month's distribution. Sally McGahey, the food bank kids chairlady and devoted customer of Curves initiated the request last year and the ladies came through with flying colors. They also donate toys and clothes for the kids at Christmas. Thanks to all of you from all of us.
So were Joe & Joan !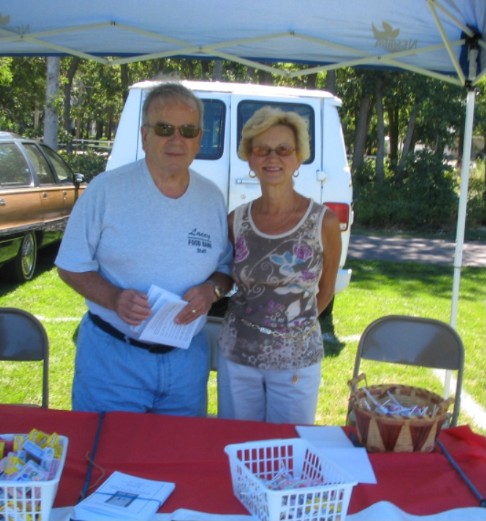 Mickey & John Esposito gave it their all.......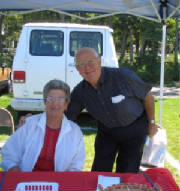 WHO ARE THESE MEN?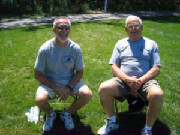 AND WHY ARE THEY SITTING DOWN? : )
.
. THERE, BUT NOT SEEN HERE DUE TO A CAMERA GREMLIN, WERE VALERIE
. KRUSIESKI AND LORELLE GORMLEY DOING THEIR JOB -
. "FLYERING" THE CROWDS.
.
LACEY DAY, AND THE WEATHER WAS PICTURE PERFECT - A RELIEF AFTER YEARS OF SCORCHING AUGUST HEAT. THE ROTARY CLUB PUMPED OUT THE HAMBURGERS AND HOTDOGS TO THE HUNGRY CROWD, (FOOD COURTESY OF SHOP RITE) THE RECREATION DEPARTMENT RAN GAMES FOR THE YOUNGSTERS &THE DPW CREW SET UP, TOOK DOWN AND IN GENERAL EXPEDITED THEIR WAY THROUGH THE DAY.
THE CROWNING TOUCH WAS THE APPEARANCE OF THE ICE CREAM TRUCK IN CENTER FIELD, ALSO FREE OF COURSE. WE WERE GRATIFIED TO SEE FOOD BANK KIDS AND THEIR PARENTS ENJOYING THIS ALL FREE OCCASION.
WE ENJOYED COMMUNING WITH OTHER ORGANIZATIONS AND SPREADING THE WORD VIA OUR NEW FLIERS. OUR THANKS TO ALL WHO STOPPED BY TO OFFER HELP AND GIVE US COMPLIMENTS FOR THE WORK WE DO. SEE YOU NEXT YEAR !
.

THREE CHEERS FOR THE FORKED RIVER PRESBYTERIAN CHURCH CONGREGATION FOR THEIR ONGOING FOOD AND MONETARY COLLECTIONS COLLECTED AS A PROJECT OF THE
HUNGER ACTION TEAM.
.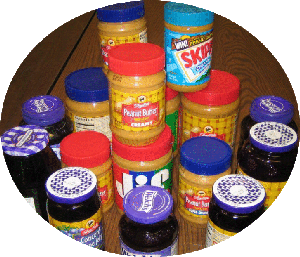 PEANUT BUTTER & JELLY CRISIS LOOMS !
"Oh Woe", said the storesmaster. "We are out of peanut butter and jelly. What to do? " Well, we swung into action, posted a big sign on the big blue cans to highlight our dilemma, and once again shoppers at ShopRite, aided by a great sale (3\$4.00 peanut butter, $1.00 for jelly) came through for us.
Along with that, Dr. Tom McGillick, Wharfside Chiropractic sent out the word to his patients and accumulated a mini tower of pb & j... A happy ending as all our clients got peanut butter & jelly in their bags for July. (Now on to next month!)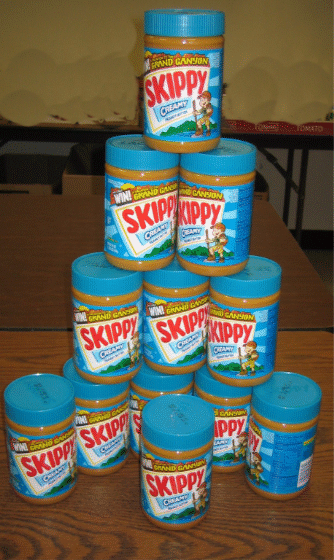 AND THEN, OH LOE AND BEHOLD, AN OLD FRIEND OF THE FOOD BANK (FOFB) CAME TO TOWN, AND HEARING OF THE CRISIS, PUT TOGETHER HER OWN PYRAMID FOR US. THANKS STELLA RUSSELL !
.
.
.
.
.
.
.
AMERGEN FOOD DRIVE
Thanks to all of the workers at Oyster Creek who joined together in a food drive for us. As you can see, we got a great boost to our dwindling stores. Thanks too,Joyce McPhillips, for organizing the event.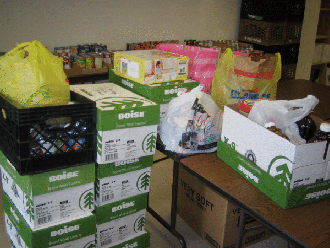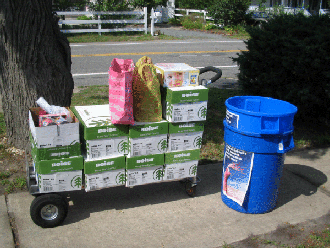 LACEY SOCCER CLUB SCORES BIG
Hebrew Park was the site of the Lacey Soccer Club's first annual picnic. For the second year in a row, club members collected bags of food for us - in this case a van load, or what we usually collect in a week from outside sources.
In all it was a huge success. The sun was shining, the food looked good, the storesmaster was a happy camper, and Snoopy, the food bank dog was there to help keep the inventory straight. A beautiful day for all.Thanks to all who contributed.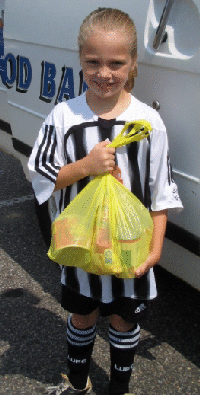 Lindsey's bag of goodies
Okay Shane, bring it over !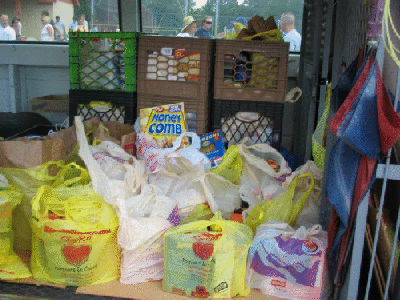 A FULL LOAD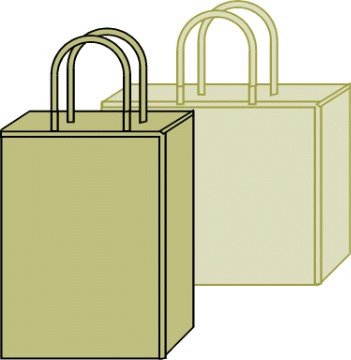 *
FOOD BANK APPLAUDS GEOFFREY ROVIRA
THIS SPECIAL YOUNG PERSON, FOR THE SECOND YEAR IN A ROW, DISTRIBUTED COLLECTION BAGS THROUGHOUT HIS NEIGHBORHOOD ASKING FOR FOOD DONATIONS. HE RETURNED TO PICK UP THE FOOD, SORTED OUT ALL UNDESIRABLE ITEMS (EXPIRED, BROKEN PACKAGING, BUGGY....) AND DELIVERED A TOTAL OF 150 POUNDS OF FOOD TO US. BRAVO & THANK YOU GEOFFREY !
*
SHOP RITE & LACEY FOOD BANK OBSERVE
NATIONAL HUNGER AWARENESS DAY
Shoppers at Lacey ShopRite supported the movement in a "sweet" way, buying cake from volunteers as a way of helping the food bank and learning about National Hunger Awareness Day. This annual event issponsored by America's Second Harvest , food pantries and kitchens across the USA.
Shown below are volunteers Howard & Rose Furbeck and Dick Sansone who covered Sunday's cake sale, and Joanne, Judy & Andrea who "fliered" the shoppers on Tuesday. Our thanks to ShopRite for sponsoring this event, to Lacey ShopRite's manager Glenn Cunningham, who set us up and provided the sweet offerings and to the many shoppers who stopped by to support us.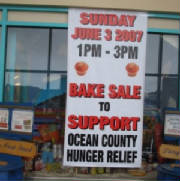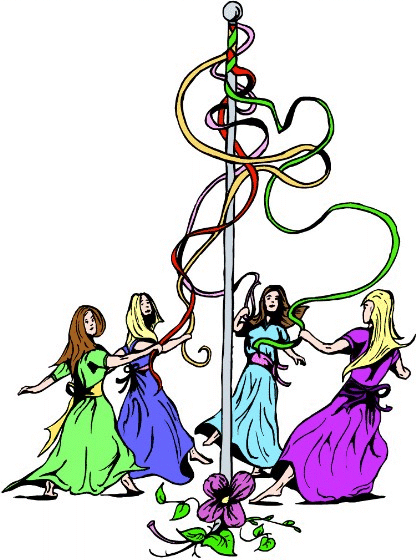 THE MERRY MONTH OF MAY - THE DAFFODILS ARE BLOOMIN' AND THE HEAT GETS TURNED OFF, A BLESSING FOR THOSE WHO CAN'T AFFORD UTILITY BILLS. BUT THE NEED FOR FOOD GOES ON. WHICH IS WHY WE ARE SO GRATEFUL FOR THE FOOD GATHERERS IN OUR COMMUNITY. WHETHER IT IS A FOOD DRIVE, AN INDIVIDUAL FOOD DONATION, OR A WEEKLY OFFERING TO THE BIG BLUE BARRELS, WE THANK YOU ALL FOR FILLING OUR SHELVES.
Please note: Lacey Township Post Offices do not participate in the annual food drive run by certain postal unions, so in lieu of leaving items for your mail person, take a moment to donate by using the big blue cans in ShopRite. Meanwhile, we are always invited to share the bounty from the post offices who do participate. In our case the Lakehurst Post Office.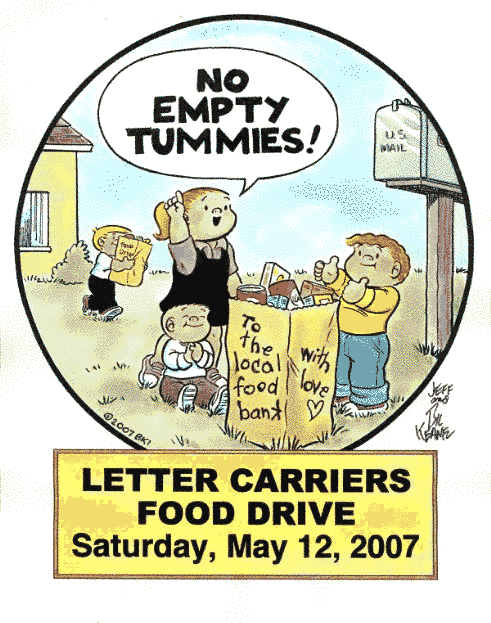 US POSTAL DRIVE A HUGE SUCCESS
This annual event came just in time, as our stores were beginning to seriously dwindle. So the big day was indeed a happening. First , Chairman Guy & stores master Dick met Lacey High Student Government representative, Steve Swain, at the food bank to receive food gathered by the students.
Then it was off to Whiting with the food bank van, to await the arrival of the carriers with their loads of food donations. The generosity of the people in Whiting was outstanding and we filled the van to the brim.
Then it was back to the food bank to meet up with the volunteers who were waiting to sort and shelve all of this - a task that will continue for a few days.
As you can see, even the food bank dog ,Snoopy Burnett, got into the act. It was reported that he got very excited at the sight of all those mailmen and trucks but managed to act like a gentleman despite the temptation. (click on pictures to enlarge)
Meet Mail Carrier Mike, first to arrive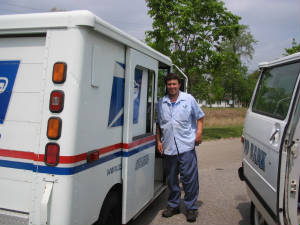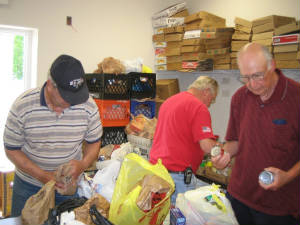 Dick, John & Bert sorting & shelving
THE STUDENT FOOD GATHERERS FROM THE OCEAN ACRES ELEMENTARY SCHOOL DO IT AGAIN!
For the second year in a row, Tracy Osborne's 1st grade students filled the food bank van with a wide array of foodstuffs. It is always a treat for the stores master to pull up in front of the school and to be greeted by a long line of students, toting their generous food contributions. They even help him load the van. Thanks to all of you from all of us. You are true FOFB (Friends of the Food Bank) ( CLICK ON PICTURES TO ENLARGE )
NOW THAT WAS AN EFFICIENT OPERATION !
Our love and best wishes to Sally Mac
Yes, bad things happen to good people, and Sally, the chairman of the food bank kids projects, is facing a serious health problem. She's bravely being optimistic that she'll get through all of this and so are we. Meanwhile, keep her in your prayers and thoughts.
APRIL IS FUND RAISING MONTH
The letters have gone out, the fliers are printed and now we wait anxiously to see how we will do this year. As usual, two types of letters were mailed...one to friends of the food bank (FOFB) who have supported us in the past, the other to those who haven't yet gotten to know us. The new fliers , donated by FOFB Tom Trentholm, owner of Regal Lith Printers, will be used to promote the food bank at special events like Lacey day and the Apple festival. If your organization would like a supply of handouts to "spread the word" to your membership, let us know.
AMERGEN HOLDS FOOD DRIVE
The employees at Amergen are holding a month long food drive for the Food bank. From past experience, we know that their generousity is overwhelming. Thanks to all for this annual gift from the community.
*
APRIIL FOOL'S DAY AND JUST WHO WAS IT THAT SNEAKED THIS IN ON THE VOLUNTEERS TO KEEP THEM ON THEIR TOES WHILE SORTING FOOD?
Welcome to March a.k.a as CAFFREY'S MONTH! Yes, our friends Dan Coleman and Joe DePasqale are once again coming to bat for the food bank. Our longest running sponsor, CAFFREY'S literally SET the food bank back on it's feet many times over the past ten years. Which is one reason why you will always find the volunteers having their holiday luncheon there. (the other being the great steaks and burgers) So if you're going out to lunch or dinner, make it CAFFREY's, and drop a buck in the bucket for the food bank.

MARCH IS FOOD DRIVE MONTH FOR CURVES
Nationwide, CURVES franchises hold food drives for local food pantry's and food kitchens. And nowhere could they be more dedicated than our neighbors from CURVES, located in the Lacey Mall. This year they collected over 700 pounds of food. (the storesmaster is smiling all the way to the shelves with this welcome addItion to the stores) In additIon to the food drive, the women from Curves contributed hundreds of toys this past Christmas for the food bank kids. Thanks gals from all the food bank volunteers and clients. Shown below are Anna Baranyoy and Colleen England in front of the massive array of foodstuffs.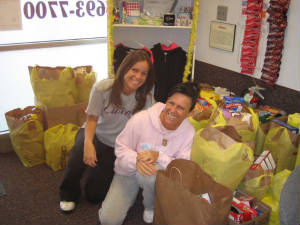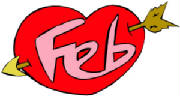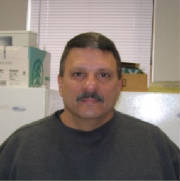 **(Click on pictures to view larger, print or save)
JANUARY 2007 AND WE GREET THE NEW YEAR WITH THE HOPE THAT THE FOOD BANK WILL CONTINUE TO SERVE THE NEEDY AND THAT THE PUBLIC WLL CONTINUE TO BE OUR PARTNERS IN THIS EFFORT. WHO COULD ASK FOR MORE? MEANWHILE, LET IT SNOW !
A BIG BOOST FROM THE BOOSTERS!
The Lacey High School Booster Club once again gifted us with food, a side benefit of their annual fund raising Chinese Auction. Those attending can bring a can of food to receive a $1.00 discount off admission, and they certainly did, to the tune of 376 pounds or three full shopping carts. Along with the food, $1.00 of the admission fee was donated for those who forget to bring food - a bonus for us of $124. The club, under the leadership of Debbie Slota is a true FOFB (Friend of the Food Bank) and for that we thank them.
ON JANUARY 8TH WE HELD THE FIFTH VOLUNTEER LUNCHEON AT CAFFREYS, WITH A NEW HIGH FOR ATTENDANCE, 38 VOLUNTEERS AND GUESTS.
WHERE ELSE COULD YOU GET A SOUP TO NUTS LUNCH FOR $10 WHILE COMMUNING AND PLANNING WITH OTHER BIRDS OF A FEATHER?
CHAIRMAN GUY THANKED ALL FOR THEIR HELP, WITH SPECIAL THANKS TO ROSE FURBECK FOR PUTTING THE LUNCHEON TOGETHER (AND WHO,WITH THE HELP OF HER GRAND DAUGHTER, MADE A PACKET OF COOKIES AND CANDY FOR EACH GUEST)
NOW WE PRESENT A NEWSLETTER ODE TO THE WONDERFUL VOLUNTEERS OF THE LACEY FOOD BANK.
.
SAY CHEESE!