Shown at the WalMart grand opening are Stores Master Dick Sansone, Co- Chairman, Pete Peters , former chairman Guy Burnett and former Co-Chairman Laura Caroccia. They were there to receive a $5,000 gift from the Wal Mart Foundation.
Harold "Pete" Peters, Food Bank Vice Chairman & head of the Volunteer committe is also a big blue crew member. He can be found pumping out Christmas Carols on the old piano at Community Hall during the Christmas distribution. Another example of the richness our talented volunteers add to the program.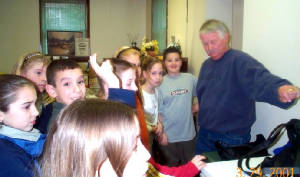 HERE'S EX "CEO" GUY BURNETT, GIVING
MIDDLE SCHOOL YOUNGSTERS AN
OVERVIEW OF THE FOOD BANK.
WE LOST OUR SNOOPY IN JANUARY 2017. RIP OUR DEAR LITTLE BOY.
We also have a volunteer food bank dog. Meet Snoopy Burnett. Handsome fellow, isn't he? He is the official taste tester of damaged packages of cookies and dog biscuits . Snoopy has agreed to host small kid tours of the food bank along with volunteer Andrea Flaherty, and give out his autographed Snoopy cards to all. To bring your students or troop for a tour , give a call to the food bank and leave your name and number. Andrea will contact you asap.
Judy Schermerhorn and Joanne Norton shown here at our booth at the Historical Society's Apple Festival. Volunteers representing the food bank look forward to "fly-ering" the crowds at public events, part of our ongoing educating process.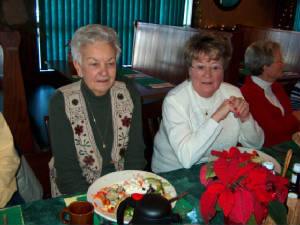 Here are Ann Brinkman & Sally McGahey, the "Skiffway Girls", enjoying a break at the annual Xmas luncheon at CAFFREY's.
LET US REMEMBER ...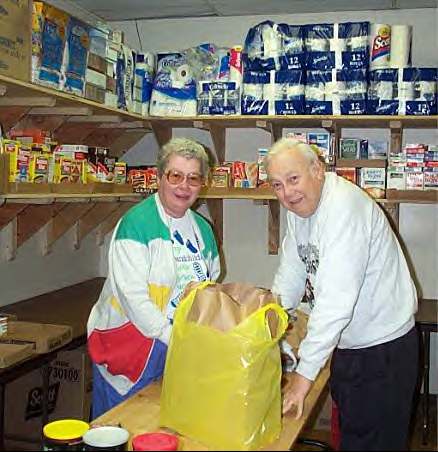 Our beloved and late volunteers, Rose Furbeck and her husband, Howard , were members of the Monday morning "packin' and sackin" club. Rose also ran the food pantry for the United Methodist Church which serves the needy who do not live in Lacey.
"MR. FOODBANK"
The Lacey Food Bank lost a friend and comrade on June 2nd, when Emil Ciangetti, former Chairman, and one of the original founders of the food bank, died as a result of an automobile accident.

Emil, 81, was a loving father to his grandson Steve, who he adopted as a young boy. He was involved in the food bank until his death, and belonged to many civic organizatons as well as being active in the Village Lutheran Church in Lanoka Harbor. He is honored for his many good deeds performed within his family and his community.
Rest in Peace Friend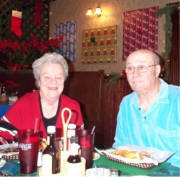 Ralph Lanuto, shown here with his wife Edna, was a pioneer in the foodbank, back when Emil, Ziggie and he were the only ones manning the "fort'. An active civic minded man, he served as our liaison to clubs and organizations. We miss his hearty laugh and helping hands.

The laste Ziggie Zwierchowski (l) was our ambassador to the Township Committe and the late Ralph Lanuto served as liaison to clubs and organizations. Here they are, packin' and sackin'...They were two of the original food bank volunteers serving under Emil Ciangetti.
Steffie Serina served as a registrar with the food bank from it's inception.
We miss her friendly smile and devotion to her work.