The Joy of Unselfish Giving
Time is not measured by years that you live.
But by the deeds that you do and the joy that you give -
And each day as it comes brings a chance to each one
To love to the fullest leaving nothing undone,
That would brighten the life or lighten the load,
Of some weary traveler, lost on life's road.
So what does it matter how long we may live
If as long as we live we unselfishly give.

~Helen Steiner Rice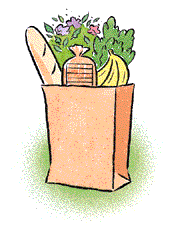 *
"A New Jersey Community Caring...
By Sharing"
Most of us in Lacey partake from a cornucopia of bounty. Who reading this will go to bed hungry tonight? But left behind in the last few decades of growth and prosperity are the poor who know very well what it is like to be hungry. Many are the elderly, living on minimal social security. For them, crucial decisions include whether to heat their home, pay for a prescription, or eat.

The rest? Low income families, single mothers, and always the children.

For this reason, the Lacey Food Bank Program exists. No one in today's affluent society should have to go to bed hungry. We shall continue to reach out and find these people, to offer them substenance, to show that we care by sharing.

Won't you join us?

We encourage community involvement with the food bank. From organizations - service & fraternal to school and civic groups, there is a role for you. Help us see that no-one in Lacey goes to bed hungry....

To contribute to the food bank, make a check out to the Lacey Food Bank, then mail it to:

The Lacey Food Bank,

c\o The Administrator's Office

818 W. Lacey Rd., Forked River, NJ 08731

OR

click on "Donate" button below to charge your donation via Visa, Mastercard or Pay Pal.


As a 501(3)C non profit corporation, your gift to us is tax deductible and you will receive a written acknowledgement, as well as being noted on our "Thanks and ..... " page on this web site.


THE LACEY FOOD BANK IS RUN ENTIRELY BY UNPAID VOLUNTEERS AND SUPPORTED SOLELY BY DONATIONS OF FOOD AND MONEY FROM THE COMMUNITY.

*

The Lacey Food Bank has formed a new non-food committee - Emergency Fund Services"- as a way of helping clients who are going through a crisis, whether it be the loss of refrigeration in the middle of the summer, a car repair, a broken appliance, eviction, utility shutoff, or a multitude of other problems that a small act of kindness can solve. Requests for help will be received by commmitte chairman, Ed Weisbrat, then be judged for need via our committee of clergymen\trustees. A small donation from you, then spread far & wide with your social networks will help us make our goal.

AND YOU WILL FEEL SO GOOD ABOUT YOURSELF.

Please note: This is an ongoing project of the Lacey Food Bank for the benefit of it's more than 200 families. It is not connected to disaster relief connected to the hurricane.

Thanks to the initiative of Cynthia Pieja, LFB's CPA and trustee, we are able to offer PayPal\Visa\ Mastercard\Discover cards as a way for contributors to make a safe internet contribution.

 

THANKS FOR YOUR FEEDBACK AND COMMENTS.

FOR IMMEDIATE REPLIES EMAIL US AT

LACEYFOODBANK@AOL.COM

 

Our primary need is a stable, ongoing source of income. By the end of the year we were serving 236 families with a total of 604 recipients within those families including 357 adults & 247 children . To continue in a meaningful way requires raising at over $75,000 annually which does not count donated food and sponsors.



By the end of 2017 our goals were not met, in fact the number of sponsors dropped for the first time , so by holding public information\fundraising events throughout the the community, we hope to insure the continuation and success of the program by enlisting more sponsors and encouraging more donations.We will continue to solicit this support via mailings and publicity.



Individuals in Lacey and surrounding communities have responded magnificently, many becoming esteemed sponsors by contributing $240 to support one family for a year . To learn more about the esteemed sponsor program, turn to that page on this website.



Food drives held by us at ShopRite - asking shoppers to drop an item in the large drawers in the lobby- plus other drives held by churches, civic groups, schools, local businesses, the US Postal service and the Boy Scouts, provide basic canned and packaged foods, but money is needed to purchase nutritional supplements to the program.



Each client receives a food coupon for ShopRite to buy fresh food such as milk & bread. In 2003 we increased the amount of this coupon from $5. to $10.00, a long overdue move. This was made possible by a grant of $5,000 from Ocean First Bank Foundation. And that was ten years ago.



Throughout the year emergency food supplies are provided for those in desperate need . During the winter months the need is greater, due to seasonal unemployment and high heating bills.



The Township of Lacey generously provides the food bank with space and the maintenance of that space, so with the exception of filing fees, minimal office supply expenditures & printing, your donations are used to buy food and food coupons for the clients of the food bank.