Lacey Township Food Bank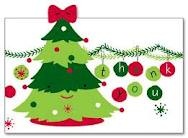 A Christmas Thank You from the Lacey Food Bank Kids Committee
When we were children we were grateful to those who filled our stockings at Christmastime. Now we find that the JOY we give to others comes back to us a hundredfold. The Lacey Food Bank Kids Christmas 2011 was a heartwarming and overwhelming success...THANKS TO YOU!!
So many gifts are left anonymously. So many more are group gifts. We wish there was a way to know and acknowledge everyone! Please know that we are grateful to each and every one who shared the caring message of Christmas.
THANKS TO YOU!!
May JOY be your gift during this Season of Miracles and your Blessing all year through!
MERRY CHRISTMAS!
LFB Kids Committee
( In this photo, LFB Kids Committee volunteers assist the Moms in picking out the 'just right' gifts
for their children.)
A Message from Lacey Food Bank Co-Chairman, Pete Peters:

First off, let me say to all of you how very grateful and thankful Guy, Dick, Laura, and myself are for all of your hard work and loyalty to support our Lacey Food Bank. So many of you work hard behind the scenes, and we want you to know we went over the top this month with our largest distribution ever. Its becoming a real challenge trying to keep up with the growing number of clients due to the poor economical status of our country, but you folks stepped up to the plate.


Along with the LFB Kids Committee headed by Laura Carroccia, and our LFB workers, we were able to help a record 204 families with not only clothing for kids, toys and other gifts, but an additional $25 dollars added to the regular $10 Shop Rite cards, cookies baked by the Girl Scouts specially wrapped and many extras including turkeys and hams to our neighbors in need.


Annual Volunteers Christmas Party

Wednesday, January 4, noon

Captains Inn on East Lacey Rd

Secondly, I want to remind all of you who haven't signed up yet, of our annual Volunteers Christmas Party on Wed Jan 4, noon, at the Captains Inn on East Lacey Rd. There will be a choice of 3 meals and a few nice door prizes. So far we've got 44 folks and guests attending and we'd like to see 100% of our 96+ roster. You can pay the $10 charge at the door, but we need to know by December 30 how many attendees we have. Give me a call at 609-242-0806.


Again, our heartfelt thanks and appreciation to all of you. Have a wonderful Christmas and Holiday. See you at the party!
POST CHRISTMAS BOUNTY
Thanks to the creative efforts of Denise Field, owner of "Craving Cupcakes" the food bank got back some of what it gave out in December. Denise held a surprise promotion for us and by soliciting gifts from over 35 small businesses in Lacey, she offered the public a free raffle ticket if they brought in an item of food to the shop during the month leading up to Christmas. Space limits our ability to list all those who gifted Denise, but we thank them for thinking of us. Thanks also go out to Denise's helpers, Veronica Liga and Amanda Vito.
A HOLIDAY LETTER FROM THE LACEY FOOD BANK
To all who lend support to us, please take a moment to get to know what it is we do and how we do it.
Co-Chairman Pete Peters observes that the Christmas distribution was the highlight of the past year's work for his food bank volunteers, who now number 90 dedicated Lacey citizens of all ages. Pete oversees the day to day operations of all the volunteers and is proud of what they do - on a daily, weekly or monthly basis - working as a cohesive smooth running force.
Every month, 3+ tons of food - 4 tons on holidays - is gathered, sorted, shelved , packed and moved to Community Hall on Thursday afternoon. Forming a "chain gang" , volunteers set up 360 bags of canned & boxed goods and dozens of banana boxes of what we call "take me" items as each client is given a bag to fill of their choosing.
Friday am started early with the volunteers meeting up at 6 am. Packing up the perishables into pick up trucks, picking up 200 hams & turkeys plus baked goods from Shop Rite, and getting the doors opened by 7:30 for the lines of clients waiting outside.
After a frantic last minute check, the volunteers assembled for their annual photo op, resplendent in their Santa or Elf hats. Meanwhile Bud, Ryan & Jack from the Lacey Recreation Dept. were busy packing up the recreation bus with bags and bags and hams and turkeys for home delivery to homebound clients. In all, we served 204 families with full dinners, as well as their normal allotments.
Former Chairman Guy notes that although we serve people who don't have much to celebrate, this day is cause for them to forget their problems for awhile. Joyful Christmas music was provided by John Centi, Jim Ambrose & Sam Graham from the Pious church choir. Then an extra $25 ShopRite gift card given to all , courtesy of card donations from the good people of Lacey throughout the year. These along with double "take me" bags lent an excitement to the morning.
There were festive trays of home baked cookies provided by the girl scouts as well as community bakers like the Peluso family. Displaying a commitment so typical of our Community that is Lacey, this family started doing this in 2005. (check back in the past newsletter archives) We enjoy watching them grow up right before our eyes. 
"Yes, commitment IS key and that is what keeps the food bank strong" says Dick Sansone, storekeeper for the last ten years. He reports that there are "down" times from June through September when there are no food drives, the kids are home and like all baby birds, clamoring for more to eat. But then the schools & boy scouts get behind us and hold collections that refill our pantry and as we move toward the holidays, the business, professional and citizen communities pull out all stops.
It is the financial commitment provided by those in the Esteemed Sponsor program, that enabled Dick to get through his "chicken crisis". Due to government cutbacks, the USDA stopped distributing the whole chickens that are given each month to the clients, so we had to buy them, until the cuts were restored. "But not to worry", he says, "it's the challenges that keep things interesting".
Finally , those clients who have children rush upstairs to the Food Bank Kids Christmas shop, affectionately known as the " Sally Mac Christmas Shop" after the originator of the program Sally McGahey, who with her husband Bruce, was one of the first volunteers to enlist under Guy Burnett's reign as chair. Suffering severe health problems Sally was forced to turn her work over to a committee but her heart is still with the program and she watches with pride and love at what she started.. (See associated article below )
And that, fellow Lacey-ites is what we do and how we do it. And we could not do it without the total support and commitment we receive from our community. For this we thank you.
 Merry Christmas from the Lacey Food Bank volunteers !
HO HO HO ! 
SANTA VISITS THE

LACEY FOOD BANK!



Clothes, scarves, hats and gloves, oh my!

For centuries man has kept an appointment with Christmas. And so Friday, the volunteers who make up the Lacey Food Bank Kids Committee honored that promise of Christmas as Community Hall was transformed into a Santa's Workshop and Wonderland. Volunteers set out box after box, table after table of new toys and games and sports equipment. With something to please Mom and kiddies alike, the 240+ children on our client list received new, warm and stylish clothing of their choosing, along with the "must have" Christmas items of pajamas, socks, scarves, hats and mittens. Coats and winter boots were the hot items of the day and special thanks go out to Exelon for taking on this formidable challenge.





Volunteers Barbara and Pat with the Girl Scout Home-Baked Cookie Collection.



Merry Christmas to all, and to all a good night!

We could only wish to be able to thank each and every one of you who helped us make Christmas wishes come true for the children of the Lacey Food Bank. For the most part gifts come to us anonymously - collected in school drives, dropped off in bins located in stores and offices throughout Lacey, through employee collections and angel trees, drop offs at the Food Bank and in dollars and cents stuffed in our collection jars. For all of you, please know that we and the children are grateful for what you so freely give in the real spirit of Christmas ~
This is Dr. McGillick from Wharfside Chiropractic. His office has made it a holiday tradition to forgo Christmas Cards and instead, gifts the Lacey Food Bank annually with a check. Guy Burnett accepts their gift , a $500. check on behalf of the food bank financial committee.
A NEW PARTNERSHIP OF SUPPORT - WIIGGS AND LFB

Lacey Food Bank and the Lacey Food Bank Kids Committee shared the spirit of Christmas at the Tenampa Restaurant, Forked River Girls Only Christmas Mix and Mingle to benefit WIIGGS and the Lacey Food Bank. A packed house enjoyed live music, fabulous door prizes, free hand softening treatments, great food and an opportunity to learn about the WIIGGS mission of providing wigs for women with cancer or alopecia. With cancer survivors in our own number, this event was a double win for the LFB Kids Committee - a carload of new toys and non-perishables for us and a new partnership of support from and for the women of Lacey Township. Thank You, Sharon Good of Tenampa Restaurant for your generosity and hospitality!
Our esteemed sponsors Pat & Al Carlson, who recently took up residence in our new senior community, Sea Breeze at Lacey, held a reverse garage sale, inviting everyone to participate in a garage "give-us-food" drive. As you can see, they exceeded all expectations with this huge haul of food. Thanks to all our new friends and neighbors at Sea Breeze at Lacey.
MEN OF THEIR WORD

Last month USCG Flotilla 7-9 came by to give us a check for $500 and promised to return. They are men of their word - here they are gifting our happy storekeeper with a second check for $500 just in time for the holiday. Pictured: Al Frizziola, Dick, and Tom Don.

The Auxiliary has been very supportive of the Lacey Food Bank and for that we thank them.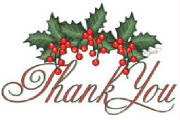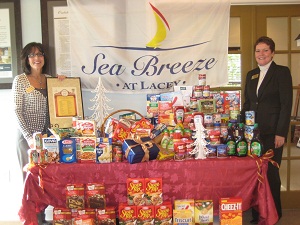 Residents at Toll Brothers' Sea Breeze at Lacey collected this large amount of food for the Lacey Food Bank. Pictured are sales managers Patty Schmeling and Anne Marie McNally. Thanks, too, to sales receptionist Carly Baldwin.
Two people from this new community of friends of the LFB have already volunteered to be storekeepers!
EVERYONE LOVES A PARADE!

At the Annual Lacey Elks Lodge #2518 Parade, their youth group "The Antlers" walked the parade route with shopping carts collecting food donations. Lacey Roller Hockey also collected and donated food at the parade. These contributions, added to the food already collected by the club, tendered a substantial amount of groceries for the LFB - a whole van load!

Our LFB teen youth group head Donna McAvoy along with Pete, Danny McAvoy and Bret Kinsey threw candy to the children on the route, carried our banner, and gave out biscuits to all the doggies on the parade route as a gift from Snoopy Burnett, the official LFB mascot.

And, the food bank acquired a Santa trophy from the Elks inscribed with the date & event, which will be displayed at the food bank for all to see. A solid round of thanks to the Elks for sponsoring this parade and our cause – the war against hunger.
LFB TEEN VOLUNTEERS AND CEDAR CREEK SCHOOL

Lacey Food Bank teen volunteers Dan McAvoy and Devin Osterman went to Cedar Creek School in November and collected bags, bags and more bags of canned tuna, chicken, and other food items. Dan and Devin, along with adult volunteers Donna McAvoy and Maddie Stapleton, transported the food to the bank and spent time sorting and shelving it.

Thanks, Cedar Creek School, for your generosity to the LFB and thanks Dan and Devin. You are two outstanding teens!
Forked River Presbyterian Church Youth Group

These fine gentlemen are from the Forked River Presbyterian Church's Youth Group. They and their leader, Steve Lundy, came by the Lacey Food Bank with a van load of food, 291 items in all, from their food drive, along with $25 in cash.

Many thanks for a job well done!
FISH HAWKS ARE KEEPERS!

At their December meeting, the members of the Fish Hawks Salt Water Anglers Club cast their lines and reeled in ten bags of groceries for the Lacey Food Bank. They plan to continue this collection at every monthly meeting, and that's no fish tale!

Thanks to Ken Rylak for coordinating this excursion into deep sea donating!
Wells Fargo Community Partners!

Kathleen Canning, (standing to Pete's right) along with Dick and some district managers from the Wells Fargo Community Partners presented the Lacey Food Bank with a donation of $1000. We are most grateful for your generous gift.
GREAT JOB, TEENS!!!
The Lacey Food Bank Teen Committee, along with some adult volunteers, recently raked leaves for seniors on a beautiful day in November. A total of eight homes are now leaf-free and ready for holiday decorating! Way to go!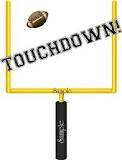 Every year since 2005 the Lacey High School Lions Football Team have won a Superbowl-sized victory for the Lacey Food Bank with their Mr. Touchdown Contest. This whimsical contest consists of each cheerleader being assigned a football player on the team and then selling votes to capture the Mr. Touchdown title for her player. This year we congratulate Ryan Hanula as the reigning "Mr. Touchdown." The cheerleader who won her "man" the victory by selling the most votes was Allison Orlasky. And, the Mr. Touchdown contest scored another $1,000 for the Lacey Food Bank!
Two, four, six, eight, who do we appreciate…GO LIONS!!!!
THE INTERGENERATIONAL CLUB:

WORKING TOGETHER TO MAKE OUR COMMUNITY A BETTER PLACE

The Intergenerational Club, comprised of seniors, teacher advisors and youngsters from all Lacey School District elementary schools, arrived at the Lacey Food Bank with a busload of non-food items, paper goods, cleaning supplies, soaps, detergents and more. This is an ongoing donation they do for the Lacey Food Bank every year at the end of November. The club works together to make our community a better place. You will see some of their work by Community Hall where they planted a garden together.

The club is shown sorting, packing and posing in front of the bus.

Thanks for all you do for our community, and in particularly for the LFB!
A Car Load of Good Will from Lacey High School SGA
Lacey High School is a major player in this war we wage against hunger. The Student Government Association or the "SGA," is one of many benefactors we have at the high school and a good friend indeed.
Starting in the fall, the group holds an ongoing collection of food for us. Alex & Meagan stopped by this week with a car load of food, and after seeing LHS grad and former SGA President Patrick Maguire's picture on our "historical" wall, they decided that they wanted a photo op with Snoopy Burnett, the food bank mascot. This took a bit of doing since Snoopy is notoriously camera shy, but the girls charmed him into it.
Our sincere thanks go out to all the students who participate in this important mission we all share.
U.S.C.G. Auxiliary- Flotilla 79 members Tom Piascik, Joyce McCowan, Dick, Alfred Frizolla
We Salute the US Coast Guard Auxiliary
The US Coast Guard Auxiliary has been a staunch supporter of the Lacey Food Bank. Here they are shown presenting store master Dick a check for $500 with the promise to return with another check in December. With this gift they will be supporting two families for a year with monthly fresh supplementary food and $10 Shop Rite gift certificates.
We salute you, dear friends!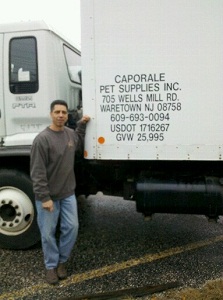 ANOTHER FOOD BANK HERO
Tony Caporale, owner of Caporale Pet Supplies, Inc. in Waretown is another fine example of how the business community responds to our needs. Tony has been transporting food for our food bank every month since the state put the kibosh on using open bed trucks.
Thanks, Tony, for stepping up to the plate and hitting a home run in the fight against hunger in our community!
It is not what we say about our blessings, but how we use them,
that is the true measure of our thanksgiving. ~ W.T. Purkiser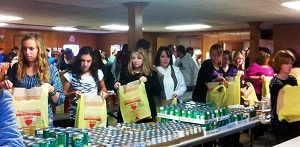 THANKSGIVING DISTRIBUTION BIGGER THAN EVER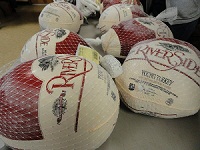 Thank you, Lacey Shop Rite and Walmart for your generous donations.
The community of Lacey understands the meaning of Thanksgiving. Community groups, businesses, individuals and schools have come around to help feed the Lacey families who are in need this year. Our own very special kind of Hometown Heroes, they have helped us through what is tantamount to a food crisis. In a time when more people than ever rely on food pantries, and those very food programs face staggering cuts in aid, it's heartwarming to know that at the Lacey Food Bank hometown businesses, hometown organizations and hometown community members are working together to fight hunger.
More than 35 students of the Lacey High School Interact Club provided the manpower to pack and distribute complete turkey dinners to 205 families at the Thanksgiving food distribution on Friday. For more than 25 years, Thanksgiving Dinners complete with all the fixins' have been provided to needy families in Lacey, Waretown and Barnegat by the Forked River Rotary. With turkeys donated by Walmart in Lanoka Harbor and the Lacey Shop Rite, the students from the Lacey High School Interact Club joined the volunteers of the Lacey Food Bank and 6 volunteers from WithumSmith+Brown PC Toms River Office to experience first hand a 21st century version of the shared harvest feast that served as one of the first Thanksgiving celebrations.
Gratitude a plenty to our terrific Thanksgiving distribution volunteers!
Thank you, Lacey Troup 506, for your donation of $250 to the Lacey Food Bank!
Pictured left to right: Leader of Lacey Troop 506 Helen Henderson, Scout Mia Henderson and our very own Richard Sansone.
A WALMART HALLOWEEN
Right after any holiday the members of the LFB Kids Committee goes out looking for our own 3 D's....deals, donations and some occasional dumpster diving. Halloween is an especially difficult project for us to fund. But thanks to the efforts of our liaison at Walmart, Ms. Doreen Padovani and to Walmart, Lanoka Harbor, General Manager, Mr. George W. Smith, for his continuing support, not only did we get an extraordinary shopping allowance for our visit. But subsequently, we were called back to come in and pick up an unheard of amount of Halloween clearances. Costumes, wigs, accessories, makeup and even shiny red shoes were included in the nearly $2,000.00 worth of donated marked down merchandise!!!
This was no Trick but a Treat that will be enjoyed next Halloween by our LFB Kids and the Moms who worry where the money for these extras will come from. Thank You to Mr. Smith, who has demonstrated over and over his and Walmart's commitment to our community, to Ms. Padovani who always answers our call, and to Kim who heads up the department.
Lacey Municipal Alliance 5K and Family Run
When Hurricane Irene pre-empted the Annual Lacey Municipal Alliance 5K and Family Run back in August, there was some speculation that the rescheduled date would see lots of runners dropping from the race. "Not so," says Lacey MA coordinator Heather Scanlon, "the rescheduled race took place on September 17 to a packed field of runners." Recently, Food Bank Co-Chairman Laura was called to Town Hall to receive a check from the Municipal Alliance in the amount of $400.00 representing prize money that had been donated back from some very community-minded Lacey Township High School students who participated and WON! Thank You and Congratulations on a race well run to LTHS students Danielle Leavitt, Abby Gauthier, Noah Jacobs and Ryan Flannery.
The Lacey Food Bank is often reminded, by gestures such as this, that our future and our strength lies in the young people of this community and the partnerships we develop with like minded businesses, organizations and community leaders.
LACEY HIGH SCHOOL AND THE INTERACT CLUB ARE Mmm Mmm GOOD!
As the days are turning cooler and nights even cooler still, the need for warm, filling foods becomes even more important to the Lacey Food Bank and our clients. In October, we found ourselves much like Old Mother Hubbard with a long line of hungry people and not enough to go around. A call went out to friends of the Lacey Food Bank, and one of the first groups to respond was the Lacey High School Interact Club, who set up a donation box in the Main Lobby. Within days, under the leadership of faculty advisor, Ms. Bunny McGauley, that donation box was filled with soup, soup and more soup! Some 50 bags full!! Thank You Interact, Thank You Ms. Bunny and Thank You Lacey High School teachers, staff and students for your support of this one-item food drive!
A GREAT START FOR LFB KIDS

It was a great day and a great way to kick off the Lacey Food Bank Kids Christmas Campaign 2011 by joining our friends and supporters at the Lacey High School PTSA & Secretaries Craft & Vendor Fair last Saturday! Our sincere thanks to the many old and new friends who stopped by our table to say "Hello" and to drop a donation in our jar or bring us a new, unwrapped gift for the Lacey Food Bank Kids.

A very special Thank You to our friends at TARGET/Manahawkin for their very generous contribution to this event. At the end of a very long day, we closed up shop with 6 bags full of new, warm, winter clothing and $244.77 to add to our shopping fund. THANK YOU LACEY FOR YOUR CONTINUED SUPPORT!!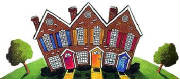 GOOD NEIGHBORS MAKING A DIFFERENCE
The Lacey Food Bank was heartened to receive a copy of the following email:
Dear Friends,
Lacey Township has over 200 families (approximately 300 children) who are in need of food assistance. Lacey Food Bank does as much as they can to support those families, but they need help from our community. In order to assist them, my husband and I would like to plan a Sea Breeze Resident Food Drive for the holiday season. We did a small one last year, and it was very much appreciated.
We will be collecting food items in our garage on Tuesday, Dec. 6 and Wednesday, Dec. 7 and will plan on delivering the items collected to the Food Bank on Thursday, Dec.8.
Whatever you can contribute would be appreciated.
Al and Pat Carlson
Thank you, Friends of the Lacey Food Bank!
1st ANNUAL PUMPKIN CARVING CONTEST
When James Whitcomb Riley penned the line "when the frost is on the pumpkin" I'm pretty sure he didn't mean anything like the major Nor'easter that hit our state last Saturday...slamming the 1st Annual Pumpkin Carving Contest sponsored by the Tenampa Restaurant, Route 9, Forked River. Spirits were not dampened, however, and Attorney Rose Trafton, who was on hand to judge the entries, remarked that it was a tough job!
General Manager Sharon Good promises that Tenampa Restaurant will be sponsoring a 2nd Annual Pumpkin Carving Contest next year. She's hoping that Mother Nature will cooperate!
Sharon & Tenampa Restaurant have a few other ideas for partnering with the Lacey Food Bank ... we'll keep you posted!
'ALMOST HALLOWEEN PSYCHIC NIGHT' WAS A TREMENDOUS SUCCESS!!



Private readings revealed hopes for romance,career and finance.

The Captains Inn in Forked River provided the just perfect setting for a repeat of this much awaited event. The darkness that envelops the Forked River, the twinkling of the outside lights on the water and the history of the location set the stage for an evening of psychic entertainment recently.

Our guests were entertained by a talented company of intuitives from Charmed in Company, who read cards, palms and sticks while shedding light on career changes, romance possibilities and trips to foreign lands! While they waited, our guests could visit our jewelry expo for something shiny and bright, get a free hand massage or find out if they themselves had psychic ability at Swammy Mommy's corner! An opulent spread of small finger foods and sweet pastries satisfied everyone's taste buds. The silent auction table offered Halloween-themed baskets as well as gift certificates and gifts that pamper.

The Lacey Food Bank Kids Committee wants to thank everyone who came out and supported this event. Thank You to the volunteers who give countless hours to coordinating our events. The night's net profit of $901.00 will help us reach our goal of providing Christmas gifts to each of the more than 200 children on our food bank client list.

I'm putting on my Swammy Mommy hat and predicting that we will be back with a repeat of this event in the Spring!



Sandi, Jenna, Amanda, Jackie and Scott enjoying refreshments and fun!
CEDAR CREEK SCHOOL STEPS UP FOR LFB

The faculty at the Cedar Creek School held a food drive for the Lacey Food Bank this month. Having the school step up to help fill the shelves for our ever-increasing need for food supplies is very much appreciated. And, thanks to Jen Bentley who organized the drive!


Looks like Baby Aimee and her Mom both picked perfect pumpkins!!

TRICK OR TREAT

The Food Bank Kids Committee 2nd Annual Costumes for Kids took place today during the regular October food distribution. Ghouls and Goblins - Princesses and Superheroes found an array of new and clean, gently used costumes and accessories to choose from. More than 75 of our Food Bank Kids (or their Moms) picked out a costume to wear to school and for Trick or Treating! Each child also received a specially decorated Halloween Snack Pack, a mini pumpkin and a coloring book. Tubes of Crest kid friendly, sparkly cavity protection toothpaste were distributed as well....ready to combat those Trick or Treat sweets!

The Lacey Food Bank Kids Committee collects costumes all year long. Please call Laura at 609-242-2848 if you have a new or clean, gently used costume to donate for the 2012 Costumes for Kids Program. Thank You from all of us on the LFB Kids Committee.
WE SALUTE THE BOY SCOUTS OF AMERICA PACKS 35 AND 156

 

A big shout of thanks goes out to the Boy Scouts of America Packs 35 and 156 who collected 451 bags of groceries, $20 and 3 large jugs of water for the Lacey Food Bank. This food drive is an annual event held nationwide by the Boy Scouts of America.

It was endearing to see the smiles on the faces of these fine young gentlemen as they presented the fruits of their labor to our pantry on October 15. These much-needed provisions will benefit the deserving families in our area who have suffered much in this economic downturn.

 
 
 
 
 

Thank you, Scouts, for a deed well done!

(And, thank you Scouts food crew for sorting, stacking and shelving all that food!)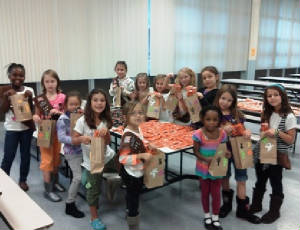 MEET BROWNIE TROOP 137
FROM LAND OF PINES SCHOOL
IN HOWELL, NEW JERSEY
These busy Brownies filled 95 Halloween-themed snack packs for the Lacey Food Bank Kids Halloween distribution. The snack packs were decorated by the grandchildren of our own Food Bank volunteers, Barbara & Ralph Lanuto. Packed inside these packs our Food Bank Kids will find a week's worth of healthy snacking and a surprise Halloween treat courtesy of Leaders and Members of Brownie Troop 137. A Spook-tacular example of kids helping kids!
OYSTER CREEK EMPLOYEES EXTEND HOLIDAY CHEER

Oyster Creek employees presented the Lacey Food Bank with a very generous donation of $2,000 to provide holiday cheer for the clients. This will help to supply the ever-increasing need for food for needy families in Lacey Township.

Thank you Oyster Creek for your kind and spirited giving!
Lacey Soccer Club Adult League President Kevin Kazenmayer and LFB Kid Committeewoman Diane Wright
LACEY SOCCER CLUB SCORES A WIN FOR LFB KIDS CHRISTMAS CAMPAIGN
The Lacey Soccer Club Adult League's 2nd Annual Christmas in August benefit marked the official start of the Lacey Food Bank Kids Christmas Campaign. Even with Hurricane Irene causing a delayed soccer face off, there was no dampening of enthusiasm by the Executive Committee, players, coaches, refs and fans as they hit the field on Saturday, September 24th.
Organized by the Lacey Soccer Club Adult League President, Kevin Kazenmayer, coaches and parents faced off in a spirited game where everyone came out a winner. More than 95 new toys, games, books and art supplies were collected, as well as a $205.00 donation from the Snack Stand. Lacey Food Bank Kids Committee member Diane Wright was at the game and reports that "so many donated time playing, supporting, officiating, working the grill and snack stand and giving so generously during a time when so many are feeling an economic pinch."
Thank You Lacey Soccer for your continued support of all the kids in Lacey Township!
SINGLE GLOW MIXES IT UP FOR THE LFB KIDS PROGRAM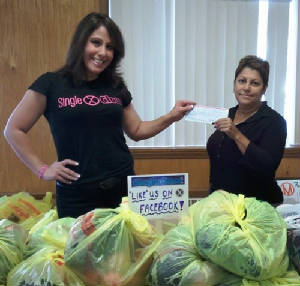 Andra Napoleon of Single Glow presents a check for $350.00 to Rosa Steitz following a Single Glow singles mixer that was held on 9/17 at the Shark Fin Inn to benefit the Lacey Food Bank Kids Program. Andra had an opportunity to see up close what we do to prepare for a monthly food distribution and she promises to come back and help!
LFB YARD SALE A BIG SUCCESS
With more than 25 tables loaded with trinkets, treasures and tchotchkes we had something for everyone at the 4th Annual Lacey Food Bank Yard Sale held on Saturday 9/17 in the parking lot of Community Hall. This yearly event has grown from a few tables of knick-knacks to a community event that now includes space rentals and a refreshment stand.
Shoppers and volunteers alike report that the bargains were plentiful. Collectibles, kitchenware, vintage tools and holiday decorations were the hot items at the Food Bank tables while some of vendors report that sporting goods and Matchbox cars were the most sought after goods.
Yard Sale Chair Pete Peters and his crew of volunteers will be back again next year and promise an even bigger event!!
Lacey Food Bank Back to School Program Gets A+…Again!!!
The Lacey Food Bank Kids Committee hosted their Annual Back to School giveaway at the monthly food distribution held on August 19th. Client children in Grades K-6 received new backpacks stocked with all the basic school supplies that they will need to get started those first days of the school year. The middle school and high school students were provided with a 'Take-Me' table of loose supplies such as binders, highlighters, multi-subject notebooks and more. Every child also received a snack sack of healthy snacks in kid-friendly sizes. Funded solely by donations from the Lacey community and the Food Bank Kids Committee, more than 120 of our school children will have the opportunity to start smart this year.
Special thanks to all the members of the LFB Kids Committee who sponsor this event as well as a huge Thank You to the Lacey Community that helped make it happen. Thank You Curves, TJMaxx, WalMart, The Lanuto Family, LFB Teen Corps and Girl Scout Troop 223 for your participation and support. Gold Stars to the so many individual contributors who helped us reach our goal- we couldn't do it without you! ~ LC
| | | |
| --- | --- | --- |
| Hail to the Food Bank Kids Committee. Big job, well done. | Collecting the "loot' are LFB teen committee members Nick Van Schoisk and Dan McAvoy with CURVES owner Judy. The women of CURVES have held back to school supply drives for us for 8 years, and for this we thank them. | LFB Kids Committee - Rosa Steitz |
LACEY DAY 2011
It was a picture perfect day under the big blue canopy as food bank volunteers congregated to spread the word and make new friends. Volunteers "fliered" the crowd and the kids in the crowd loved the Snoopy cards, lollipops and balloons .
Thanks to volunteer & Riviera Realty broker, Jim Joeriman, for his donation of helium, which powered up the balloons.
The new fliers were the compliments of Tom Trenholm, Regal Printing Ink down at the Lacey Business Park. The fliers and helium are just two small examples of how our business community supports our efforts in so many ways.
As do the people of Lacey for without their support there would be no Lacey Food Bank which is a true gift from the community to those in need.
And for that we thank you.
| | | |
| --- | --- | --- |
| Here's to our good ole boys - Guy, Dick, Ed & Pete aka the "set up crew" | Darlene Damiano & granddaughter Brianna were joined by honors society student Ashley Wormann, who chose us as her special volunteer project. | Diane Van Heest and Ralph & Barbara Lanuto took the last shift. |
| Friday storekeepers, John & Eleanor Bidwell, Paul Minetti and Ashley. | John & Mickey Esposito | |
Co-chairman Pete, Storekeeper Dick and Ed Weisbrot

John getting a shake from Sean Sharkey, Lacey Township committeeman

.

Mayor Quinn stopped by to lend support
SAD NEWS AND GOOD NEWS FROM AARP 1327
We'd like to share a letter we received from AARP Forked River Chapter 1327 . The members have been FOFB from the beginning up to now , the ending. Thanks to all of you for thInking of us.
Our Forked River Chapter has disbanded and as a final act - approved by our board and membership - we are very pleased to enclose the last of our funds as a donation to the Lacey Food Bank.
It has been a pleasure helping with donations over the years, so this check in the amount of $964.35 will close out our chapter business. Best wishes and success in all that you do.
Sincerely,
Lois Neuberger, Treasurer & Beverly Keubler, President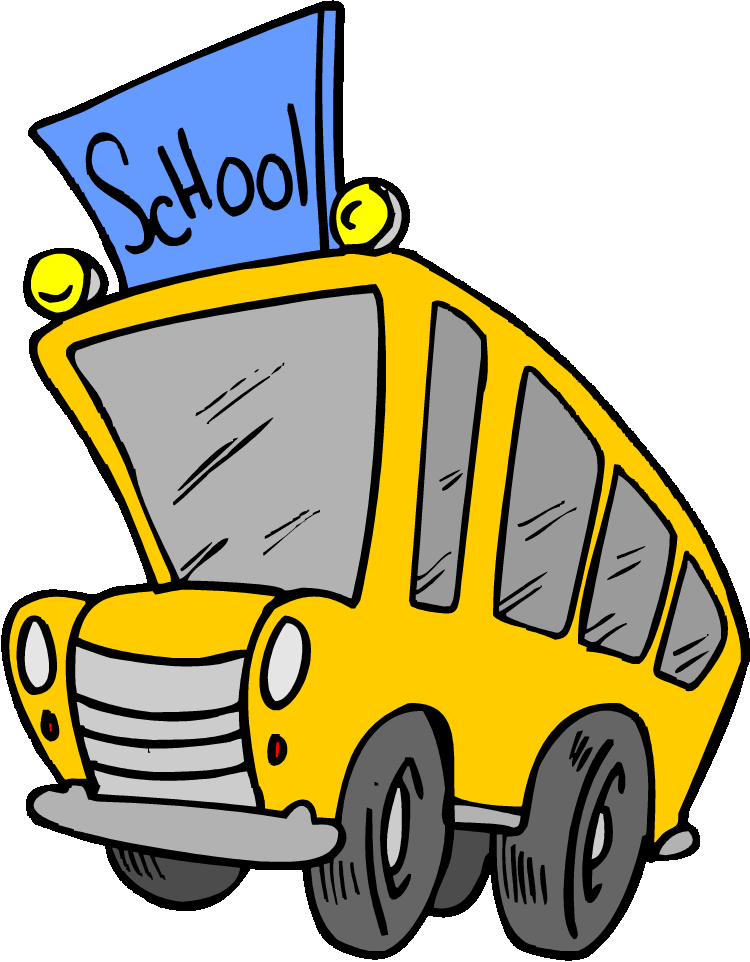 FOOD BANK KIDS COMMITTEE BACK TO SCHOOL PROJECT
Heading back to school after the long summer vacation can be tough on parents and students alike. For many of our parents, the added expense of buying Back to School supplies can be overwhelming. Between backpacks and supplies even the most basic of back to school shopping can run upwards of $30.00 a child.
The Lacey Food Bank Kids Committee makes every effort to help defray these costs by providing the youngest of our clients with stocked backpacks and other school supplies. Client children in Grades K-6 will receive new backpacks stocked with the basic school supplies that they will need to get started in those first days of the school year. The middle school and high school students will have an opportunity to select from our 'Take-Me' table of loose supplies such as binders, highlighters, multi-subject notebooks and more. But we can only do this with your help. We always need new backpacks, 3 subject notebooks, highlighters, rulers, glue sticks, crayons, pocket folders, staplers, scotchtape and many other school supplies. Checks can be made payable to Lacey Food Bank. Please note in the memo area that your donation is for Back2School. We ask that all donations be ready for pickup or drop off no later than August 15.
Our goal this year is to provide the more than 95 school-age client children with the opportunity to start smart this year by having the supplies they need before they get to school.
Thank you for everything you do to help the Food Bank Kids Committee.
And thanks to Elaine Triano's GS Troop 223 for their donation of backpacks and school supplies, a very good deed indeed.
| | | |
| --- | --- | --- |
| Chairlady Summer Reading Program Rosa Steitz | | Books for all age levels |
SOCC HUNGER RELIEF FOUNDATION LUNCHEON
The Lacey Food Bank is honored and grateful for the gift bestowed by the Southern Ocean County Chamber of Commerce "Hunger Relief " Foundation recently . Along with six other pantries, we received a check for $10,000 to use in our work of feeding the hungry who live among us.
The Chamber raised the $70,000 for all 7 pantries by holding their annual "Taste of Hunger " dinner this Spring at the Sea Oaks Country Club. Attendees were philanthropists from around Southern Ocean County who are, as our own motto says, "Caring by Sharing" .
Representing the Lacey Food bank at the luncheon held at the Holiday Inn, Manahawkin, was LFB Co-Chairman, Harold "Pete"Peters . Pete reports that the food was delicious and the communion with his fellow diners, (dedicated representatives of the other food pantries & our Chamber benefactors) an inspiring & rewarding experience.
The Chamber has been a wonderful FOFB (Friend of the Food Bank) With this gift, we will be able to keep giving $10 monthly food cards to each family so they can buy bread, milk and other non pantry items. Thanks to all for your dedication.
| | | |
| --- | --- | --- |
| L-R- SOCC Foundation President Dan Taylor, Pete Peters, SOCC Foundation representative, Ellen Mey & Michelle Cuff, Mgr SOCC | $10,000 will enable us to buy 1,000 ShopRite gift cards which will be given monthly to our needy families. | |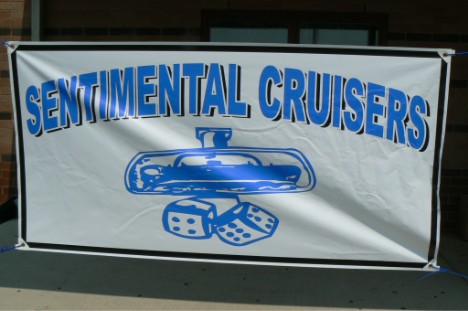 THANKS TO OUR CRUISIN' FRIENDS
Co-Chairman Pete met up with John Samolyk, president of the Sentimental Cruiser's Car Club last week at the Lacey Township Committee meeting, where John presented him a check for $2,000 - the result of the recent car show held by the club along with the sponsorship of the Captain's Inn. The Club, an official LFB esteemed sponsor for several years mixes pleasure with good works, evident in this generous gift. Thanks to all for your committment to our work.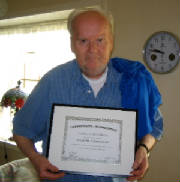 IN MEMORY OF ZYGMOND (ZIGGIE) ZWIERCHOWSKI
The Lacey Food Bank mourns the loss of one of it's founding fathers, Zygmond (Ziggie) Zwierchowski. In recent years, Ziggie had health issues and endured the loss of his dear wife. But still managed to drop by to say hello. Last year, Guy presented him with a certificate honoring him for 25 years of food bank service.
For those of you who knew him and wish to honor his life, the viewing will be held at Laytons Funeral Home on Lacey Road, Monday from 2-4 and 7-9.
For those not familiar with him, visit
History Lacey Food Bank
page on this site. When you see what he and the others endured in setting up the food bank, you can only look at today and marvel that they had the devotion to carry on with almost no resources to help them do the job.
As a last gift from him to the food bank, the family has requested that in lieu of flowers, donations in his name be sent to the Lacey Food Bank.
Farewell friend , from all of your fellow volunteers at the Lacey Food Bank.
*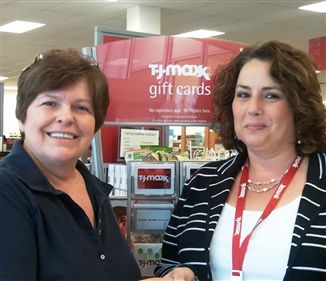 LACEY FOOD BANK RECEIVES GRANT FROM TJMAXX
The Lacey Food Bank and TJMaxx once again partnered as Neighbors of Choice with a $5,000. renewable grant awarded by TJMaxx Store Manager Susan Eggert to Lacey Food Bank Co-Chair Laura Caroccia.
Store Manager, Susan Eggert, noted that the TJX Foundation, the parent company of the TJMaxx stores, focuses its charitable giving and support of 501C3 charities to programs that provide basic-need services to disadvantaged women, children and families in the communities where they do business. "The Lacey Food Bank has a 25 year history of providing food to needy families in the Lacey community" said Ms. Eggert. "This is the 2nd time we are supporting the Lacey Food Bank on a Corporate level" she added.
A very special Thank You to the LFB Trustee and CPA Cynthia Pieja for applying for this grant!!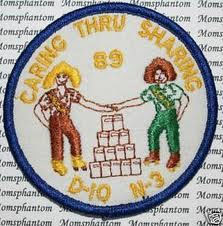 GS WAY "Caring Through Sharing" Merit Badge
MEET CAROLYN KING'S G.S. TROOP 238
Chairman Pete had a very productive visit from Troop 238 this week. As part of their work to achieve the "GS Way 'Caring & Sharing' Badge", the scouts , using their hard earned cookie sale money, went shopping with Leader King and collected some of each of the food bank's top ten essential needs. After delivering the food , they stayed to sort the items (volunteeer food bank vernacular calls this "packing & sacking" )
THANKS TO ALL FOR A GOOD DEED WELL DONE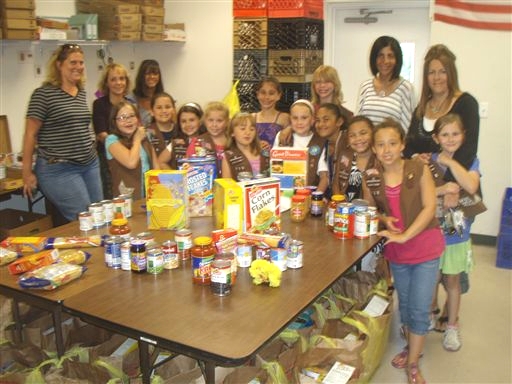 End of the School Year Food Drive
Lanoka Harbor Elementary School students held a food drive as an end of the year gift to the food bank. Pictured below are Rosemarie Bond, the Lanoka Harbor elementary school principal with the donated food crated in a bin ready to load. Our own Mr. Storesmaster, Dick Sansone is all smiles as we loaded the treasure into the Food Bank van.....Thanks to all the Lanoka Harbor students, staff and parents for your support.
| | |
| --- | --- |
| | |
"The Sentimental Cruisers Car Club"
The Cruisers partnered with the Captain's Inn recently to once again lend support to the Lacey Township Food Bank while holding their fifth annual car show. There was music, food, a gift auction, raffle and door prizes. All proceeds benefited the Lacey Township Food Bank. From all of us to all of those fabulous cruisers we send a big thank you.
This event was featured in the Lacey Patch, the new online newspaper which covers all events and news of Lacey Township. The following pictures were taken by Frank Galipo, Lacey Patch correspondent and shared with us courtesy of Elaine Piniat, editor of the Lacey Patch.
To read the full story and to check out the Patch go to :
May Plant Sale a Bloomin' Success
Thank You to Donna and her crew of Gardening Gurus for another successful Lacey Food Bank Plant Sale! It's not an easy job, especially at the end of a long day, to unload a truck, sort the petunia's from the phlox from the parsley and make sure all the orders are ready for carside delivery...but they did it all and they did it with a Smile! The $800.00 raised from this event will go toward the LFBKids Back2School project!
A tremendous job well done by a terrific bunch of pals. Green Thumbs Up to Donna, Deb C, Maddie, Deb S., Laura C, Rosa, Rosalie, Kathy, the other Laura C, Laurel, Jeanne, Jenna and the FB Teens and everyone who lent a helping hand!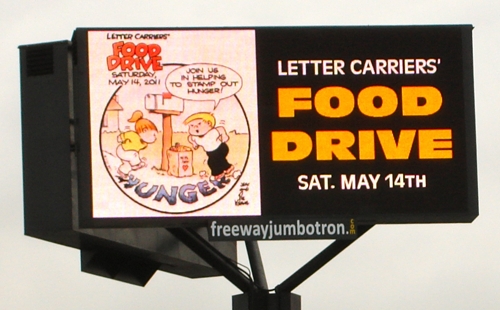 The 19th annual NALC Stamp Out Hunger National Food Drive Saturday, May 14
Feeding America® is the nation's leading domestic hunger-relief charity. Each year, the Feeding America network provides food to more than 37 million low-income people facing hunger in the United States, including 14 million children and nearly 3 million seniors.
Thanks to the The USPS National Assocation of Letter Carrier's and Campbells Soup, the annual drive has collected more than a 1 billion pounds of non-perishable food since 1992 from millions of generous postal customers.
Here In Lacey, the loacl union does not participate. But the Lacey Food Bank is invited each year to share in the bounty collected by the Manchester Post Office, This past Saturday John & Bert drove out to fill a truck with food donated by the good residents of Whiting. Then back at the food bank, a trusty band of volunteers were waiting to sort & shelve the food.
Please click below to see the faces and hear the words of real people affected by hunger in the U.S. and learn how Feeding America™ food banks helped. It will make you even more committed to continuing your efforts in this war against hunger.
CURVES 2011 NATIONWIDE FOOD DRIVE
Women of CURVES, we thank you. Your generous support keeps our shelves filled and our food bank kids happy.
We are proud to call you friends of the food bank.
| | |
| --- | --- |
| This is what a half ton of food looks like | |
SHOP RITE DOES IT FOR US ONE CUP AT A TIME
Thanks to our friends at Shoprite, every cup of coffee that you, as a shopper buy, translates into $$ for the stores master. This generous gift added up to over $1800 for the last two months. Shoprite is indeed our partner in the war against hunger.
NATIONAL VOLUNTEER WEEK AT THE LACEY FOOD BANK
National Volunteer Week and Volunteer Appreciation Day were celebrated at the Annual Volunteer Meeting of the Lacey Food Bank. National Volunteer Week is a time to celebrate people who do extraordinary things through service and the volunteers of our own LFB are the best example of individuals who dedicate themselves to taking action by working to solve hunger in our own community. So give yourselves a round of applause and pat on the back. Job Well Done!
The newly formed Hospitality Committee, headed up by Rosa Steitz and PeggySue Juliano did a superb job of brushing off the last of winter's dreariness by transforming Community Hall into a Springtime garden café! A hot lunch served with smiles was a treat for all of us. Thank you to all the gals who pitched in .... Rosa, PeggySue, Andrea, Anna, Diane, Rosalie, Jeanne, Cathleen & Laura. Special Thanks to Dick for all his help and his jokes!
This meeting also marked the presentation of the 1st Annual Friend of the Food Bank award. Our choice for FOFB 2011 is Casey Parker, in recognition for the many years of service and help he and his department of movers, builders & shakers has provided to us. Our signature shopping cart made it's debut as the focal point of the award plaque. Our thanks to Scott over at Ocean Trophy for donating his services to us.
Fun aside, a lot was accomplished at this meeting too. Volunteers were recruited to man the Food Bank on Tuesday and Thursday, which will give us coverage 6 days a week. A request to collaborate on a traveling storyboard and scrapbook of Food Bank successes was accepted by 2 volunteers as well.
This traveling show will give us an opportunity to bring to public events our story in words and photos. A surprise presentation of Lacey Food Bank Volunteer Service Pins marked the conclusion of this year's meeting.
Stores keeper Dick Sansone, Guy Burnett and Co-chairmen Laura Carrocia & Harold "Pete" Peters present sweets to the (very sweet) volunteer corp.

Chairman emeritus Guy honors "good guy" Casey for all his good deeds over the last ten years as a FOFB

The hospitality committee outdid themselves with a springtime decor.

The culinary crew produced a vairety of toothesome fare.

(They were awarded 5 forks by the appreciative diners.)

More wonderful & dedicated LFB volunteers

Casey & DPW gals, Rosemarie and Whitney

Tried, true and trusty is our motto !

"La Food Cafe Banca" is officially open for business

Birds of a feather flock together. Aren't we lucky to be in such good company? Well done LFB Volunteers.
Psychic Night a Big Success -
No April Fool's and No Crystal Ball needed to know that the 1st Psychic Night Event held by the Lacey Food Bank Kids Committee on April 1 at the Captains Inn was a great success. With more than 40 attending (mostly girls but there were a few men!) the Food Bank Kids Program will see $695.00 going toward the 2011 Back to School project. I'm putting on my Swammy Mommy hat and predicting that we will have another night of Girlfriends and Psychic Fun in the not so distant future! Laura C
| | | |
| --- | --- | --- |
| THE OPULENT CHEESE & FRUIT SELECTION | | |
WHERE'S WALDO?

(OR TRACKING DOWN THE STORESMASTER & SIDEKICK PETE)
On Mar 5th, the Lacey elementary schools , Cedar Creek, Forked River, Lanoka Harbor, and Mill Pond had their 3rd annual Volleyball Tournament to support the PTA/PTO organizations. Once again, they collected non-perishable food to donate to our Food Bank. Above are pictured Tina Swain, Terry Stesney, and Michele Bamert, who along with were instrumental in gathering the food from the schools, and presenting it to Dick and Pete that same evening. Dick is pictured with the 12 plus crates of food in our Food Bank van. Tina also included numerous boxes of Girl Scout cookies.

We sincerely thank all who participated in the fund raising games.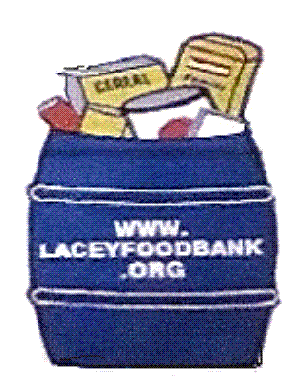 WHERE'S BIG BLUE?
Thanks to our friends at Ivy Rehab, Big Blue is there and ready to start accepting food donations along with "flyering" the patients.
Storesmaster Dick will be in prime position to monitor it's progress, he checked into Ivy Rehab the same day to start work on his poor aching shoulder.
A REPORT FROM ANDREA FLAHERTY, VOLUNTEER AND HOSTESS OF LACEY FOOD BANK TOURS.
These wonderful young ladies and many of their parents visited the Food Bank on February 26th. They were nice enough to collect quite a bit of food for our clients and came to find out about what makes the Food Bank tick. It was a pleasure to answer their questions and help them understand the needs of others.

Meet Elaine Triano's Troop 223
This great group of young ladies and some of their parents joined me today in a tour of the food bank. They each brought along some canned goods for our clients. It is so wonderful to have young people who understand the concerns of so many who are in trouble today because of no fault of their own. This group of girl scouts learned about the increasing number of people who are in need because of both health problems and the lagging economy. They felt empathy for the children of these families and, hopefully, this will be the start of a lifetime of service.


Our friends at Lacey Shop Rite are offering a deal we can't refuse. Starting this week, the food bank will receive 50 cents for each cup of coffee sold from the refreshment area at ShopRite. So, take a minute to chill out and rest your feet while there - it's a win win !




Clark & Jean Paradise have visited the Lacey Food Bank monthly for over three years now. Their faith based organization "Your Grandmother's Cupboard" offers free clothing, children's equipment and household items, providing our clients with a much needed shopping adventure. The clothing and items are clean, and neatly displayed to complement the "store experience"
They are true FOFB (Friends of the Food Bank) and we applaud this award.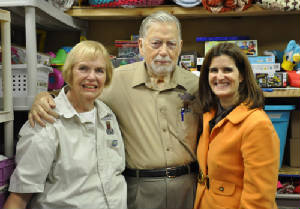 From the Governor's Office, February 3, 2011
For octogenarians Jean and Clark Paradise of Toms River, what could have been a quiet retirement has developed into a labor of love that is helping approximately 1200 of New Jersey's seniors, homeless and working poor every month. Today, First Lady Mary Pat Christie honored that commitment as she toured the non-profit organization they started, Your Grandmother's Cupboard, and named the couple the first New Jersey Heroes of 2011 for their work aiding those in need.

"Jean and Clark are true New Jersey heroes," said Mrs. Christie. "Wanting to help those less fortunate in their community, they answered a call to action, demonstrating that no matter what your age, you can still make a difference in the lives of others. They set an example we can all follow and I am proud to name them New Jersey Heroes."

Your Grandmother's Cupboard began five years ago after the couple had worked with a local pastor to serve the homeless in a nearby tent city community. While food pantries and shelters do what they can, the Paradises discovered a need to provide non-basic necessities for good health and hygiene for those who could not afford it. Through the kind donations of fellow New Jerseyans ranging from monetary contributions and supplies to trailers to store the goods, Your Grandmother's Cupboard got its start. Funding for the organization is still derived from donations by individuals and other groups.

Today, Your Grandmother's Cupboard operates from locations in Toms River and Phillipsburg, bringing clothing, shoes, blankets, household and personal items to those who need it most. The "Cupboard" serves communities in Garfield, Passaic, Paterson, Hoboken, Dover, Phillipsburg, Easton, Edison, New Brunswick, Trenton, Jackson, Lakehurst, Lakewood, Toms River, Seaside Heights, Bayville, Forked River, Swainton and all surrounding areas.

A NJ 211 responder organization, "Cupboard" volunteers and vehicles also are able to respond to emergency calls within 2 hours or less to bring necessities to the person or agency making the call.

To learn more about the work of Your Grandmother's Cupboard or to donate goods, contact www.yourgrandmotherscupboard.org.
LFB Volunteers Celebrate the Old, and Ring in the New
They say there is a special bond among people who break bread together. And nowhere is that bond stronger than among the volunteers of the Lacey Food Bank who recently took a break from their Food Bank duties to spend a few hours celebrating the New Year and each other at the annual Volunteer Holiday Luncheon held at Caffreys.
The Lacey Food Bank and Caffreys have a special bond as well. Ten years ago, when the Lacey Food Bank was struggling to find ways to keep its doors open there were two faithful contributors, attorney Art Stein - who now serves as a trustee - and Dan Coleman, co-owner of Caffrey's whose substantial contributions not only helped keep the food bank going that year but whose actions set the foundation for our very successful Esteemed Sponsor Program!
We, at the Lacey Food Bank consider our Esteemed Sponsors silent partners in our ongoing challenge to meet the needs of those less fortunate who live in Lacey. And a successful partnership it has been.
Now on to the festivities.
A MESSAGE FROM LFB'S CO-CHAIRMEN LAURA CAROCCIA & HAROLD (PETE) PETERS.
WELCOME 2011 !
People often ask "How's it going at the Food Bank?" The short answer is "Busy". The truth is that jobs are scarce and real incomes are down, forcing more families to ask for help in order to make ends meet. For so many, it is the first time they have had to ask for assistance.
The truth is the Lacey Food Bank is a community effort, funded by countless volunteer hours and the generosity of the Lacey community. With the contributions you give us, food donations we receive, and our dedicated volunteers, we are able to provide for more than 500 of our Lacey neighbors.
How Can You Help?
Easy—At the Lacey ShopRite, pick up an extra can or two – always take the 2 for 1 specials. Buy those 10 for $10 items –we love bulk donations - and on your way out put your donation in the Lacey Food Bank Bins located in the lobby. Easier—Throw your loose change in a can and bring it in at the end of the month. Easiest—Write a check - $20.00 a month feeds a family
We would like to dedicate this 2011 newsletter to the Lacey Community -businesses, schools, fraternal, civic and charitable organizations, sports groups and individuals who have given so generously, in so many ways, to support what we do. The Lacey Food Bank clients and volunteers thank you and ask for your continued help during this time of extraordinary need.
Laura Caroccia
The challenges we've faced in the past are growing. Despite the poor status of our economy, I'm glad to announce that here at the Lacey Food Bank we've kept our head above water due to the generous community that is Lacey.
However, 2011 looks to be a busier year as our list of clients are growing. Thankfully, with the help of our dedicated 90 volunteers, and your continued support, we can meet the challenge again.
I'm proud to be a citizen of Lacey Township, and promise to continue my efforts, along with our volunteers, to make our Food Bank a success. I urge you to help us achieve our mission by even the smallest donation of food, funds, and time.
Harold "Pete" Peters
(click on all pictures to enlarge )